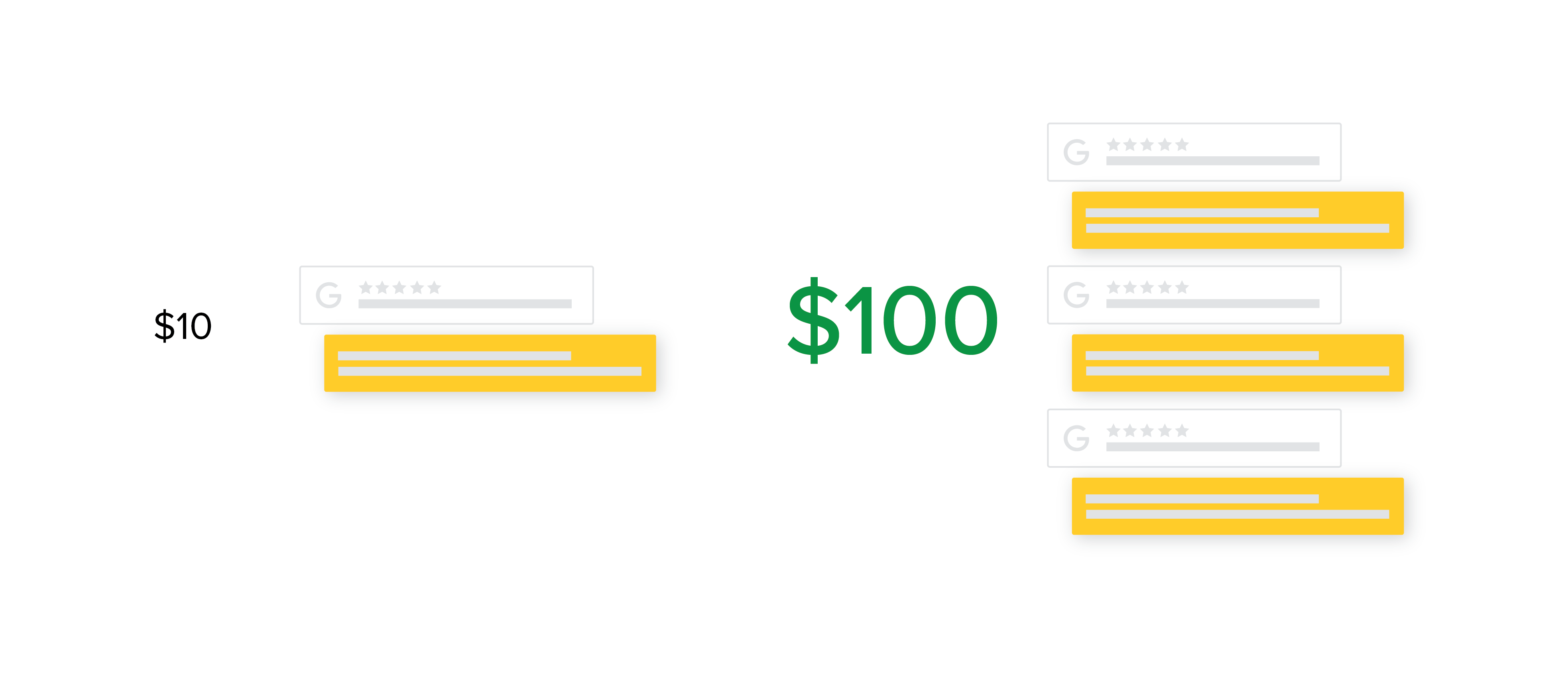 For most of us, the decision to buy an expensive product is a big one. It is a process that takes time, effort, and most importantly, resources.
Interestingly, a study by eCommerce Data found that products that cost over $100 get almost 10% more reviews than products that cost under $30. So why, after enduring the process of making a big purchase, are you more likely to take the time to leave a review? It comes down to these three factors: investment, expectation, and motivation.
Investment
The stakes are high
For the average consumer, there is a lot at stake when making a big purchase. A survey from MagnifyMoney found that over half of Americans live paycheck to paycheck. AARP reports that most adults in the US don't have a savings account. Another study by Bankrate.com shows that in all but one of the 25 largest U.S. metro areas, households with median incomes cannot afford the average price of a new car.
This data suggests that most people have no choice but to be invested, both literally and figuratively, in big purchases. They may have to save up over a few months before even considering buying a more expensive item. If they take out a loan, they may be paying it off for months to come, whether they are satisfied with what they bought or not.
It's understandable then why someone who put down a thousand dollars would be more inclined to write a review than someone who only spent fifty. They took a larger risk and will have to live with the consequences, good or bad. If they feel their money was well spent, they may express their relief and happiness on Google. If they feel like they got a poor deal, their frustration could easily end with a one-star review.
Expectation
The customer assumes high price = high quality
Another explanation as to why expensive products get more reviews is expectation.
The higher the cost of an item, the higher the hopes of the consumer. Why buy an iPhone charger from Apple for $19.99 when you could get one at the dollar store? It is because, for many, expense translates directly to quality.
You have to spend more to get more, or at least that's what we're taught. Studies show that people tend to value expensive items over their cheaper counterparts. Whether or not this reasoning is rational, reviews have the power to either raise or diminish the innate value we place on expensive items.
To continue with our iPhone charger scenario, let's say for a moment that you decided to purchase the dollar store option. A week later, it breaks. Are you going to leave a review of that phone charger on the store's website? It's unlikely, but why?
Your expectations were low to begin with. You did not invest much in the purchase and therefore, you are less likely to share your experience.
Alternatively, let's imagine that after your charger breaks, you decide to try again. Instead of purchasing the Apple charger for $19.99, you buy the most expensive one on the market. You splurge for the wireless charger - it costs you $50. If that charger breaks, you are certainly more likely to leave a review because you bought what you believed to be a high-quality product; you expected more.
Despite one's expectations, the perceived value of an expensive item is determined not only by the product's price but also by the effort required to obtain it. This brings us to our last point: motivation.
Motivation
Big win or big loss means high motivation to share experience
Take, for example, your morning coffee run. Imagine you place your order. You receive your beverage and on the way back to the car, you take your first sip - it is not what you ordered.
Are you annoyed? Sure. Are you going to write a review complaining? Probably not. Maybe the barista misheard you, or maybe you took the wrong drink. Either way, it's a cup of coffee; they'll get it right next time.
In this scenario, there is a lack of both emotional and financial investment and therefore, you are not motivated to leave a review. You are inconvenienced by the mix-up, but considering the small amount of effort it took to get the coffee and its low price, your loss isn't so great.
Instead, let's assume you need a new couch. You browse the internet for days, peruse local furniture stores for hours, transfer some funds from your savings account, and finally order what you think is the perfect option. When you unbox it, it is a completely different couch, not at all what you purchased.
Are you going to leave a review? It's not a sure thing, but there is a much greater chance that you will head to Google after the couch fiasco than there was after your disappointing coffee run. Why?
You have more to lose. You can't live with the wrong couch the same way you can live with the wrong cup of coffee. You spent a lot of time, effort, and resources selecting a product that you intend to use for years to come. You know that if you post a review, there's a chance that your concerns will be addressed. You are motivated.
This reasoning does not only apply to negative experiences either. In fact, you can utilize a consumer's sense of motivation and investment regarding expensive products to highlight positive experiences and, evidently, get more reviews.
Overall, the relationship between purchases and reviews is cyclical. Reviews establish the sense of trust that consumers base their purchases on and purchases lead to reviews. This reality is only intensified when the products in question have the potential to leave a dent in the consumer's bank account.
Whether the product you sell is expensive or not, it is certain that your business can benefit from getting more reviews. Widewail is here to help you do just that.