The Complete Guide to Getting More Online Reviews
This is the complete guide to increasing the number of customer reviews for your local business in 2022.
"84 percent [of consumers] trust online reviews as much as personal recommendations. And they make that decision quickly: 68 percent of form an opinion after reading between one and six online reviews"
Stats like this one from Inc might be the reason you're looking to increase the number of online reviews your business receives through Google, Facebook, Yelp, and other industry-specific sites. If so, you probably already know that reviews are a key SEO and marketing strategy in 2020. It's why you clicked on this guide.
Below, we discuss 15 tactics to get more reviews and, in the process, drive more customers to your site or store. But before we explain the how, let's dig deeper into the why.
Search Engine Optimization: How Reviews Lead to Clicks
According to the article "State of Local SEO 2020" by Moz, online reviews are now the second most important ranking factor for local Google searches.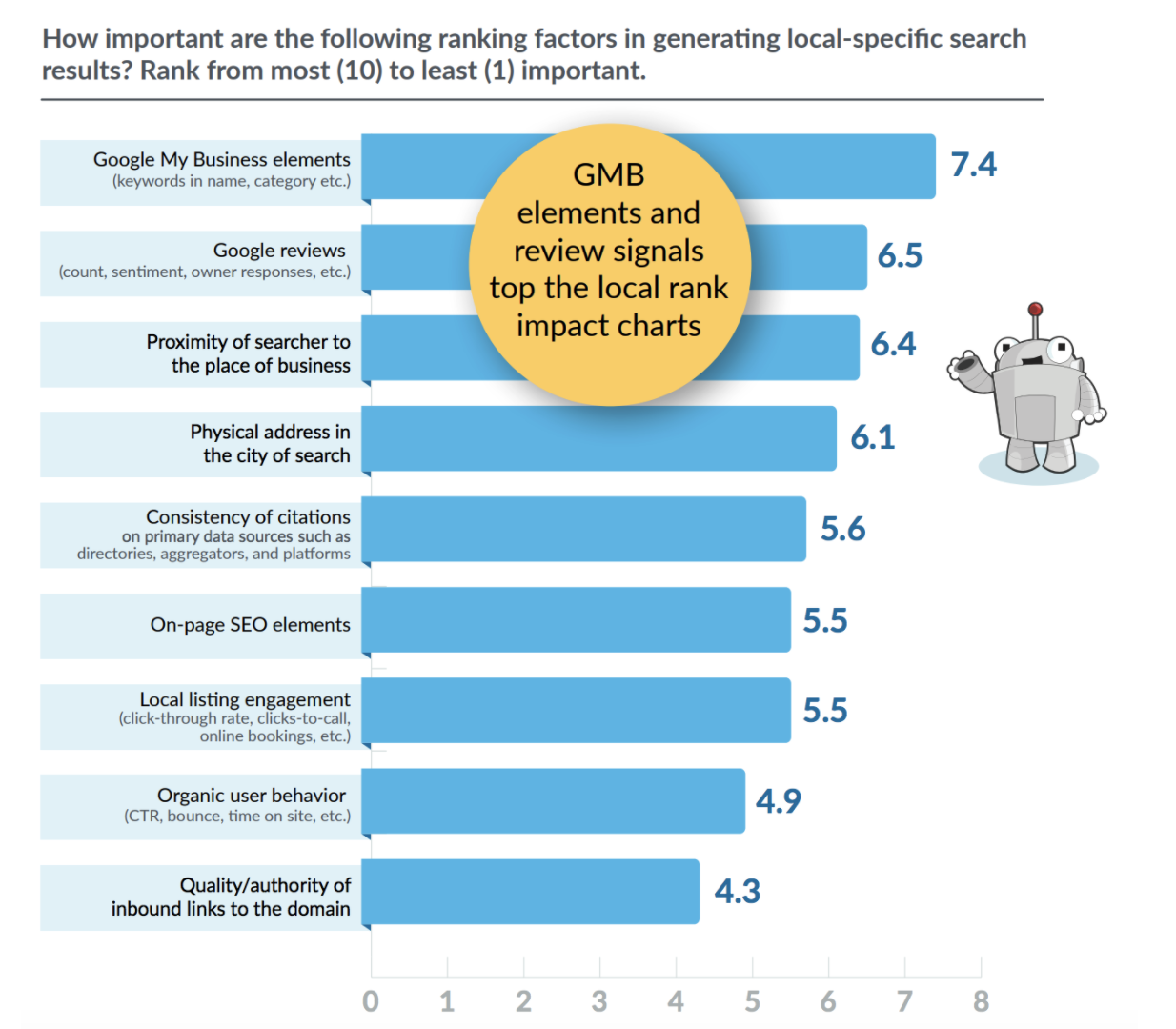 Source: "State of Local SEO 2020" by Moz
This is a shift from the past, when proximity was seen as the highest local ranking factor. Proximity now places third, meaning your review content is more important than your physical location. This is great news. You can't control where prospects are searching, but getting more reviews is relatively simple.
While EAT (expertise, authority, and trustworthiness) is often viewed as the primary component to Google' algorithm, the marketers surveyed by Moz believe that the power of local business reviews shouldn't be overlooked. In fact, 90% of the marketers surveyed agree that reviews play an important role in determining the local pack.
Data from Local SEO Guide corroborates that online review management is an opportunity for businesses hoping to improve their SEO. Importantly, the article mentions that the GMB doesn't provide a lot of engagement options for business owners. This is in part because business information (address, hours, phone number) is typically static. Reviews, however, are dynamic and provide constant engagement opportunities.
Google itself confirms on their Support page that "high-quality, positive reviews from your customers will improve your business's visibility and increase the likelihood that a potential customer will visit your location." Specifically, we know that the top spot in search generally sees CTR's of around 30%. An increase in reviews means an increase in SEO value and, in turn, more clicks on your site.

Social Proof and Review Numbers: Popularity is a Social Cue for Quality
Online reviews are not only convincing to Google, they are convincing to potential customers. To borrow some lingo from psychologists, reviews are a form of social proof.
According to Hubspot, "social proof is the idea that consumers will adapt their behavior according to what other people are doing." If someone is browsing online, they are likely to focus their search on the most popular products and services. Reviews, even those with a less-than-perfect score, drive click-through-rates and inspire confidence in potential shoppers.
This isn't just something we say from personal experience. An article from BigCommerce states that "50 or more reviews per product can mean a 4.6% increase in conversion rates."
Further, a 2017 article titled "The Love of Large Numbers: A Popularity Bias in Consumer Choice" asserts that consumers care more about the number of reviews than average rating.
Derek et al begin by explaining that people are drawn to highly-reviewed items because popularity is a social cue for quality. As well, humans understand the "law of large numbers," that a greater number of reviews provides a more reliable average.
In their study of Amazon reviews, they found that participants' preference was more heavily influenced by number of reviews than by rating. Overall, the findings suggest that people place a greater value on the choice of others rather than the outcomes of those choices.
For example, compare these two review profiles:
Business A: Rating 4.5, 25 reviews
Business B: Rating 4.2, 100 reviews
According to the study, the majority of prospects will prefer Business B because the larger number of reviews will outweigh the slightly lower rating.
Something to keep in mind is that social proof is most persuasive for consumers who are strongly undecided. For example, if someone is set on getting pizza, online reviews of a steakhouse likely won't sway them. However, if someone has no idea what they would like to eat that evening, suggestions from past customers will be persuasive. This only highlights the importance of reviews, since consumers browsing online are typically at the beginning of their search.
Social Proof and Star Ratings: What Rating is Best?
While review volume is a leading influencer, high ratings also lead to more business. One study found that when businesses increased their rating from 3.5 stars to 3.7 stars over a year, their conversion growth increased by almost 120% over the same time period.
A study by Pattern on Amazon reviews found that ratings have an impact on conversion rates. For products whose star-rating increased from 3.5 to 4.5, the number of sessions from potential consumers increased by 40%.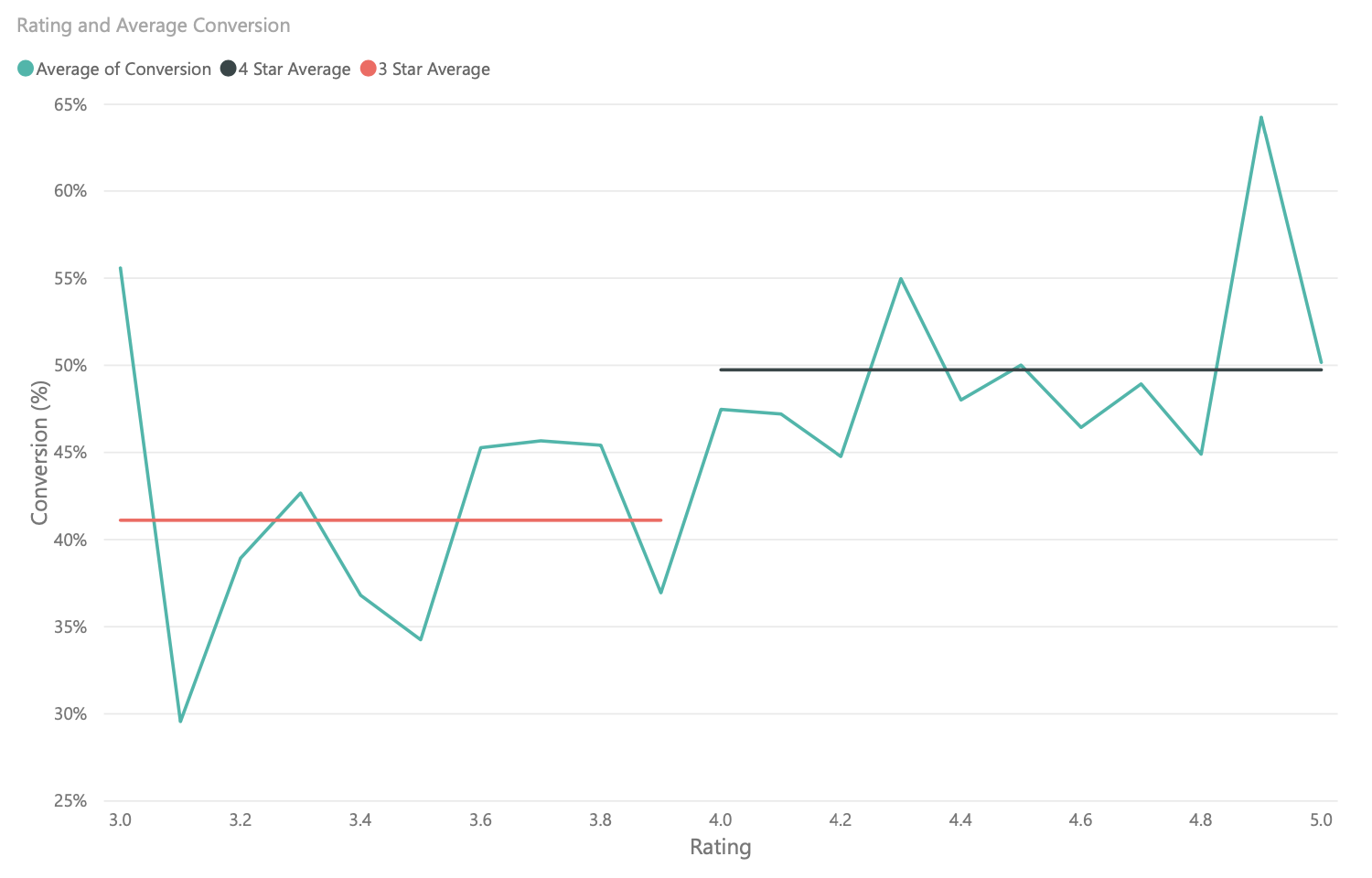 (Source: "Analysis: High Amazon Star Rating Ups Conversion, Sales, and Sessions" by Pattern.)
Contrary to popular belief, your business doesn't need a perfect online rating, and in fact, there is evidence to suggest that shouldn't be the goal. The Spiegel Research Center determined that ratings of 4.2 - 4.5 are the most trusted. Why is that? Potential customers are on the look out for fake reviews, and a perfect five-star rating seems too good to be true.
Reviews are a game of trust and perception. If prospects read your reviews and come to the conclusion that the content is authentic and they can expect to have a good experience, you have done your job as a marketer.
Reviews and Marketing: Are Reviews More Important Than Traditional Advertisements?
If you've read this far, you understand that online reviews have a huge influence over consumer decisions. As such, review management and response should be a fundamental part of your marketing strategy.
If you need further convincing, recognize that traditional advertising is losing people's trust. A 2019 study by the Advertising Association found that only 25% of the public view advertisements favorably. Further, 69% of consumers do not trust advertisements. Authenticity is much more attractive and persuasive to potential buyers, which is why user-generated content (UGC) is the best marketing available. And, as a local business, what's your primary source of UGC? Online reviews.
Reviews sites like Google and Yelp naturally serve as advertising, but there are additional opportunities to increase the visibility of your reviews. For example, you can repost customer testimonials on your Facebook or Instagram page, add them to your website, or incorporate them into paid advertisements. If a consumer sees this information they are 58% more likely to convert, so share it far and wide.
Your review goals will depend on the industry you work in, the size of your business, and the number of customers you get each week.
On average, consumers read ten reviews before trusting a business. Additionally, 40% of consumers that read reviews only take into account reviews written within the past two weeks.
Putting those stats together, we recommend you aim for a minimum of 20 reviews a month (10 every two weeks). This will allow you to continually meet the basic needs of all prospects.
Loosing potential customers because your lack of review volume paints your business as less reputable is a shame, especially because getting them can be fairly straightforward.
How to Get More Reviews
And finally, here are our 15 tips and tricks for getting ten times more online reviews.
1. Ensure that all of your review sites are set up
This is a no-brainer. Before your business can get reviews, you need to list it on review sites. The GMB is the home base for business-owners in any industry, but consider creating or claiming your Facebook and Yelp page. Don't forget to research industry-specific sites as well, like Zomato for restaurants or DealerRater for car dealerships. You can also get started with our guide on the 19 best consumer review websites.
2. Provide directions
Not everyone is comfortable using the internet, so it's important to minimize barriers. Create a "How To Leave a Review" infographic and post it in your store, on your website, or wherever a customer might see it. Sharing directions ensures that any person who wants to provide feedback will be able to.
3. Create a direct link
Similar to point number two, you will want to make the review process as easy as possible. One way to do this is by creating a direct link.
Go to your Google My Business page. In the left hand menu there is an option called "Home." In the "Get more reviews" card, click "Share review form." From there you can share the short URL with customers.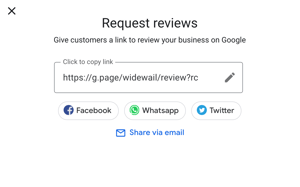 When customers click the link they will be brought to a screen where they can rate and review your business.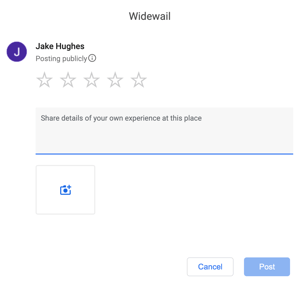 4. Put a review request in a leave-behind
Certain businesses provide a receipt or other items to their customers before they leave. If this applies to you, slip in a review request. You can handwrite the request or print business cards specifically for this purpose. This is a great place to stick that direct link as well. A QR code is another approach worth exploring.
5. Add a review request into your email signature
If you reach customers through email, adding a review request into your signature is a simple way to increase the visibility and accessibility of your review site.

Products that cost over $100 get almost 10% more reviews than products that cost under $30. When people are making a larger investment, they have higher expectations and more motivation to leave feedback. Take advantage of this reality and ask your high-paying customers for reviews; you're more likely to get a response.
7. Ask every customer
Even better than that, ask all of your customers to review your business. A 2019 study by Brightlocal found that 76% of the people they surveyed who had been asked to write a review did so. That means that if you ask 10 customers for a review each week, you will get around 30 reviews a month. That's massive!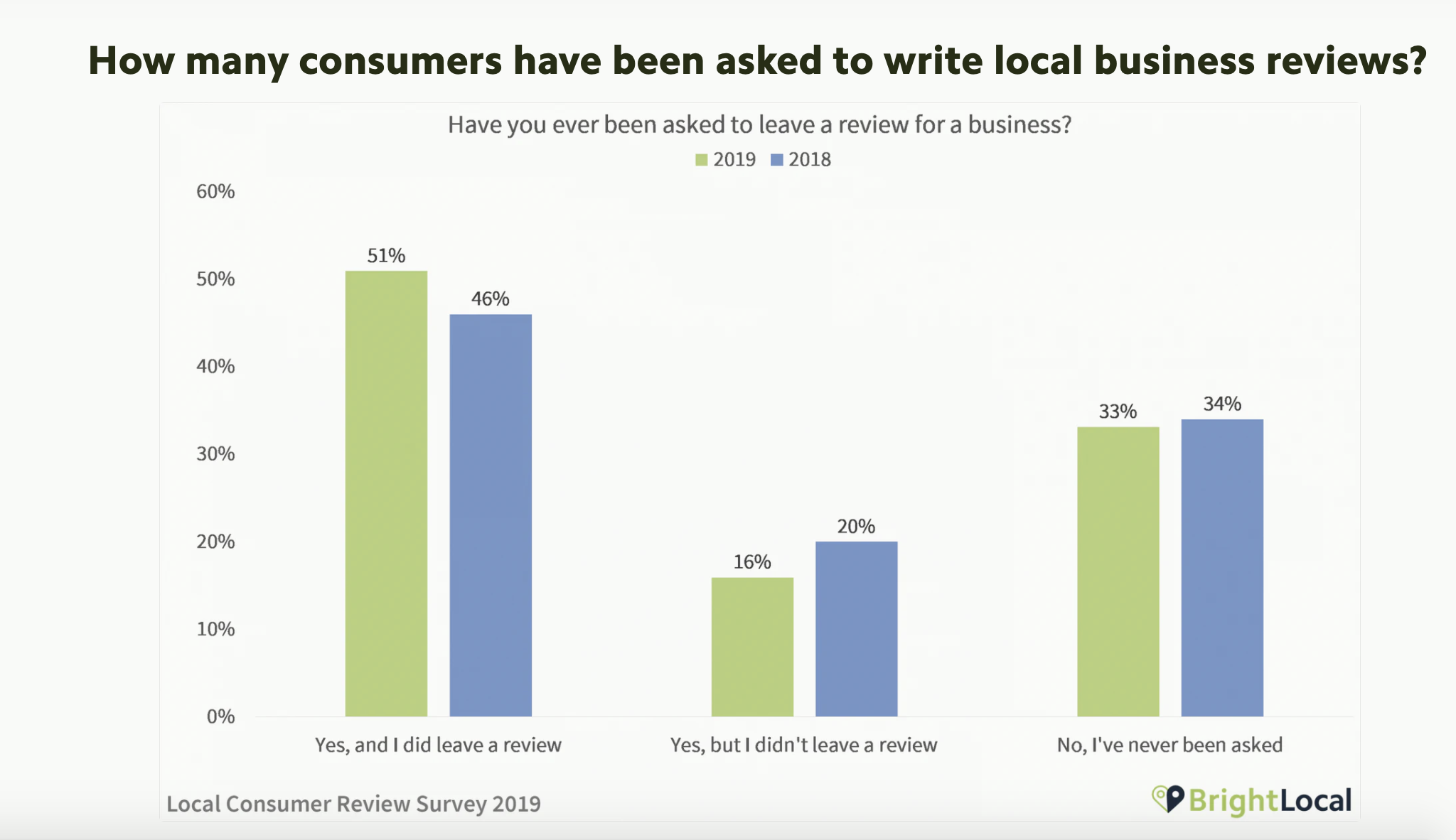 Brightlocal
Another benefit of asking every customer is that you save yourself the risk of being penalized for review gating. It's against Google policy to ask only happy customers for feedback or to incentivize writing a review, and if you're caught doing so your reviews may be removed. Reaching out to all of your patrons ensures that you're complying with the guidelines and that you won't lose your hard-earned reviews.
But won't this lead to negative reviews? We understand that fear and must admit that, yes, asking for reviews means you will likely get the occasional poor rating. Before you decide to ignore this tip entirely, recognize that negative reviews are not completely negative. They provide an opportunity to make things right with a customer and critical feedback, which is vital for businesses hoping to improve. Responding to negative reviews is also proven to improve search visibility.
Anyway, if you're doing things right, negative reviews won't be an issue. In 2019, only 12% of reviews managed by Widewail were 3 stars or below. Additionally, CarGurus found the same, with only 12% of their shoppers leaving a negative review. Rest assured that when you ask your customers to share their thoughts, most will respond positively.
8. Ask via SMS
Text messages have an open rate of 98% and click through rates around 19%, making them the best method of digital communication. If your review process is mobile-friendly, which it should be, sending a review request over SMS makes the most logical sense. Customers won't have to move an inch while they complete their review.
9. Reach out at the right time
Contacting your customers at the wrong moment could cost you a positive review, or worse, earn you a negative review.
For one, stick to business hours. No one wants to get a text or email from their hair salon when they are barely awake or about to dig into dinner.
Second, consider what content you want in the review. If you hope to get feedback about a particular item, allow customers a few days to test out the product. If you'd prefer that the review focus on the buying process, reach out sooner when customers will still have the experience fresh in their minds.
Other ideal times to request a review is when someone expresses happiness over their purchase, when they make a repeat purchase, when they contact your business on social media, or when they refer a friend to your company. These actions demonstrate that this customer is highly engaged and probably happy to write a review.

10. While being efficient, personalize your requests
In your effort to reach a lot of customers, you might find yourself using the same message over and over. While it's okay to stick to a pattern, avoid coming off like a robot. Personalize your messages with the customer's name and reference the employee they worked with at the store. This sort of personalization will reinforce who is reaching out and why, minimize confusion and increase click-through rates.
11. Let customers know how long it takes to write a review
Someone who has never written a review before might assume the process takes a long time, and this could keep them from ever bothering. From the start, explain to customers that writing a review only takes a minute or two. You could begin your message with, "Do you have a spare minute to rate us?" or end with, "Leaving a review only takes three clicks and sixty seconds."
12. Explain what reviews mean to your business
Not everyone understands the power of online reputation management. Take the time to explain how reviews make it possible for people to discover your company. When a truly happy customer realizes that a simple five-star rating could help keep their favorite restaurant in business, they won't hesitate before heading to Google.
13. Use templates
If you find your messages growing repetitive, download these templates to learn new ways to ask customers for reviews.
14. Make review requests a regular, scalable part of your transaction process
The truth is, online customer engagement is a long-term effort. Your business may see the benefits within a few months, but review management is something that you and your team will need to sustain for the foreseeable future.
Try not to get stressed. You'll be able to keep the review request process manageable by setting up infrastructure. This might involve creating a position dedicated to reviews, or partnering with a managed review service. Finding an automated or semi-automated way to request reviews is a great option since reaching out manually every time is a lot of work and will likely lead to inconsistent results. Finally, train your employees on how to request reviews, and reward them for doing so.
By making online reputation a priority at every level, your business will reap the most benefits, and maintain them for years to come. "How to get Google reviews?" is a critical question facing every business and you are not alone.
15. SMS Automated Review Generation Tool
Try not to get stressed. You'll be able to keep the review request process manageable by setting up infrastructure. For example, it might make sense to create a position dedicated to reviews so the process is streamlined. Train your employees on how to request reviews, and reward them for doing so. Finally, reaching out manually every time is a lot of work and will likely lead to inconsistent results, so consider an automated or semi-automated option. Widewail's newest product Invite integrates with your point-of-sale system to automatically send customers review requests. They will be greeted with a personalized message and then directed to the review site of your choice. You and your team will also have the ability to reach individual clients manually. For more information on how Invite can increase your review volume, click here.
Over to you
Reviews are important, and now you know how to get them. Start implementing these tips into your online reputation management strategy today. If you have any further thoughts or questions please feel free to contact us. Good luck!