In this guide, we're going to discuss the use of online reputation management as a way for local businesses to attract more customers. Utilizing a few core tactics, any local business owner can turn Google, Facebook, and Yelp into consistent sources of new and returning business.
Let's say, for example, that you own a car wash in Denver, CO. Historically, your business is built on referrals and people stopping in as they drive by. Business is good, but not as good as it used to be. After looking into television advertising, you realize that it is far too expensive for your budget.
As you consider economical options for promoting your business, you consider Google. To get a feel for where you stand, you do a search for car wash Denver, Co.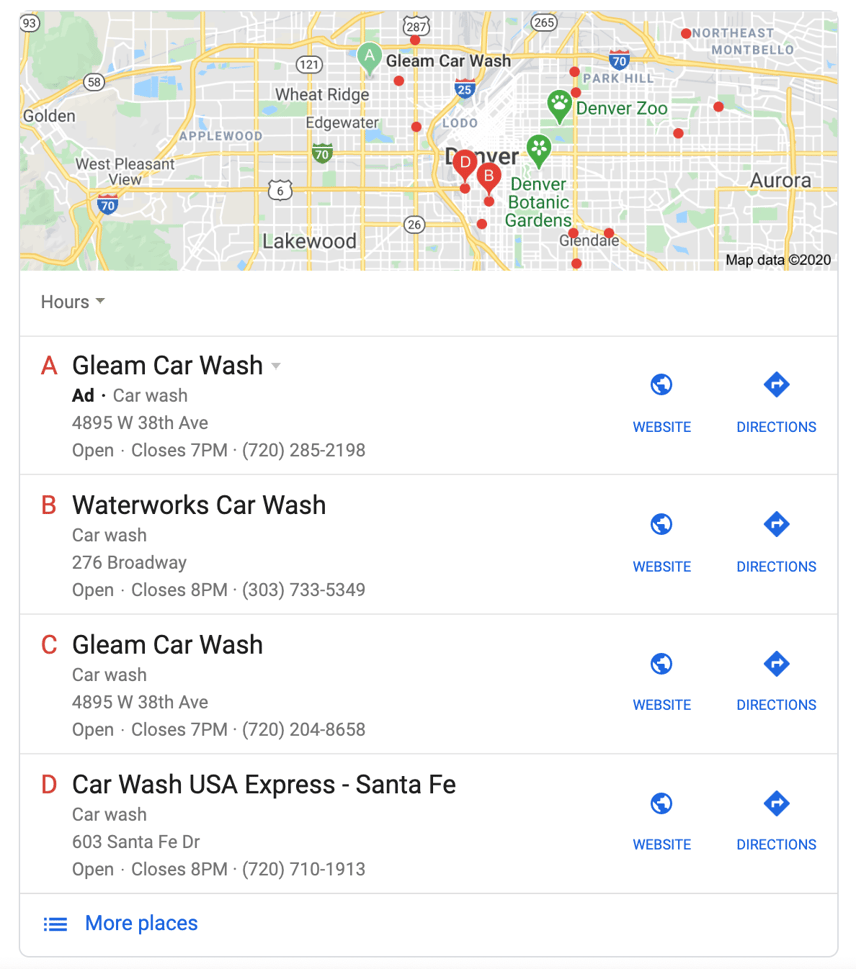 Not only is your business excluded from the top suggestions, the list consists exclusively of your competitors. Each one is in a great position to take your current or potential customers. Especially if they have an internal strategy or are using an online reputation management service.
Although problematic, this can be fixed. How? Through the use of online reputation management - transforming Google, Facebook, and Yelp from an afterthought to a strong, reliable source of traffic.
Generally, online reputation management (ORM) is the practice of improving the perception of your business in the eyes of potential customers.
ORM involves two steps:
Identifying the online resources that potential customers may use to find and learn about your business.

Taking steps to make sure those resources drive traffic and cast your business in a positive light.
ORM vs. PR vs. SEO
Often confused, these three services have several overlapping components. ORM techniques may utilize social media posts similar to a PR agency. At the same time, ORM may use brand keywords in Google review responses similar to an SEO agency.
PR: Influence public perception around brand reputation.
SEO: Rank a set of website pages in search results using on-page keywords, backlinks, meta data, etc.
ORM: Rank GBP listings, website, and social channels on the first page of Google for a focused set of brand and product keywords in order to influence public perception.
ORM and PR Failures
You may be thinking, what does "influence public perception" really mean?. Let's discuss two examples of the real-life impact of reputation management failures.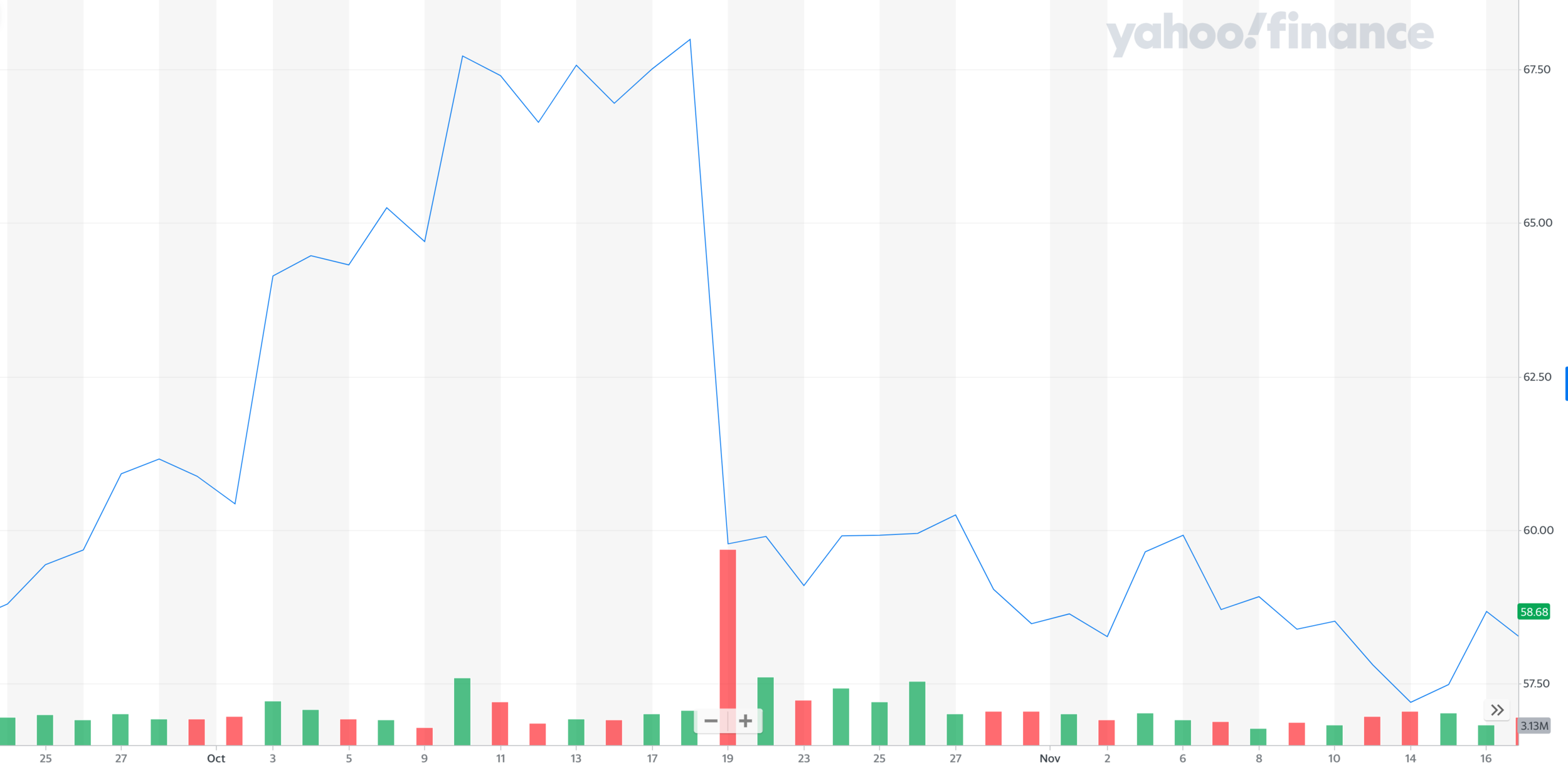 Source: Yahoo
Remember back in the fall of 2017 when officers forcibly removed a United Airlines passenger? The event was captured in a video which ended up going viral, leading to widespread negative backlash. United stock price plummeted overnight and the airline lost nearly a billion dollars in market value in a single day. It took United nearly three months for their stock to return to its previous value.
Have you ever heard of the "Streisand Effect"? It demonstrates, as The Economist puts it, "why trying to hide something makes it more visible."
In 2003, Streisand sued photographer Kenneth Adelman for taking aerial photographs of her Malibu home. Adelman operated California Coastal Records Project, a photography database for scientists to study coastal erosion. By the time the Adelman won the case, the photo had been viewed millions of times and Streisand was ordered to pay over $150k in legal fees. And the worst part? Before the lawsuit the photo had only been viewed, wait for it, six times.
The actions you take as a business owner offline will have consequences online, and vice versa.
Online Reputation Management Success
"Your brand isn't what you say it is, it's what Google says it is." - Chris Anderson
A successfully implemented online reputation management strategy for a local and/or small business should produce a first page of Google similar to this: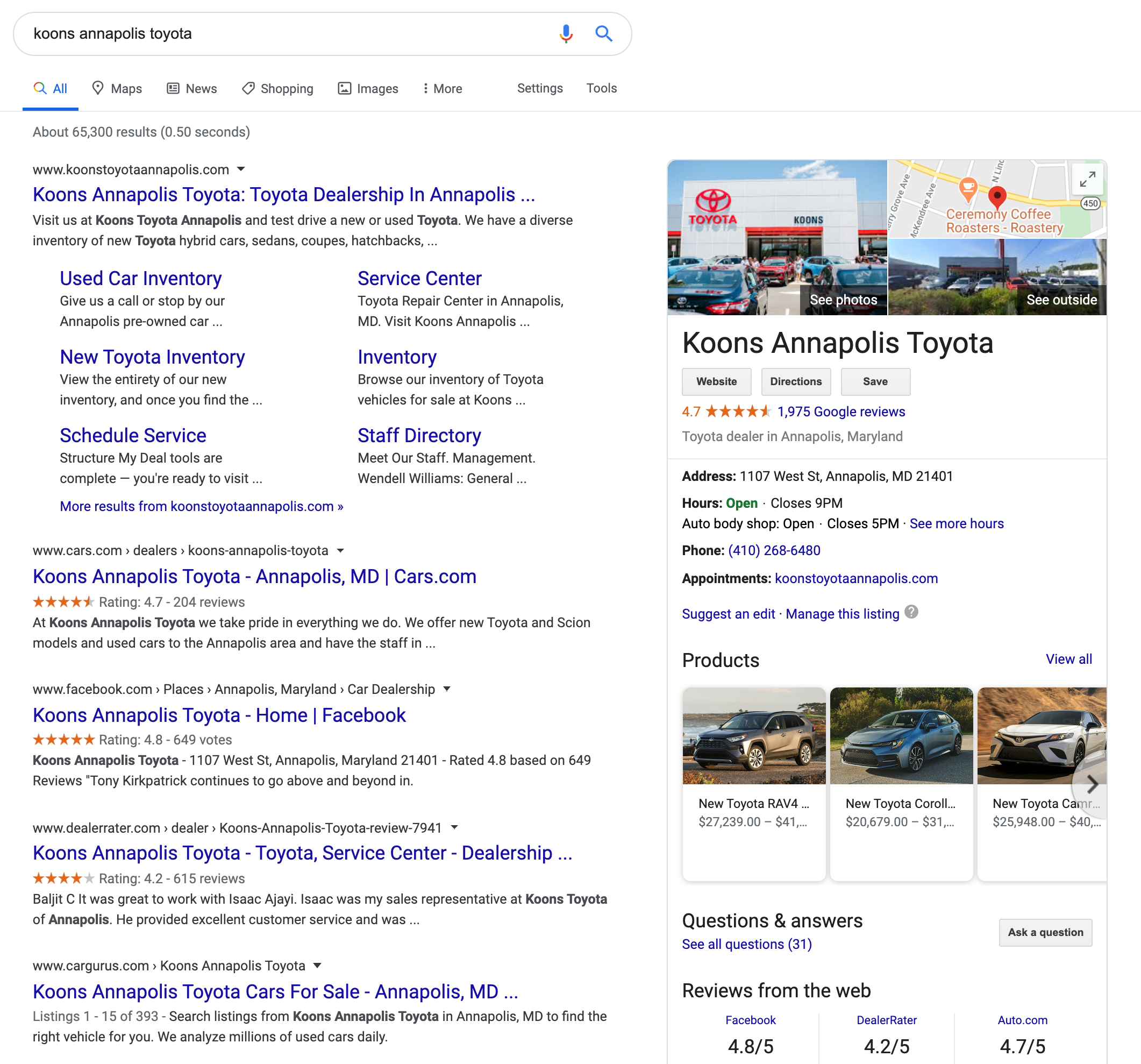 A presence like this makes your business look credible and trustworthy. It is important to keep in mind that whether your search results reflect the real world or not, they define your online reputation.
First impressions are critical, in fact, four negative search results can cost you 70% of potential business.
With a good strategy, all small businesses can create a strong foundation for their online presence and reputation. The ultimate goal is to drive website traffic and increase new business. This is done by making sure your brand is easily accessible and that the information presented encourages shoppers to visit your store. It may sound intimidating, but this process does not need to be expensive or time-consuming.
Our intention for this reputation management guide is to provide local businesses with actionable information. We will not cover topics like social media monitoring and slander investigations, but instead, provide steps you can take today.
The introductory techniques and platforms we are going to cover in this article are:
SEO

Google Business Profile

Alerts and Monitoring

Reviews and Review Response

Claiming All Social Media Accounts
Search Engine Optimization (SEO)
Accounting for 92% of search traffic, Google is where your customers are.
When someone searches for your business, you want to be present at the top of Google search results with owned media - we are talking about your website, social media channels, and other digital properties you control directly.
Before we get into your website, let's do a quick search audit.
Type these three search terms into Google:
"[Your brand]"
"[Your business category] near me" (ie. hair salon near me)
"Best [your business category] near me"
A quick search for "Widewail" gives us this:
Tip: If you use Google Chrome as your web browser, switch into "incognito mode" before performing this search. Doing so will remove your browsing history and settings, giving you a more accurate view of the results your customers are likely to receive.
Your business's website serves as the central hub of information for your customers, so it should be your first priority. To help get your website to the top of search results, it should be optimized using a few core tactics. This is better known as search engine optimization (SEO).
Site Indexing
If your website is not showing up at all, read this article: Why is My Website Not Showing Up in Google Search?
Using Google Search Console, make sure your site is indexed, which means that Google has a record of your site.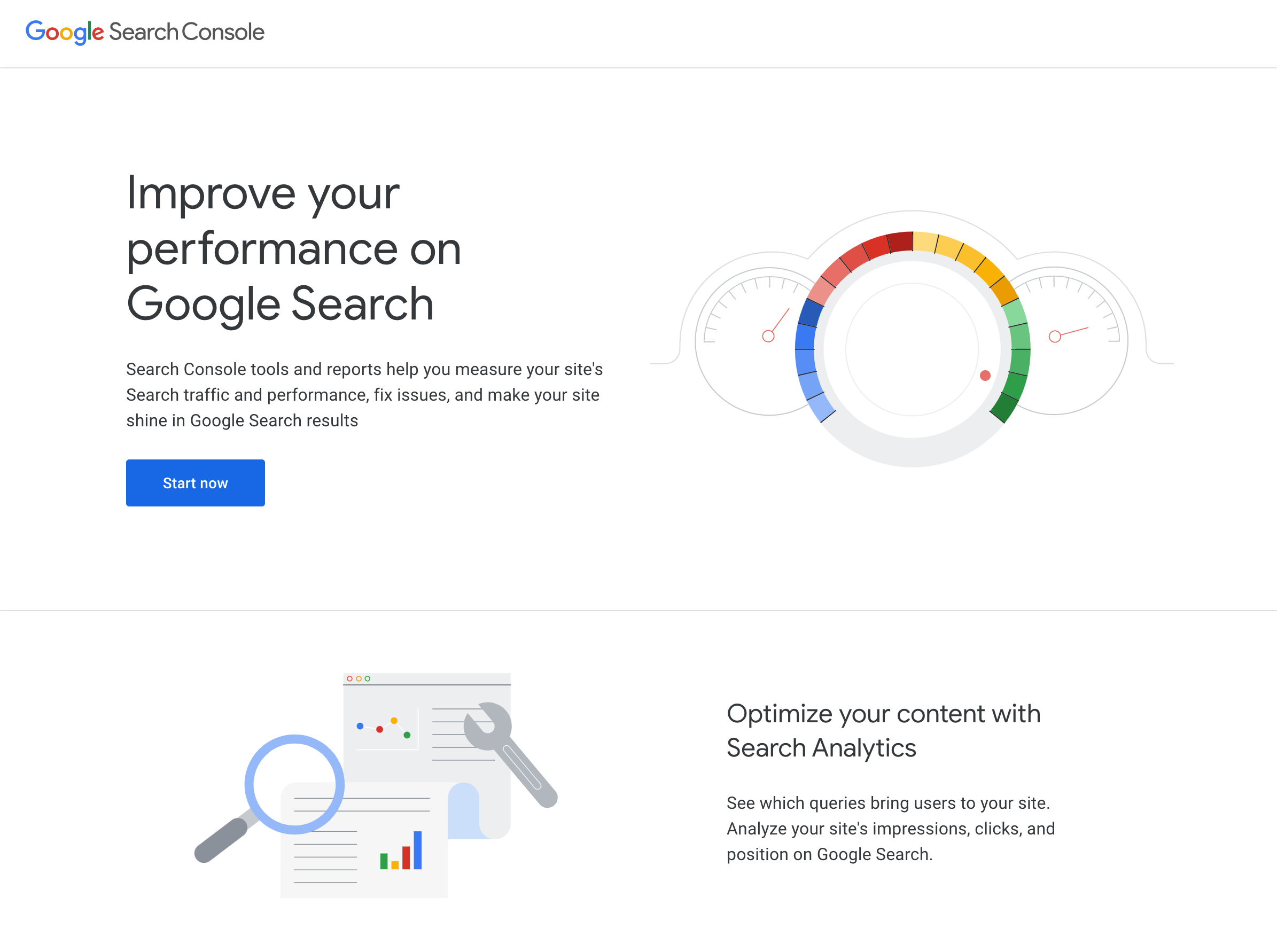 An active account will look similar to the image below: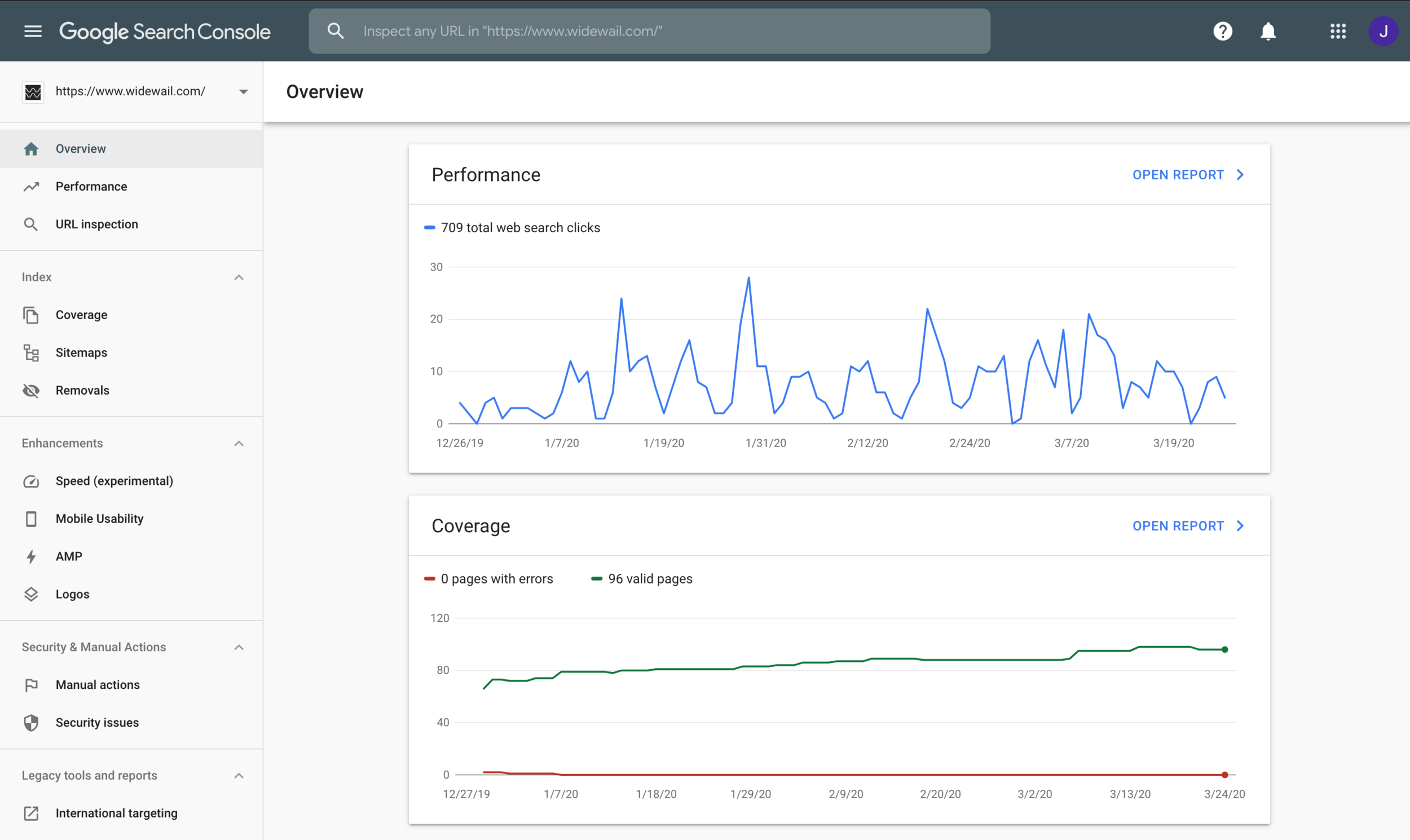 To index your website, go to "search.google.com" and select "Start Now." Sign in to your Google account. You will need to add your website (ie. property) to Search Console to access the data.
Start by selecting "Add Property" in the upper left.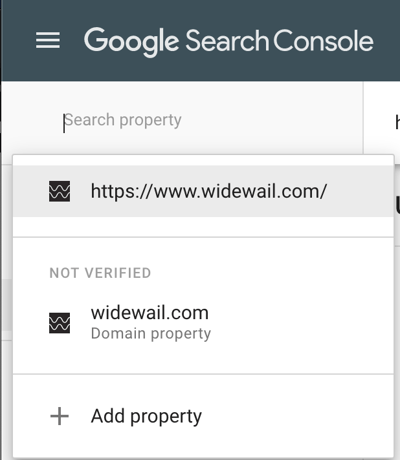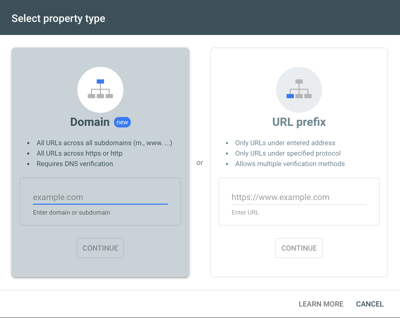 Enter your domain. You will need to verify your ownership of the website via your website host, e.g., Squarespace, Bluehost, GoDaddy, etc.
Once your site is verified you will be ready to go. To check if your website is indexed, click "URL Inspection" on the right-hand side of the page.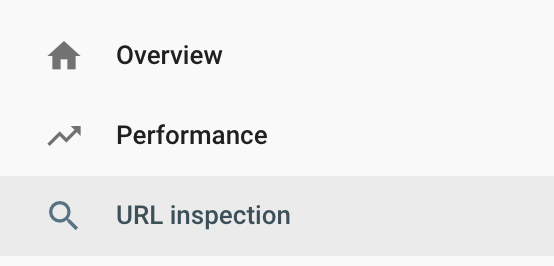 If you see the following message your site is properly indexed:

If your site or a page of your site is not yet on Google, you will see this instead. Selecting "request indexing" in the lower right-hand corner will instruct Google to crawl your site or a specific page of your site, ultimately adding the page to the Google search index. Remember - the content on your site is a large part of your organic search ranking. Be sure to properly describe your products and services on your site using the most common keywords relevant to your business. Refresh this content occasionally to show Google you're taking care of the site. This guide does not present an exhaustive review of modern SEO practices. We suggest sites like Moz to help you up your SEO game.

Once your site is indexed, it is time to move on to social media sites.
Social Media
The major sites to start with:
Facebook

Linkedin

Twitter

Instagram

YouTube
The goal here is not necessarily to develop a thriving social media marketing strategy.
At this stage, you simply want to have active profiles on each site displaying your name, branding, and basic information. Make sure to complete these profiles with contact information and photos.
Next, link to your social media accounts from the footer of your website. This will help Google make the connection between your website and your social media accounts.

If your business has listings on other third-party sites, such as forums or directories, add your social accounts to those pages as well.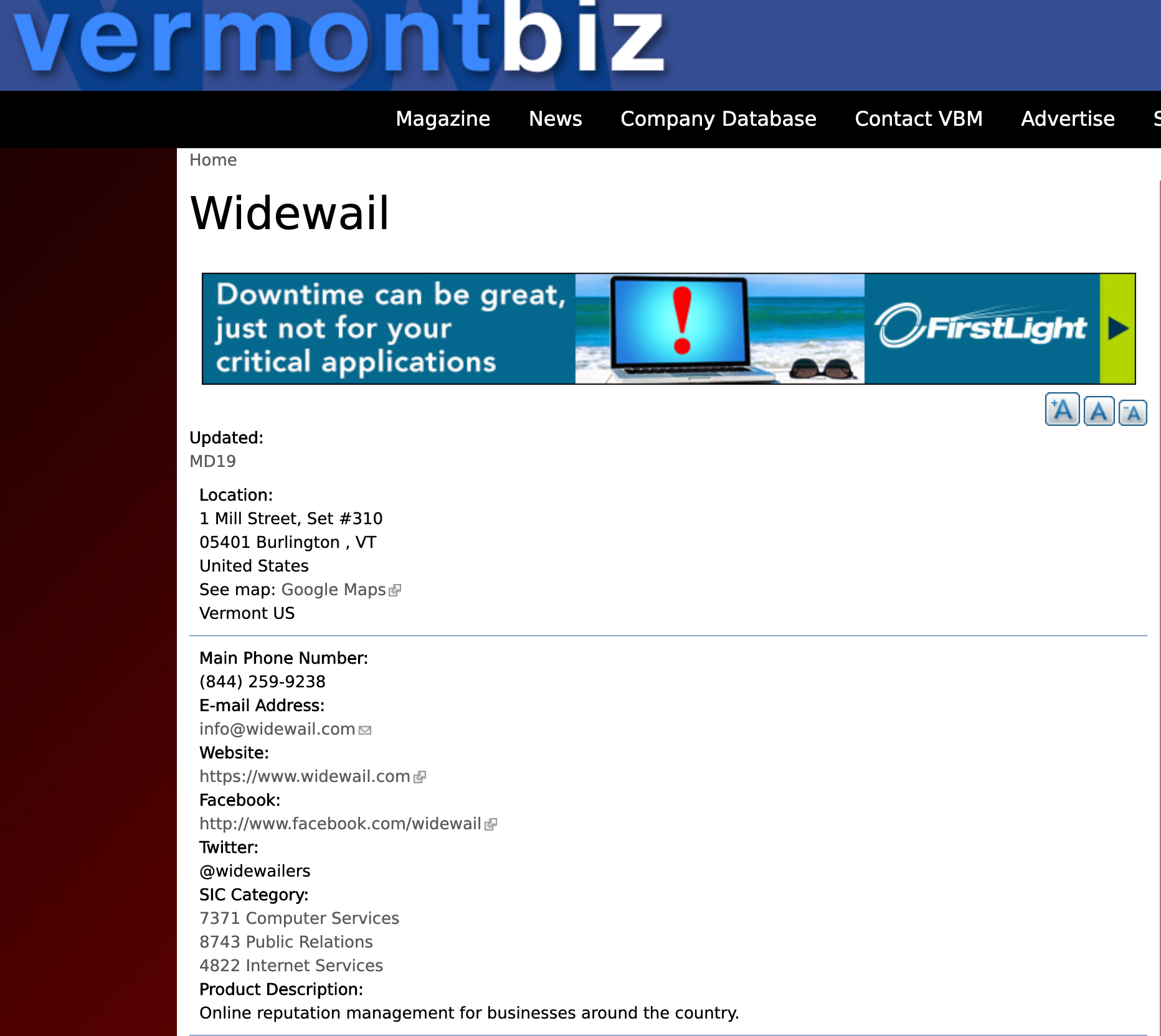 Consistently linking to owned social account pages from your website and around the web will tell Google these pages are "official," increasing the likelihood that they will rank.
Social Media Monitoring
Following the creation of your social media pages, it will make sense for you to monitor any commentary and activity from customers, friends, and employees. In the beginning there will more than likely be very little activity. During this time it makes sense for you to monitor any activity directly on each platform.
But as your social strategy matures it may become worth your while to consolidate all of your interaction management into a third party tool or service. These tools can also help you monitor any chatter about your brand around the web, not on your social media pages.
Some good tools to consider:

And if you are looking for an experienced team to monitor and manage your social engagement we recommend you read more about Widewail's Engage Plus product.
Google Business Profile: Your Second Storefront
Your business's Google Business Profile (GBP) page will likely be a primary driver of traffic and the central hub for your online reputation. Creating a GBP page is the first step to getting your business to show up in "local pack" or "map pack" search results.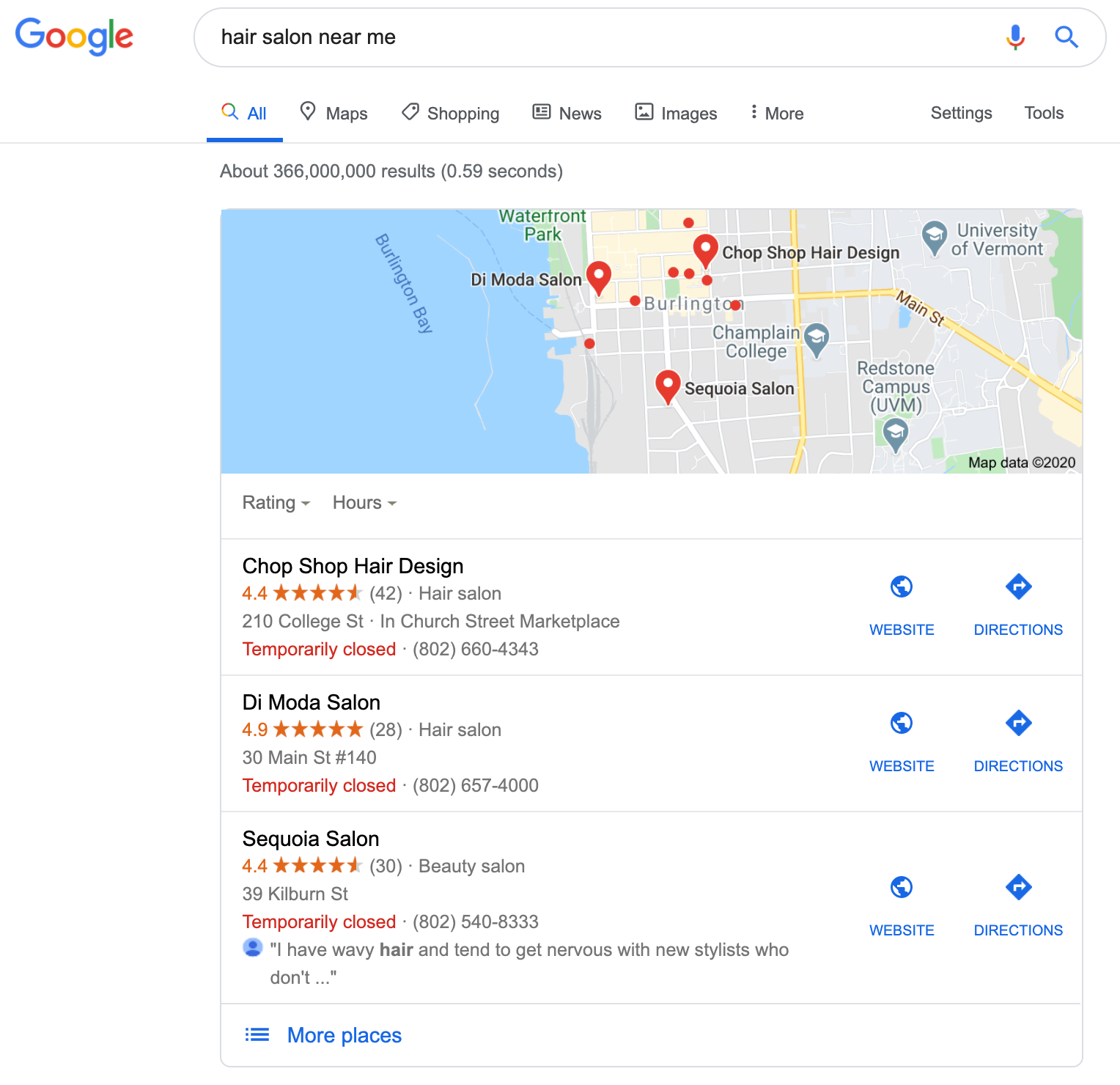 "Map Pack" or "Local Pack"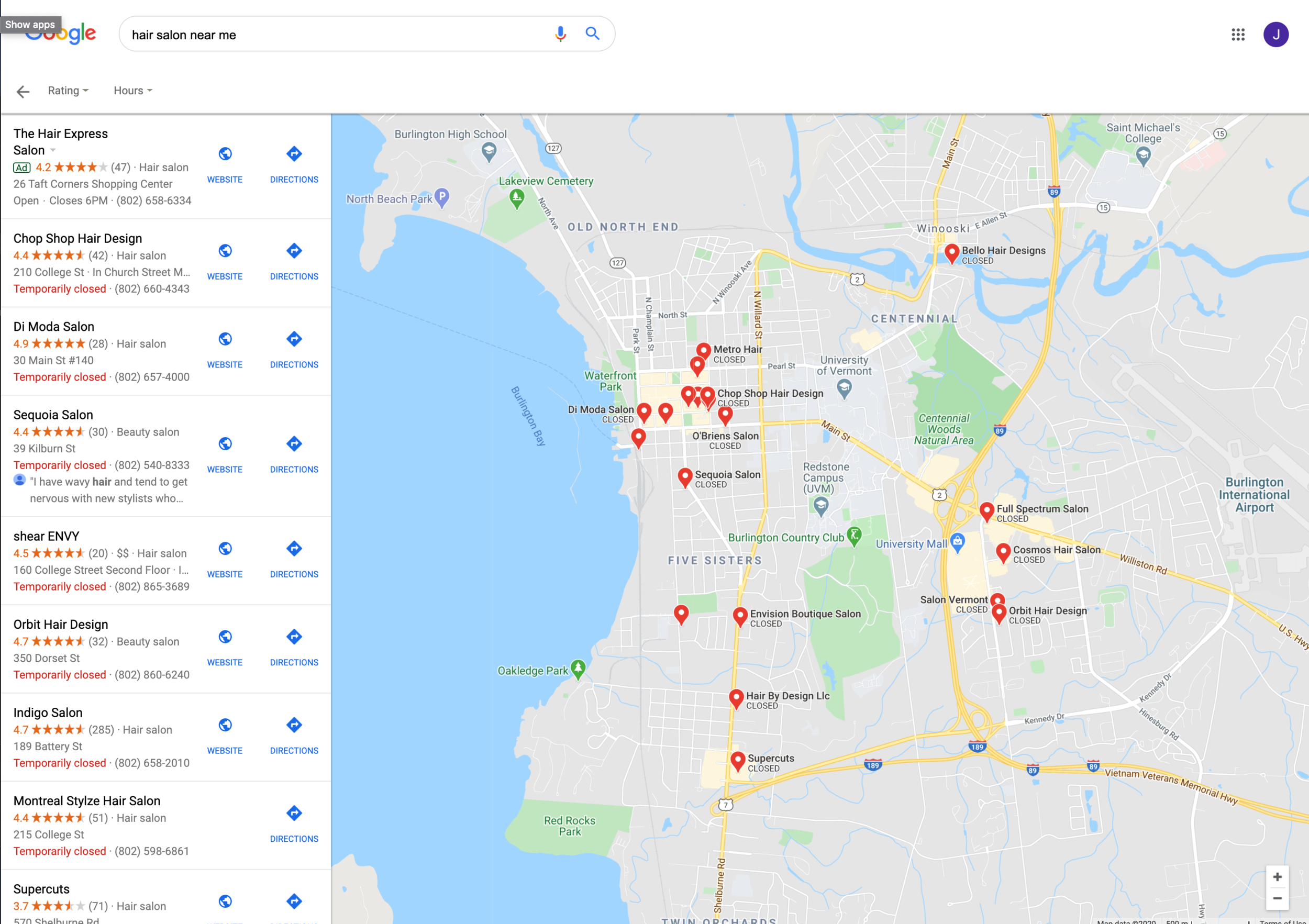 Appearing in local pack and Google Maps searches is important for the obvious reason that potential customers see these results first.
Here is a step-by-step guide to setting up your first GBP page.
We recommend that you take the time to add as much information to your page as possible.
No, your business is not going to go into a tailspin if you add only the minimum required information, but you will likely be missing out on potential sales opportunities.
GBP information you should provide:
Hours of operation

Products and services you offer

A high-level description of your business

Your business categories (e.g. Restaurant, Stylist, Wholesaler)

Your business attributes (e.g. Cash-Only, Happy Hour Food, Fitness Center)

Photos and videos

Link to appointment booking interface

Links to social media profiles
At this point, most of the setup work is done. Next, we will focus on maintenance and optimization.
How to set up alerts with your company name
Manually monitoring all online activities related to your brand is a fool's errand. Thankfully there are a handful of easy-to-use monitoring tools that will do the work for you, notifying you when your business's name is used across the web.
A few to look into:
Google Alerts

Mention.com

Brand24

Ahrefs Alerts
Each offers a different focus and different pricing levels. Google Alerts is free. In addition to your company name, you can add industry keywords of interest, such as the names of your competitors. Read our article on How to Set Up A Google Alert.
Monitoring tools can help you keep on top of the news or social media mentions, but the most common way for your customers to engage with your business will be through reviews.
Reviews
Before the popularity of online reviews, unhappy customers had a limited audience of people with whom they could share their experience. Today, the same customers are able to share widely online in the form of reviews - this is modern word of mouth.
They also act as social proof, proof of the experience from people outside of the company, and their impact can greatly influence the decision-making process for future customers.
When a customer navigates to your GBP page, the first thing they will see below your business's name is a review rating.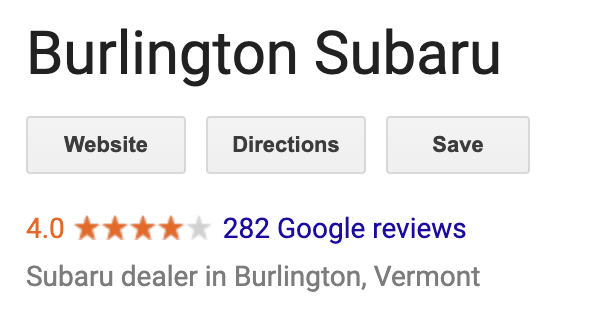 In your review section, customers can post feedback about the services they received at your business and read about the experiences of their peers.
85% of shoppers trust these reviews as much as a personal recommendation, so review management should be a major part of your online reputation management strategy.
Volume, frequency, quality, and response are the most important factors when it comes to online reviews and their impact on local search.
Your potential customers are not the only ones paying attention to your reviews - Google is as well. According to Moz, review signals account for 15% of local search rank. Factors such as the volume of the reviews your business receives, the rating of those reviews, and your engagement with reviews contribute significantly to how "good" Google interprets your business to be.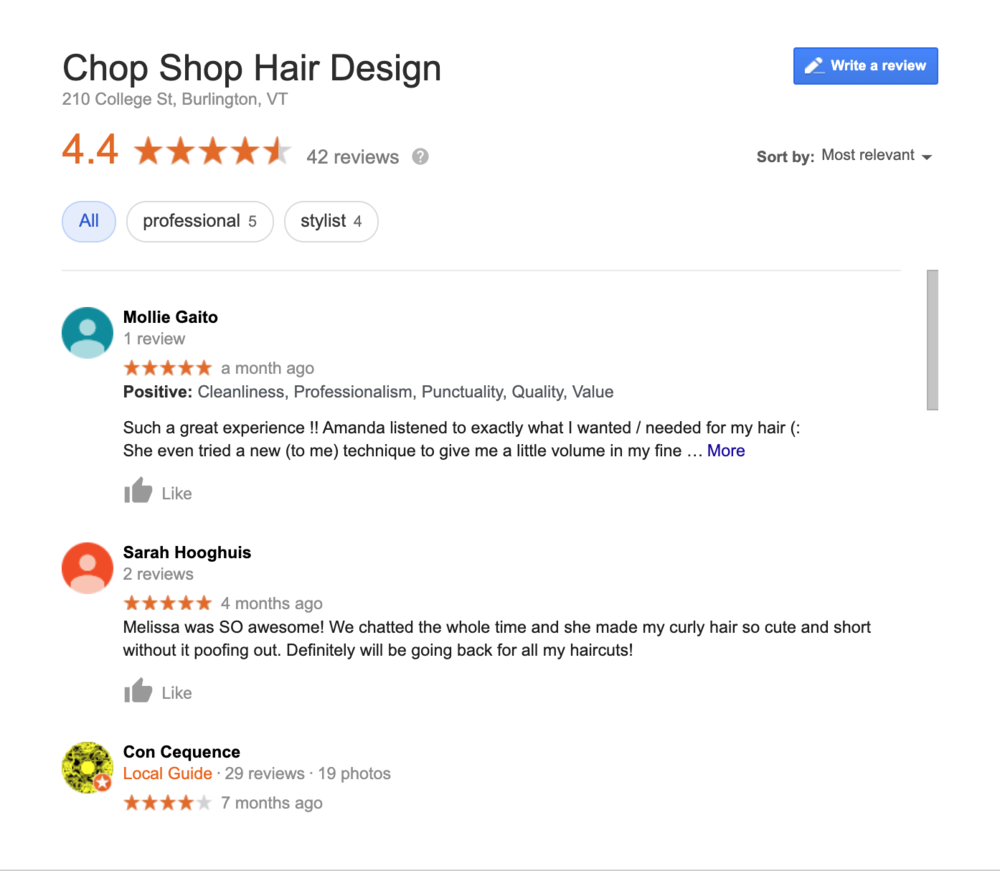 On average, customers read 10 reviews before making a decision, so making reviews easily accessible will help facilitate and promote purchases.
According to BrightLocal, of the people that read reviews, 97% also read responses.
As part of an effective review strategy, we recommend you respond to every review. Doing so will help solve customer problems, increase customer loyalty, and show future customers that you care enough to be engaged.
Review response is a topic all its own. If you would like to learn more about how to respond effectively to positive and negative reviews, read our guide: How to Respond to Positive and Negative Google Reviews (+19 Examples).
Here are the cliff notes.
How to respond to positive reviews:
Work keywords into your positive review responses

Use the customer's name

If a customer mentions a product, repeat it in your response

Mention additional products you sell, when and where appropriate

Share your company values
How to respond to negative reviews:
Stay professional

Don't speculate

Minimize emotion

Present the facts

Apologize for the customer's frustration or concern

Don't publicly admit guilt for the issue described in the review

Avoid public accusations of review fraud

Provide a next step and move the conversation offline
To increase the volume of reviews, you should ask each of your customers for feedback once their sales experience is complete. An automated service like Widewail's Invite makes this easy. With just a few clicks, you can reach out to every contact in your point of sales system and direct them to the review site of your choice.
More than ever, potential customers rely on online reviews to help them make purchasing decisions. We've found that businesses get the most benefit when they respond to every review.
Google loves customer engagement and will make your GBP more visible when you start a consistent review response strategy. Here is a month-over-month comparison for a client of ours after beginning review response on October 1st. This increases referrals from the GBP page to the customer's website. Engaging in the conversation on your GBP will make your business more visible.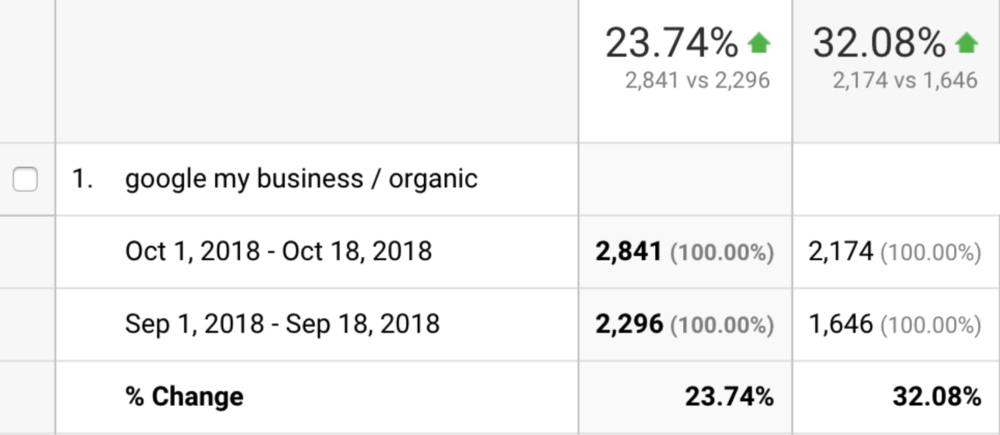 Each type of review requires a significantly different approach, so this process is no small task.
Most business owners we talk to don't have the time to keep up with responding to their reviews, or they feel ill-equipped to handle the unique communication they require.
Many prefer to outsource their response.
At Widewail, we provide high-quality responses to all of your review content for significantly less than the cost of an internal hire, technology, and training.
The time you spend on responding can be cut down to minutes a week, as our software makes it simple to approve or edit our suggested responses for negative reviews.
Learn more about Widewail Review Response.
Facebook: second most important review site behind Google
If Google is king, Facebook is queen. Although Google plays the primary role in facilitating your online reputation, Facebook is another potential source of new customers, influenced by the display of your reputation on your Facebook page.
Square recently published a survey of 1800 customers. A notable 52% said they had discovered a new business through Facebook. Interestingly, that same survey reported that 43% said the same for Google, 38% for Yelp, and only 14% for traditional media, a distant 4th.
Similar to Google: provide as much information as possible, make products and services the focus of your description, highlight standout amenities, upload photos and videos, triple-check contact information, tag your page with relevant keywords.
Facebook Recommendations and Reviews
Google may have the most online reviews, with 57% of the total, but Facebook has the second most, at 19%. Once you've implemented a great review strategy on Google, turn your sights to Facebook.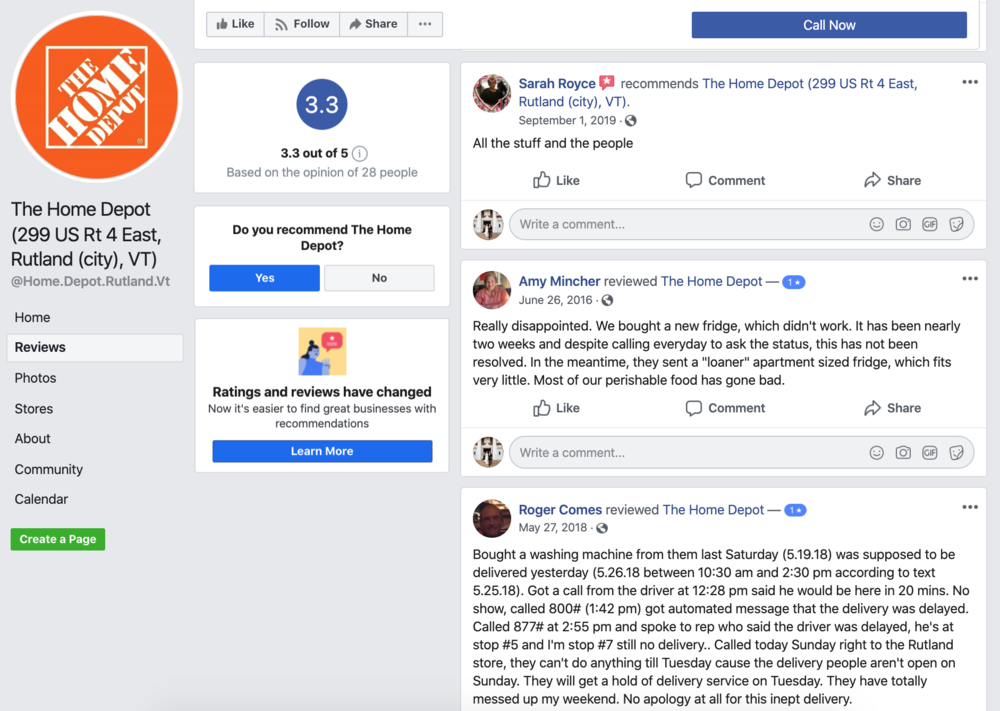 Here is Facebook's description of what goes into a local business rating: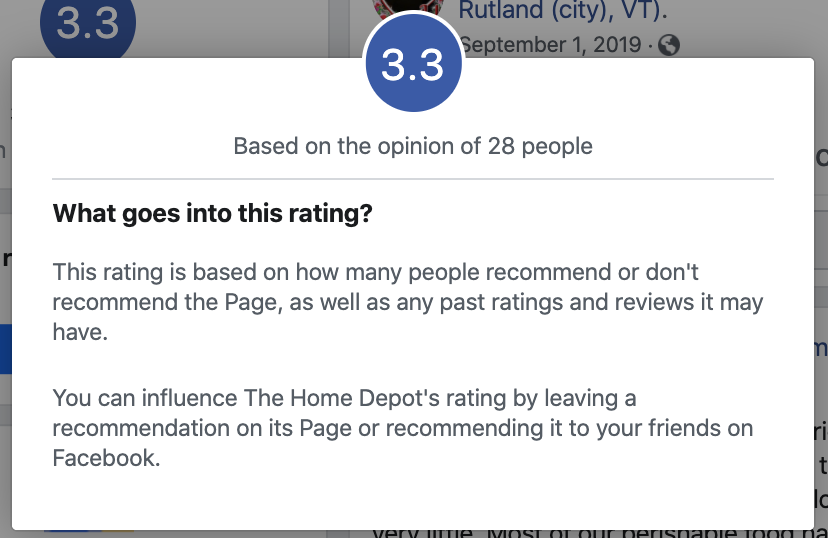 While customer feedback can be found on the left hand side of the page under the "Reviews" tab, Facebook technically no longer has reviews. This change began in 2018, when Facebook announced it would be gradually phasing out the Reviews feature and replacing it with a feature called Recommendations, though the type of content remains similar. The change was intended to make the process easier for customers to offer their opinion on your business by making the process a "yes" or "no".
Below are the steps your customers take to find your business and recommend it on Facebook: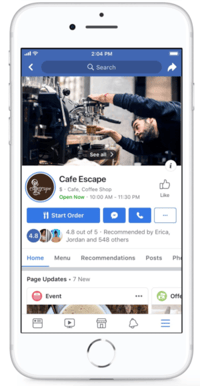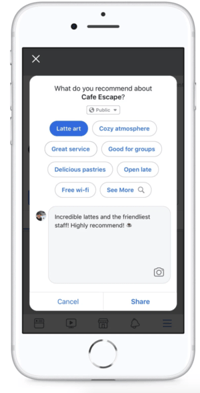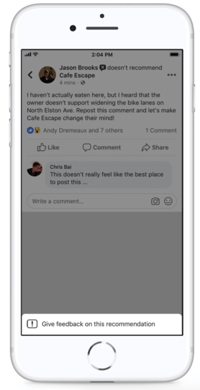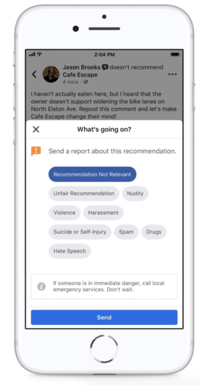 For a more detailed view of how customers are able to find local businesses on Facebook, watch the video walkthrough halfway down this page.
The review response principles we covered in the GBP section apply just the same to Facebook and, as we will cover later, Yelp. Respond to every review and be sure to follow best practices for positive reviews and negative reviews.
Tip: Unlike Google, Facebook allows users to select whom they allow to see their reviews; only their Facebook friends or the general public. This may lead to different users seeing different information. We doubt this will have a dramatic effect, but certainly something to keep in mind in the event of confusion.
Additionally, if you are running Facebook ads, don't forget to monitor and respond to customer commentary. Ads are designed to reach a much broader audience than organic posts, and because of that, they tend to be magnets for reaction.
This is especially important if any of your ads receive negative commentary. Running an ad for two weeks is a waste of money if the first comment on the ad is "Terrible customer service."
Generally, we recommend immediately removing negative comments from your Facebook ads. If the comment is critical but related to a specific customer experience, it may make sense to respond and offer assistance. This display of proactive customer service will be broadcast to additional viewers of the ad.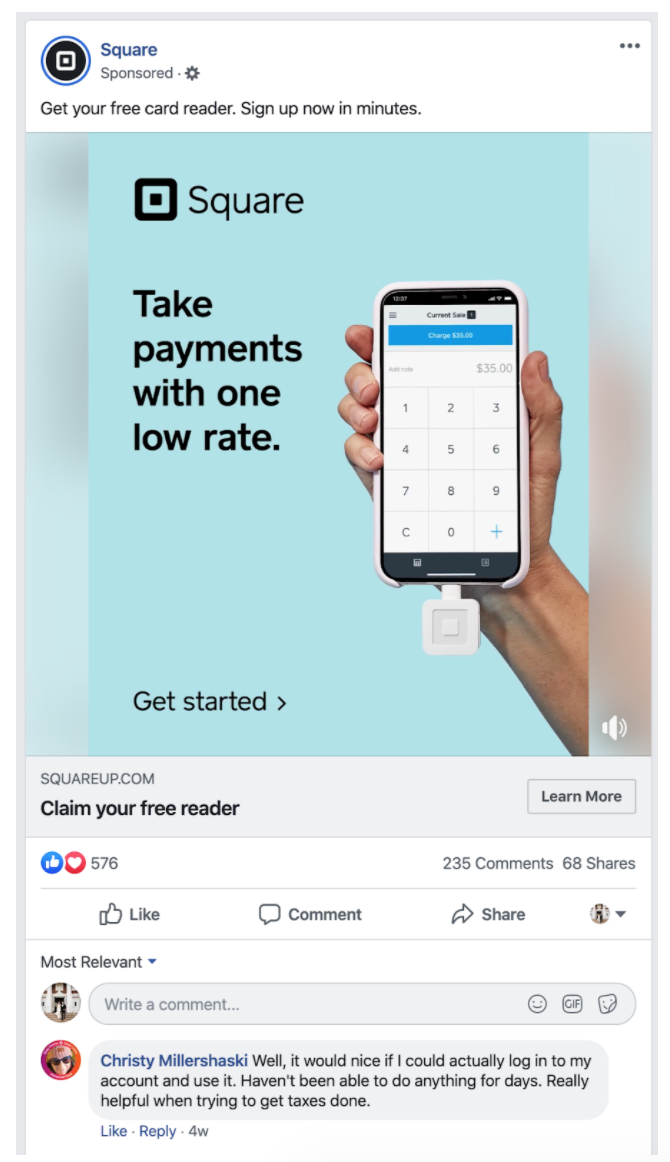 Yelp: dominant in local organic search
Ok, so we've covered a lot. You are all over the first page of Google for your company name. You own social media accounts for all the major players and your GBP profile is optimized to show up high in local search results. You are actively managing customer feedback through Google reviews, Facebook Recommendations, and Facebook Ads.
Ready for the final push? The last major player in an effective reputation management strategy is Yelp.
As you likely already know, Yelp is an online platform designed to connect shoppers with local businesses. Business owners are able to provide the basic information potential customers need, such as name, location, hours, contact information, etc. In turn, users can leave candid feedback about their sales or service experience. Ratings and reviews from customers determine which businesses appear first in Yelp searches.
With 175 million monthly users, Yelp is basically another search engine focused on local business. Why does Yelp have so much traffic? Because they dominate local organic search.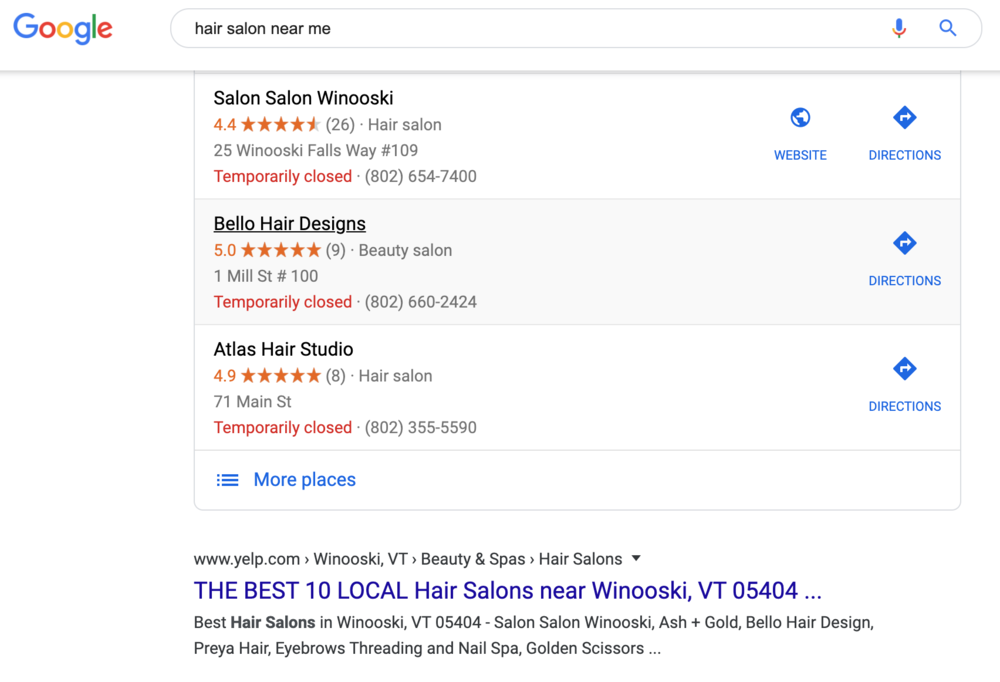 Yelp owning the top organic search slot is not uncommon. If your business hasn't earned a spot in the top three options of Google's Map Pack, you have a second chance to rank well on Yelp.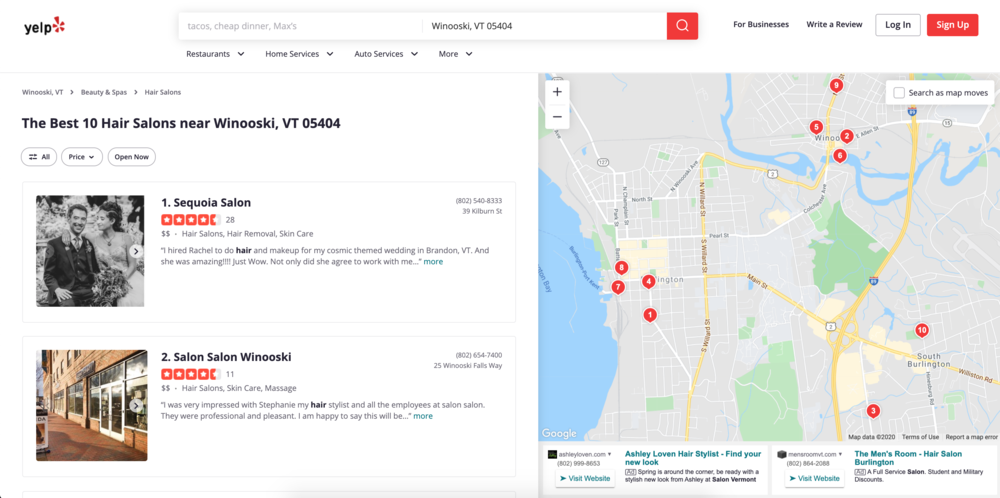 Yelp also provides a great mobile experience via their app, making their search tool that much more accessible for shoppers on the go.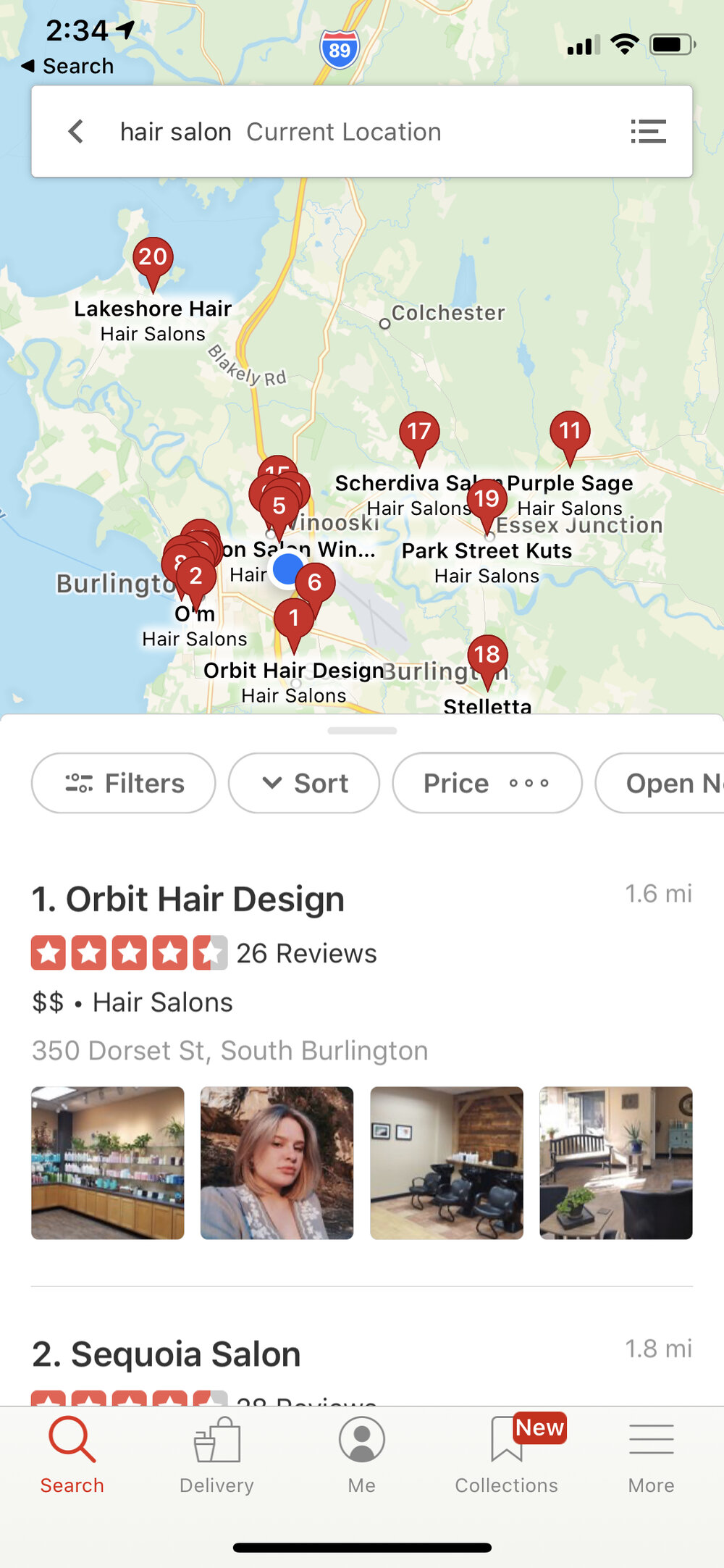 Yelp differs from Google and Facebook in that it began as a customer referral tool. To this day, Yelp is known primarily for its reviews. Because of that, Yelp takes review authenticity more seriously than the others.

They don't allow review solicitation and will remove reviews they have deemed the result of solicitation.
To be clear, there is nothing wrong with asking your customers to write reviews. In fact, customers with positive experiences usually need more encouragement to share feedback than customers with negative experiences. It is simply human nature to be more outspoken when you are frustrated. As a result, Yelp produces a different collection of reviews than Google and Facebook, in many cases skewed negative.
Over To You
We really hope you enjoyed our guide to online reputation management. Now we'd like to hear from you. Are you going to take on a reputation management overhaul for your business? If you have further thoughts or questions, please feel free to email us at info@widewail.com. We would be happy to help. And have a look at our recent review management case study to see the tangible benefits of our service.