Google Reviews: How to Respond to Positive and Negative Google Reviews (+29 Examples)
This guide has been enjoyed by 122,000+ local marketers.
It includes everything the Widewail team has learned responding to 750,000+ reviews on behalf of our local business clients.
How to Respond to a Google Review
Within its 9,500 words, you'll find examples, insights, templates and strategies you can use to reply to any review, on any platform, in any situation.
Learn the best ways to respond to reviews on Google, Facebook, Yelp, and industry-specific review sites. Apply these techniques to impress your customers, encourage more Google reviews, and rank higher in local search results.
Bottom line
:
If you want to learn how to respond to both
positive and negative
Google reviews
, and why online review management is integral to any digital marketing strategy - you'll love this guide.
Why Are Reviews Important?
Consider Your Future Customer
In today's marketplace, customers rely upon both good and bad reviews to vet local businesses. In fact, 85% of customers trust online reviews as much as a personal recommendations.
Let's say that you're a consumer searching for a local car dealership. You head to Google, type in a few keywords, and are faced with the following two options.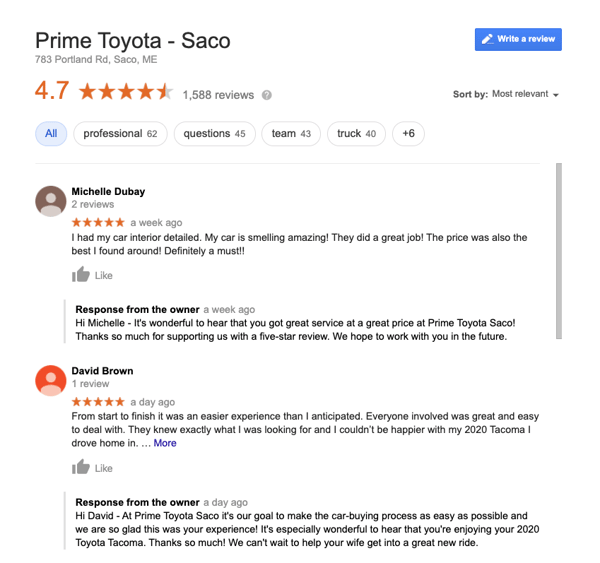 Clearly, you're going to choose #1. Not only does it have more reviews, but it also has better reviews.
And you're not alone.
Consumers read an average of 10 reviews before they feel they can trust a local business (Brightlocal).

57% of consumers will only consider a business if it is rated 4 stars or higher.
This last statistic is especially important to keep in mind. That's because there are certain search situations in which Google only displays businesses with ratings above 4.0. For example, if a searcher adds the modifier "best" to the search Google automatically hides any business with a rating <4.0.
See the example below: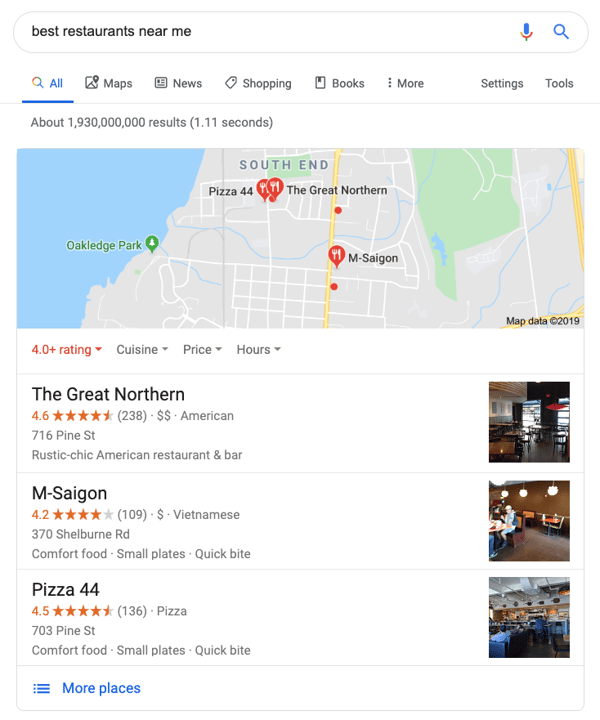 While this is frustrating for businesses rated 3.9 or lower, it makes sense. It's in Google's best interest to show searchers the results that are most likely to offer a great experience, as proven by past customer reviews. That means businesses with higher ratings get a boost.
If your business doesn't have many reviews, potential customers will have less information to help them make a decision about where to shop. Even worse, they are less likely to find your business in the first place.
"The prominence of reviews isn't particularly shocking, as it's a way for Google to crowdsource ranking factors, it's hard to spam, and the most problematic type of abuse is illegal."
Reviews Dominate Local SEO
In traditional SEO (keyword-based ranking not specific to one geographic area), reviews have a relatively modest impact on ranking. But local search is a different story. Reviews play an outsized role in local search rankings, specifically in the Local Pack, the three most-prominent listings at the top of a local search result.
According to Moz, reviews are the second most important ranking factor, moving up from third, surpassing proximity. This change means the expected quality of the experience (reviews) is more important than where the searcher is physically searching from (within reason). Because of this, review management should be a core part of your business's SEO strategy.
A great way to explain this is what we call the "deli example" (illustrated below).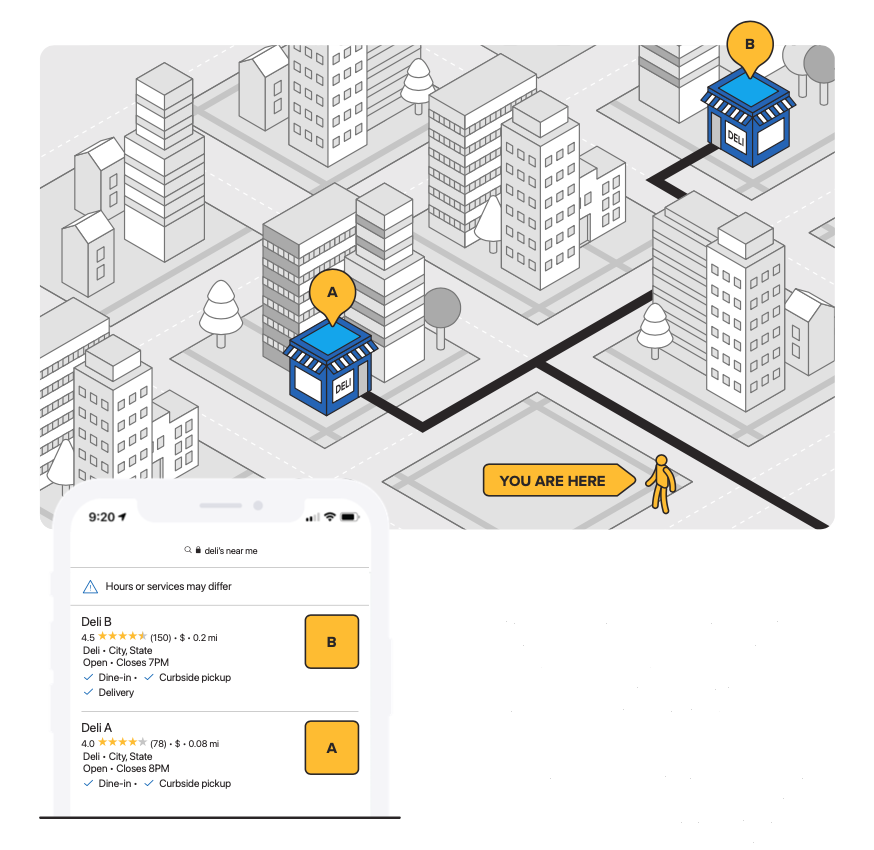 Say you are in a new city, it's lunchtime, and you would like to find a good deli nearby. You search "deli near me". Historically, Google would recommend the closest deli first. In the case of this example, Deli A. Today, if Deli B has more reviews and higher ratings, Google will recommend Deli B first, despite the searcher having to walk a few more blocks.
Local businesses can now proactively influence search visibility for a wider geographic area. While the business has no control over where a prospective customer is when they conduct a search, the business can take a proactive role in managing reputation information to influence search ranking.
If you think about it from Google's perspective, it makes total sense. Its business relies upon searchers being satisfied with the businesses Google recommends. How does it pick the best businesses to recommend? Reviews.
Always Be Listening
Reviews are an excellent source of feedback.
Satisfied customers will reinforce what is working, and unhappy customers will identify opportunities for improvement.
We recommend looking for patterns.
While a single critique may not make sense to drive significant organizational change, multiple instances of similar feedback should capture your attention.
Given the diversity of review sites available today, utilizing monitoring technology to centralize the process will add efficiency and ease. A handful of products exist on the market, including monitoring technology included as part of Widewail's Engage managed review response services.
Can You Respond to Google Reviews?
Yes. As a business owner with admin access to your Google Business Profile (formerly Google My Business/GMB) you are able to monitor and respond to customer reviews.
Here's how you Reply to Google Reviews with Google's tools
Sign in to your Google Business Profile by navigating to business.google.com

Select "Reviews" on the left-side navigation

To respond to a review select "View and reply"
If you would like to get a direct link to your review page that you can share, go to business.google.com, and from your home page find "Get more reviews" and select "Share review form" to access the link.
Why Respond to Reviews?
Now that we understand why reviews matter, let's discuss why responses matter just as much.
Review response is all about taking control of your business's public-facing content. While the internet can sometimes feel like a one-way conversation, responding to reviews gives your business a voice.
Responding Has Significant SEO Impact
Here are the review factors that influence SEO:
Volume

Rating

Keywords

Unique, up-to-date, and ongoing content
If you are interested in digging into this topic in more detail, check out our guide: How Reviews Impact Local SEO.
Volume
More reviews will enable your customers to get a better understanding of the experience they can expect to have at your store. Responding can boost this effect, the Harvard Business Review found in a recent study that businesses who respond consistently get 12% more reviews.
If you're worried about more reviews simply leading to a higher volume of negative feedback, we generally haven't found that to be a problem, and we've managed 750,000+ reviews for clients. A pile of new 5-star reviews will help drown out an isolated negative experience. Potential customers are looking for consistent negative or positive trends, not individual situations.
An even more reliable way to get more reviews is by proactively asking all of your customers for a review via SMS. Widewail's product, Invite, makes this easy to automate. You can use Invite to request reviews from individual customers via text, or you can sync it up with your point of sale system to reach all of your customers automatically.
"Businesses who respond consistently get 12% more reviews"
Rating: Increase Your Google Star Rating by Responding to Reviews
Not only do businesses that respond to reviews get more reviews, they get better reviews. Businesses that replied to online reviews had increased ratings, according to a study published in Harvard Business Review. ~33% of the businesses in the study increased their rounded rating by half a star or more within six months of their first managed response.
How does responding to reviews increase your Google star rating?
When potential reviewers observe that the business engages with all feedback they may be more considered when sharing negative feedback, expecting the business to engage and attempt to solve the problem.
Increasing your Google star rating is important. Your online business rating is likely the first quality indicator your potential customers will see. At a minimum, a rating above 4.0 should be your target.
This will get you past the first round of cuts. Generally, 4.0-4.5 is good and 4.5-5.0 is the top of the pack.
Keywords
This is where Google review management really comes into play. Yes, your customers' reviews will sometimes contain keywords, but responding gives you the chance to ensure Google knows exactly what your business is about.
Relevant keywords to consider in your review responses:
Business name

Location

Products

Services
Compare these two responses. Which one has a better SEO value?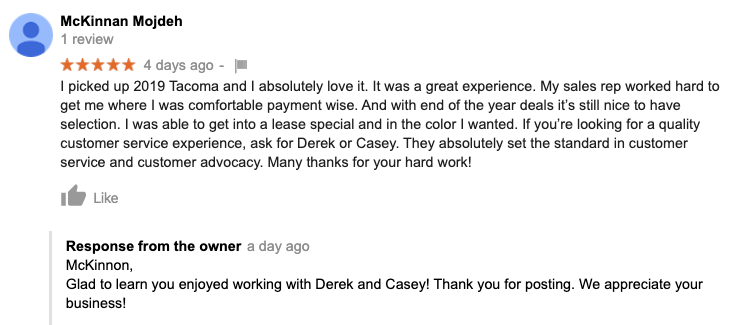 Both are pleasant, but number two also provides Google with helpful information. The second response lists the accurate name of the business and the full product name. The customer mentioned "Prime Toyota", but the complete business name is "Prime Toyota Boston." By responding, Google now has access to the proper name.
Unique, Up-To-Date, and Ongoing Content
To Google, a strong indicator of a healthy and active business is new content on a consistent basis. Responding to reviews will effectively double your GBP content activity.
The "Adult in the Room" Theory
By actively participating in your business's review conversation, you are likely to see a drop in short, negative reviews. If a customer knows that the manager is likely to read and respond to their review, they will be less likely to leave a trivial negative review. The remaining negative reviews will provide feedback for your team or an opportunity to remedy a poor situation.
Identify and Solve Problems Early
Conventional wisdom suggests addressing a problem is better than letting it fester. Reviews are no different.
In our experience, dealing with customer frustration head-on as quickly as possible creates positive outcomes.
Furthermore, responding to reviews demonstrates to future customers that if they patronize your business and have a problem they can expect prompt customer service and problem resolution.
Better customer service = happier customers!
8 Types of Review Responses
Types of Review Responses:
No response

Negative-negative response

Barely-there response

Spellcheck response

Robo response

Eager-beaver response

Keyword-less response

Widewail response
1. No Response
Coming in dead last: no response at all.
Reviews stack up without acknowledgment. Hundreds of customers go unthanked. Rude language and misinformation remain online. All in all, ignoring reviews makes it look like the company doesn't care about its guests or its reputation.
2. The Negative-Negative Response
The positive reviews get the attention they deserve, but the negatives go overlooked.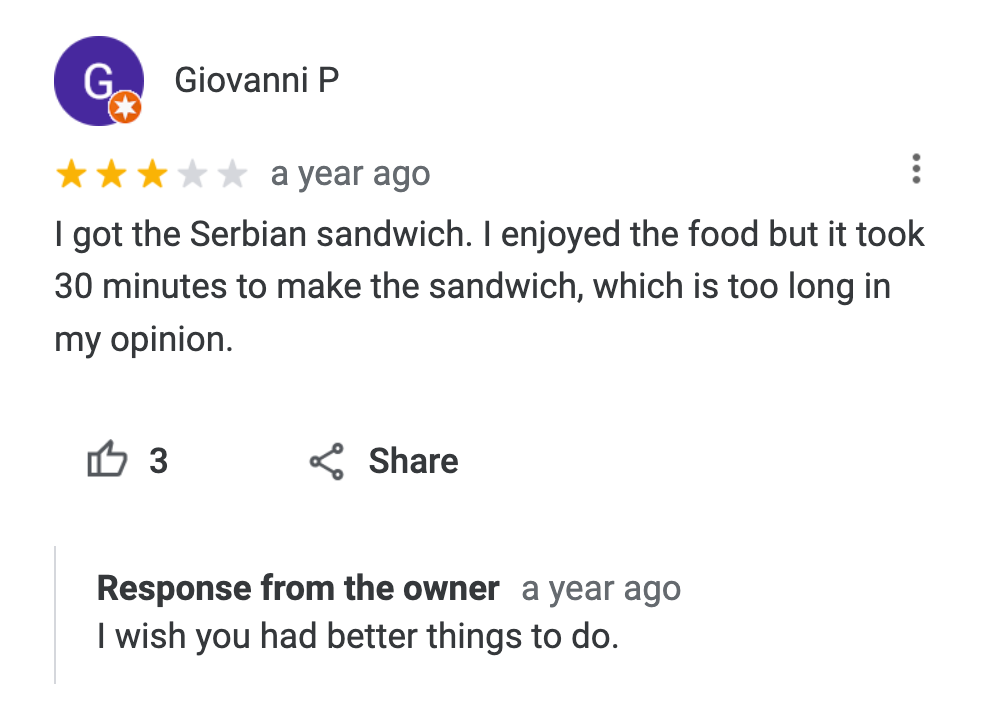 This might be the worst message to send potential customers: that guests without complaints will be treated with kindness but those looking for help will be ignored.
Even beyond customer service, negative reviews provide valuable information to businesses about how they can improve. The only thing worse than ignoring negatives is responding to them in anger. No matter what the review says, answering in an aggressive tone makes the company seem petty and will invite a very public customer service fire.
3. The Barely-There Response
One step above ignoring reviews is responding with as little effort as possible. Each positive review receives the same "Thank you," while unhappy customers are provided a general email address where they can send their feedback. At least there is an answer, but no one believes that anyone from the company is actually concerned about resolving their patrons' problems.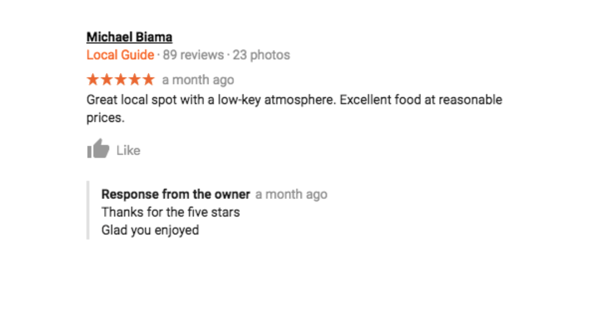 4. The Spell Check Response
Even a response that contains great content can be ruined with grammar issues, incorrect spelling, and awkward prose. Mistakes like these, especially ones that would be fixed with a simple proofread, paint the company in a very unprofessional light.
If the business doesn't care about the details when it comes to communicating with their clients, will they care about the details when it comes to their service?
5. The Robo Response
It's obvious that these responses are copied and pasted from a template, or otherwise written by a machine. While detached responses might seem like the most professional option, they may further upset unhappy customers.
These dissatisfied guests are looking for answers and they want to speak to a real human, not an automated message.
Future customers might be turned off as well, believing that the service they can expect in person will be as cold as the interactions they viewed online.
Read the pros and cons of an automated vs. managed service review response solution.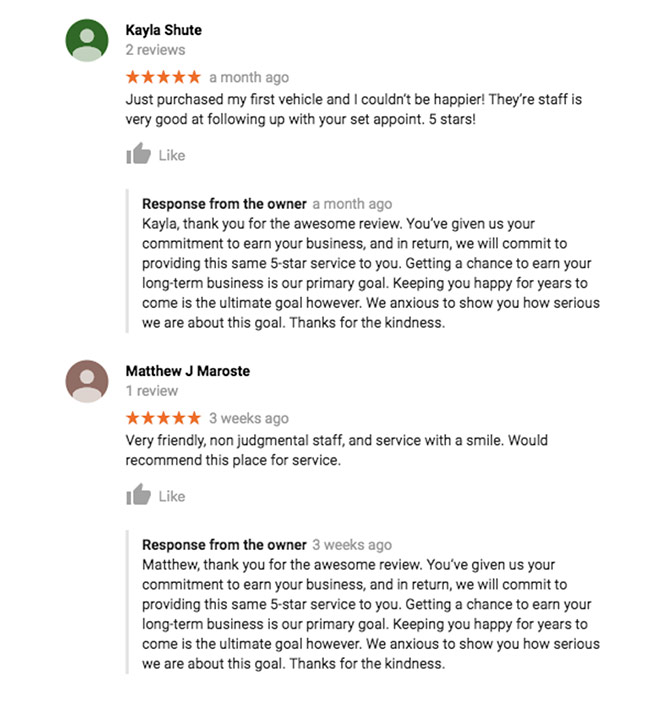 6. The Eager-Beaver Response
We know that businesses are enthusiastic about their customers, but it's possible to go overboard when it comes to answering online reviews.
All-caps paragraphs running longer than the review itself, multiple thank yous, excessive emojis and exclamation points all will be overwhelming to the reviewer. Customers should be treated with respect, not pandered to.
7. The Keyword-Less Response
This response meets all the basic requirements, but it's missing a huge opportunity: SEO keywords.
Terms like the business name, products and services offered add more branded and contextual keywords to Google Business Profiles. While keyword-less responses are not necessarily bad in terms of customer service, these responses aren't doing anything for SEO optimization.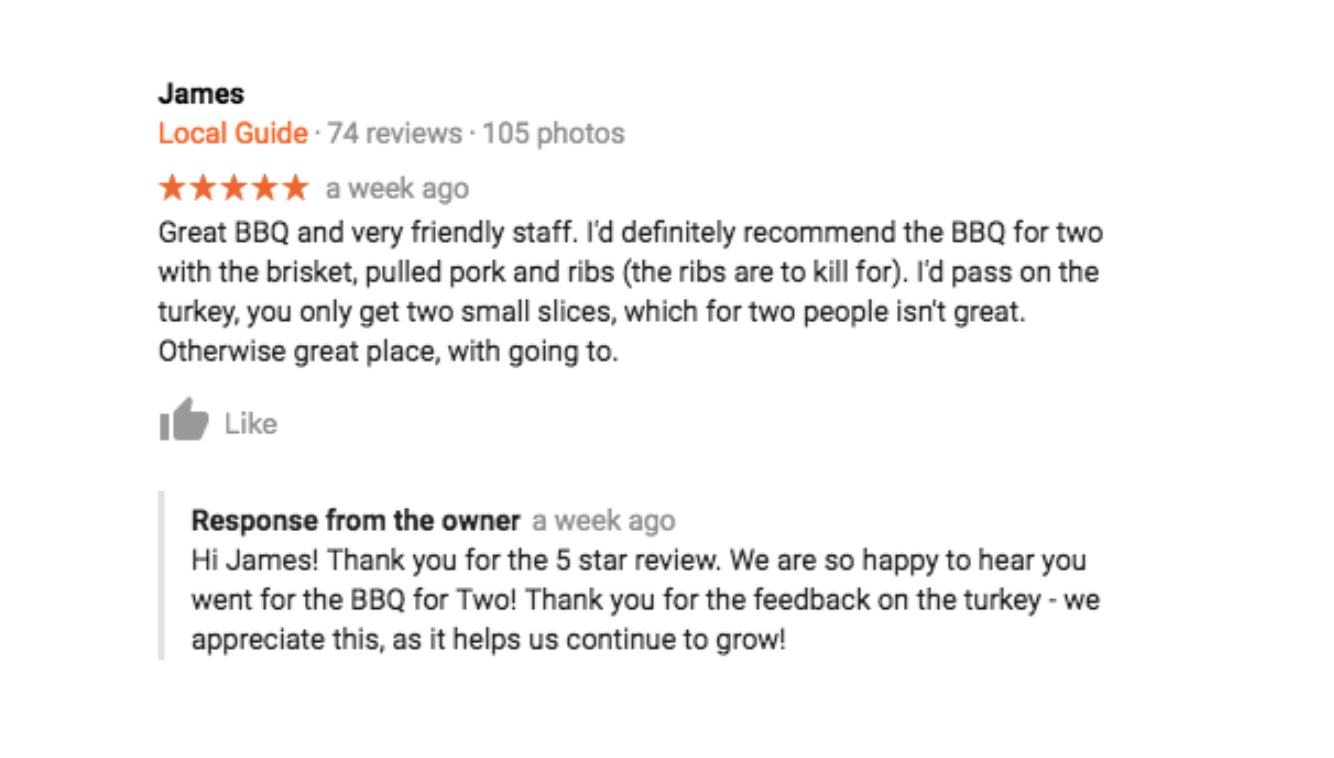 8. The Widewail Response
Finally, the best option: a response written by experts.
Easy to read, professional with a personal touch, HIPAA-compliant when necessary, packed full of SEO terms without being clunky. A response that will thank current customers properly, boost the company's local search ranking, and improve GBP engagements and conversion rates. We also know what not to do.
Best of all, it takes the burden of review monitoring and response off the in-store team, enabling staff to provide the best in-store experience possible.
Read more about the tactics used by the Widewail team when responding to positive and negative reviews in the upcoming sections.
Best Practices for Responding to Positive Reviews
How to respond to positive reviews:
Work keywords into your positive review responses

Use the customer's name

If a customer mentions a product, repeat it in your response

Mention additional products you sell

Share your company values
No big surprise here - your business should be responding to all positive reviews. A common mistake is to respond only to unhappy customers. Operationally this makes sense, but because Google tends to favor reviews that are engaged with, by only responding to negative reviews you run the risk of pushing that content to the top of your page. Avoid this by responding to all of your customers.
Good reviews are a way to engage with happy customers and keep the conversation going after the sale. A positive response to a positive review will leave a good impression on the customer, leading to a higher probability of repeat business.
Work Keywords into your Positive Review Responses
As mentioned above, a positive review response is an obstacle-free opportunity to add relevant keywords to your Google Business Profile (without keyword stuffing). Local business keywords are generally business name, location, products, and services.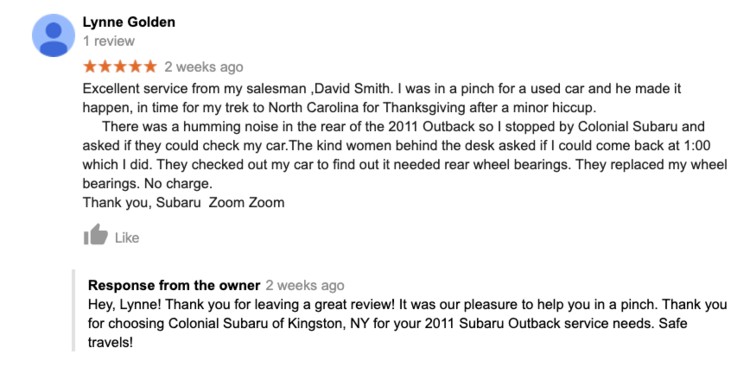 Use the Customer's Name
Adding the reviewer's name to the response is an easy personal touch.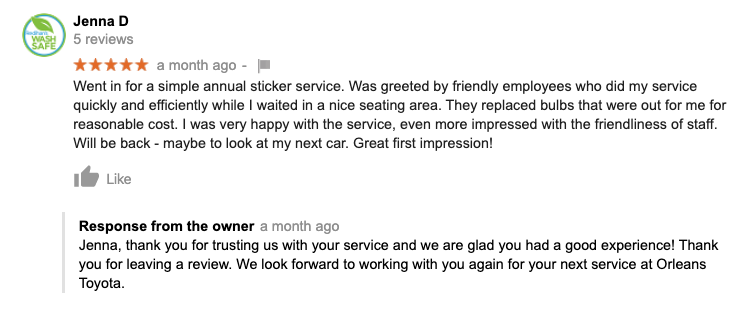 If a Customer Mentions a Product, Repeat it in the Response
If the customer mentioned the make or model of the vehicle they purchased, be sure to include it in your review response. If you aren't sure which vehicle the customer purchased, don't guess!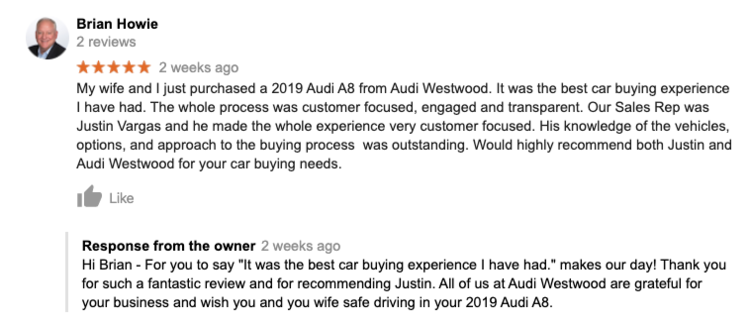 *Note - It is common for reviewers to use shorthand versions of the model they purchased (i.e. "2019 Civic"). Your response is an opportunity to include the full keyword set, "2019 Honda Civic."
Mention Other Products
Another way to make the most out of your "good" review response is to mention other products the customer could potentially purchase in the future.

Warning: it can be easy to go overboard when adding keywords. Make sure you are confident that the additional product you are recommending is useful to the reviewer.
Responding to Patient and Healthcare Reviews
Healthcare-related groups must be HIPAA compliant in many aspects of their business, and review response in one of them. While reviewers often include personal information in their reviews, including their names or details of their visits, in your response you cannot publicly acknowledge any information about their visit.
Any reference to or acknowledgment of a patient's personal health information is a potential violation of HIPAA guidelines, which for a HIPAA-covered entity result in fines anywhere from $100 to $50,000.
Here are found tips for responding to healthcare reviews while remaining HIPAA compliant:
Don't use the reviewer's name. While it may seem impersonal to avoid addressing the reviewer directly, using a name is a direct violation and needs to be avoided.
Keep replies vague. Refrain from using words like "patient," "you," or "your." This type of phrasing inherently acknowledges the reviewer's personal experience with your business. It also puts you at risk of confirming/denying a fact about their visit, which violates HIPAA privacy guidelines.
Promote your business's values and policies. Instead of addressing the specifics of a review in your response, use it as an opportunity to promote your business's goals. Focus on what you expect for your clients generally, and share it as it pertains to their feedback. For example, if your customer/patient had a longer wait time than expected, don't apologize for the inconvenience, a possible violation. Instead, reiterate that your business "strives to provide the shortest wait times possible, and will work to improve in the future." With this, you indirectly address their feedback and bring the focus back to your business.
Take it offline. Inevitably, your business will receive some negative feedback, and it's only natural to want to address it in your response. However, the most appropriate and HIPAA-compliant way to react is to offer the reviewer a way to reach you directly, whether that be via phone or email. Suggesting an offline connection allow patients/clients to share their experiences in a private setting while demonstrating that you value their feedback. It also protects you from oversharing and violating any privacy guidelines.
Share Your Company Values
Identify some of your business's core values. For example, your business may pride itself on offering a transparent and stress-free shopping experience. Use the review response as an opportunity to communicate that to future customers - the people reading your reviews!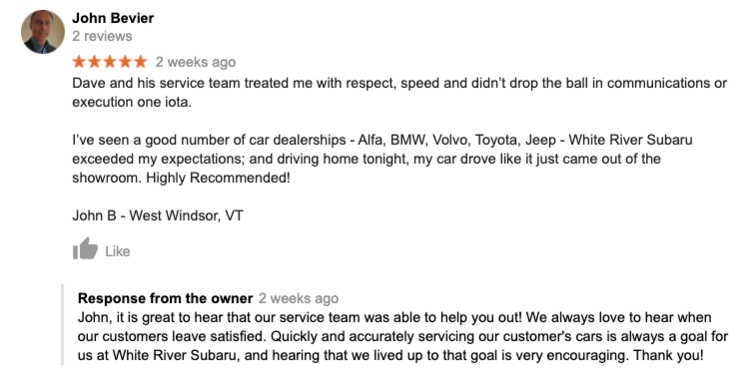 Other Tips
Avoid repetition whenever possible. While it's challenging to come up with different ways to express your gratitude, variety is key to providing personalized service to your customers.

One simple way to vary review responses is to switch between "I" and "we." For example, "I am glad to hear that you had a good experience" vs. "we thank you for sharing your positive experience."

If a customer indicates loyalty or being a repeat customer in their review, acknowledge that in your response.

Positive review responses should always be conversational. Anyone reading the response should be able to tell it was written by a real person. This is especially important to remember when including keywords. While you want to get the most SEO benefits possible, make sure that your responses are tasteful above all else.

Make sure you're familiar with review response strategies for your specific industry
14 Positive Review Response Examples
We've collected a handful of examples of how to respond to positive Google reviews. These examples are real customer reviews and responses sourced from Google.
We've tried to select a variety of scenarios.
Emphasis on Thank You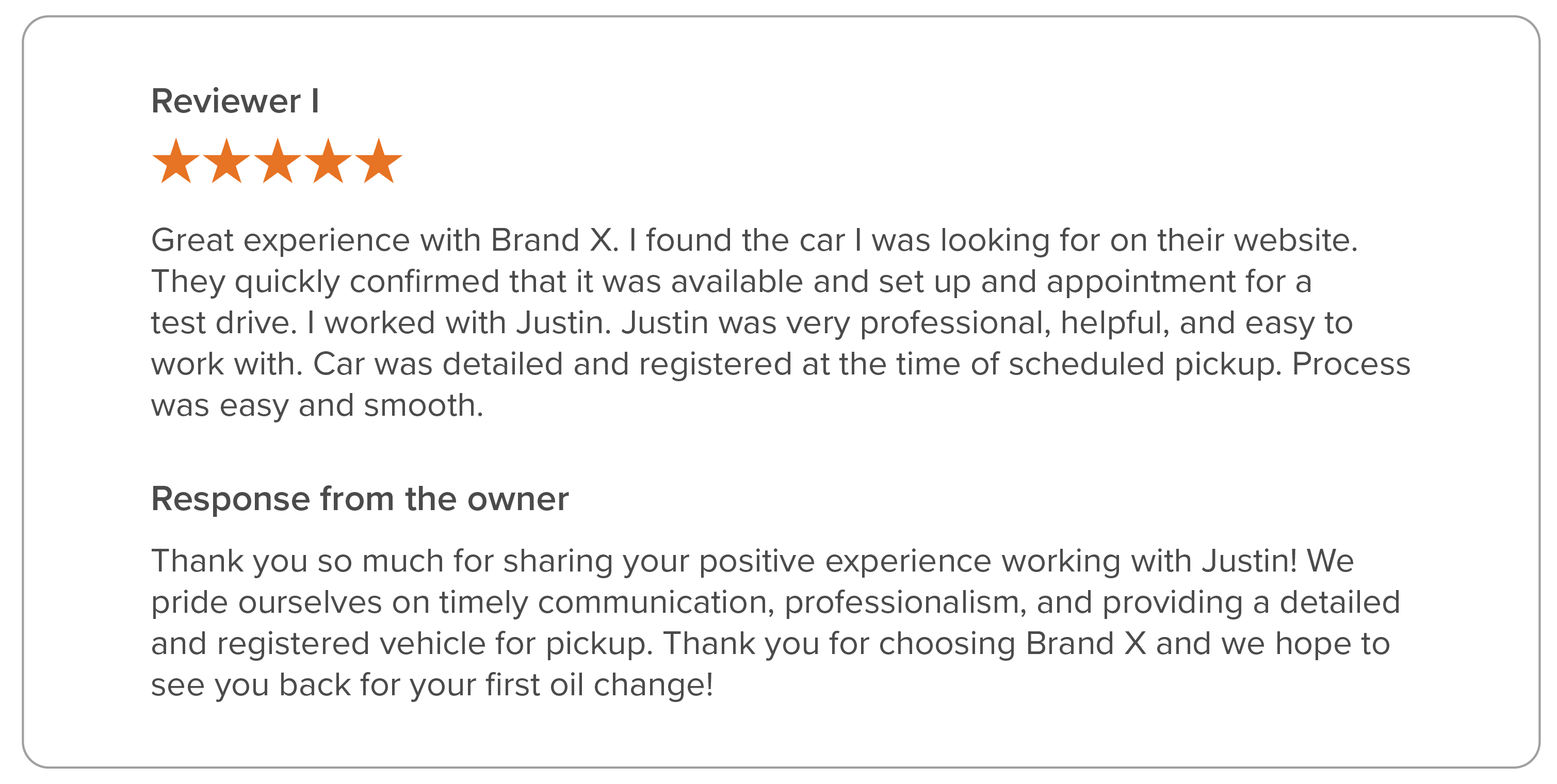 Why it works
This response checks the boxes for almost all of the positive review response tactics:
It's personal, repeating the name of the employee listed in the review

It reiterates the company values mentioned by the reviewer, such as timely communication and professionalism

It includes the store name and a prompt for the reviewer to come back for another service.
Finally, an emphasis is placed on saying thank you.
Remember, customers with positive experiences have limited motivation to post a review, so it is important to show your appreciation.
What you should steal: The line "thank you so much for sharing" is an awesome way to acknowledge the extra effort this customer put forth on the business's behalf.
"Makes our day"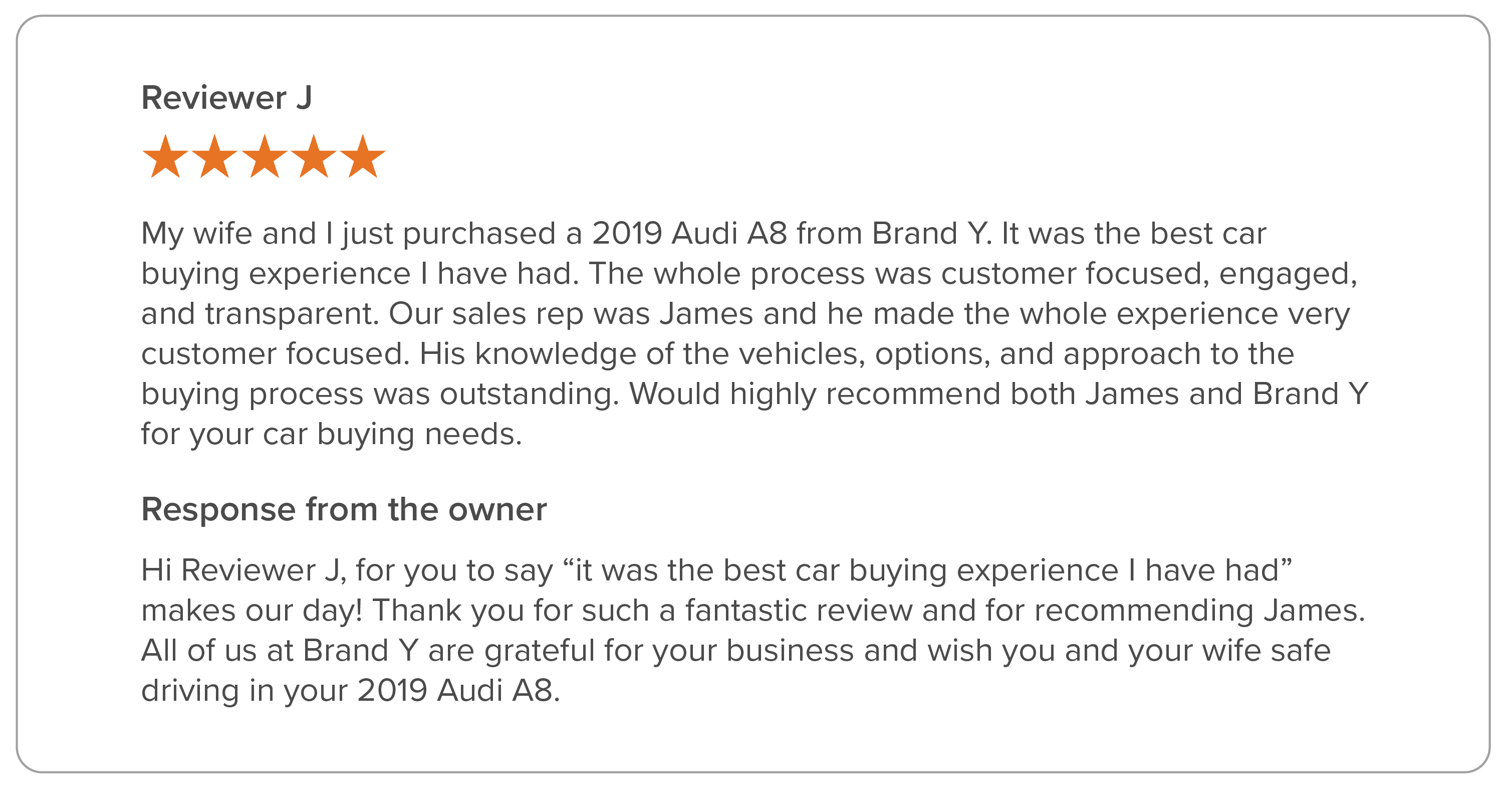 Why it works
As you can see in this response, commenting on how a positive review "makes our day" is a nice personal touch.
What you should steal: The words "fantastic" and "grateful" are descriptive adjectives to consider.
Most importantly, all the basics are covered: the customer name, the store name, and the product name are all mentioned.
Purchases Can Be Emotional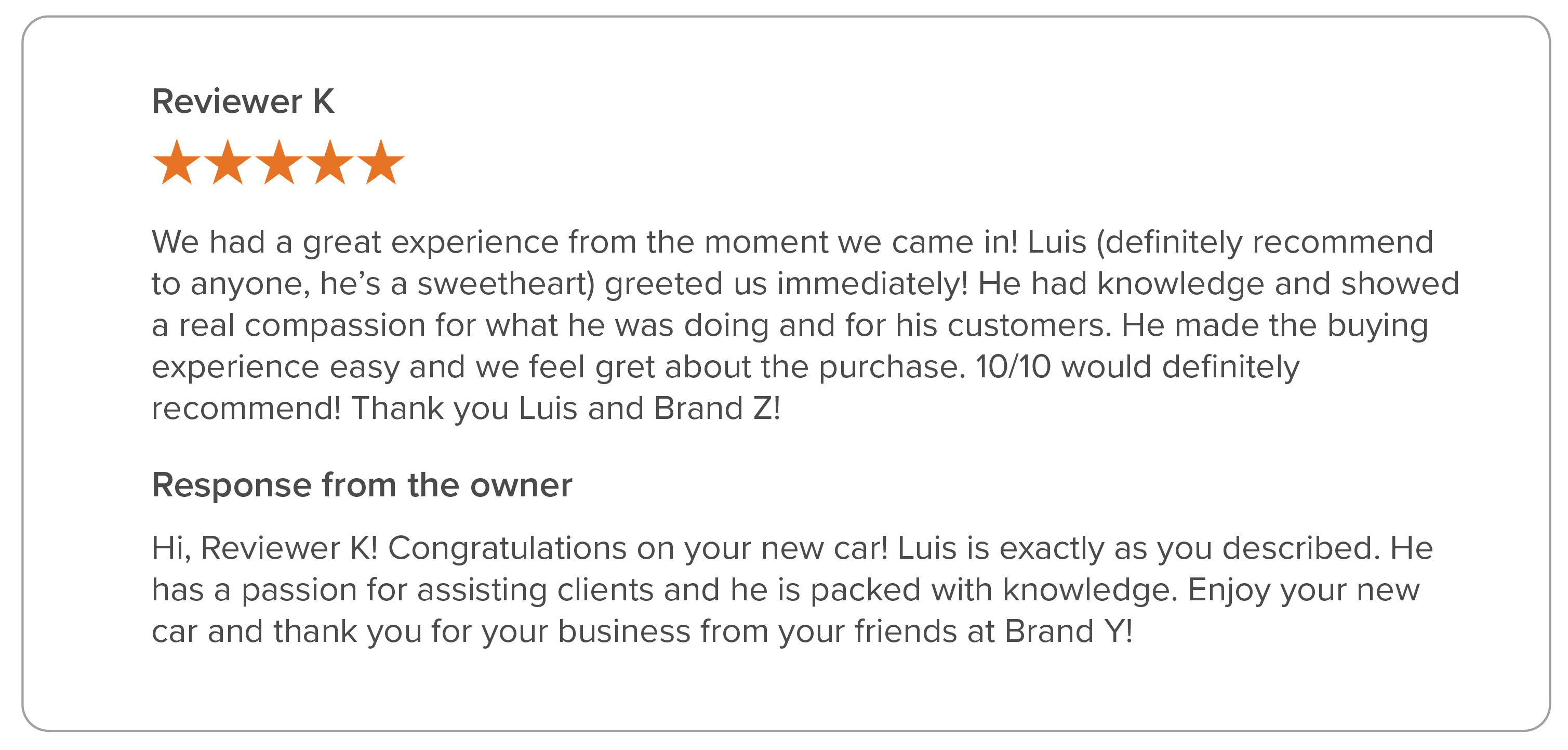 Why it works
When customers make a successful purchase, especially a large purchase such as a car, they often have a sense of accomplishment.
Engage with this emotion by offering your congratulations.
If a customer offers praise of a specific employee, use it as an opportunity to repeat their compliments and reinforce that, yes, this person is great. It's not a stretch to assume future customers will look at Luis as an example of the customer service they can expect from this business.
Tell the World You Have Goals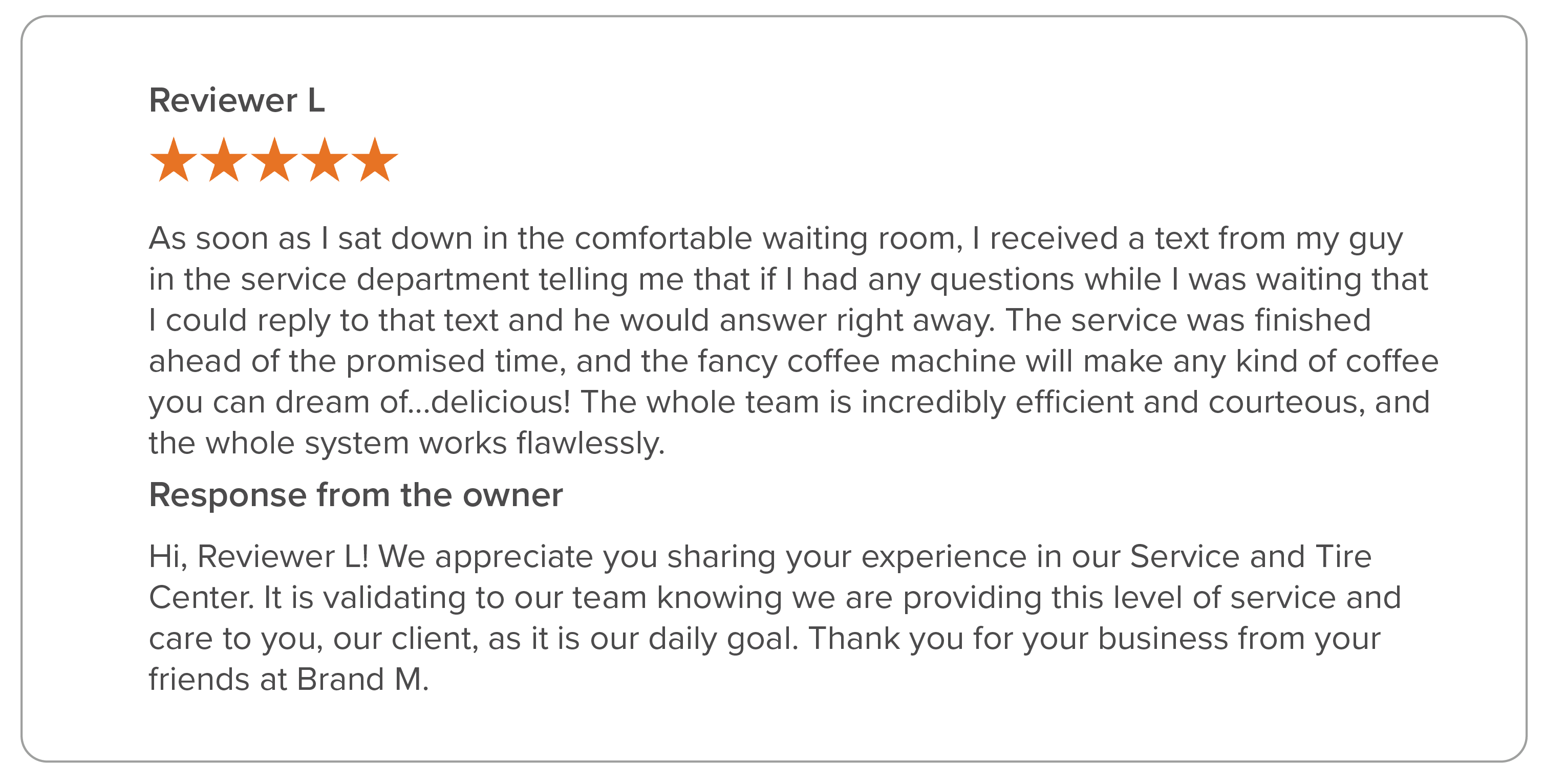 Why it works
In their response, the business suggests that they have a daily service goal.
This is an excellent way to reinforce that future customers can expect a similar experience, no matter when they choose to patronize the business.
What you should steal: "Validating" is a great word to suggest that positive reviews are more than a sign of financial success; they are a personal success as well.
Acknowledge the Time of Year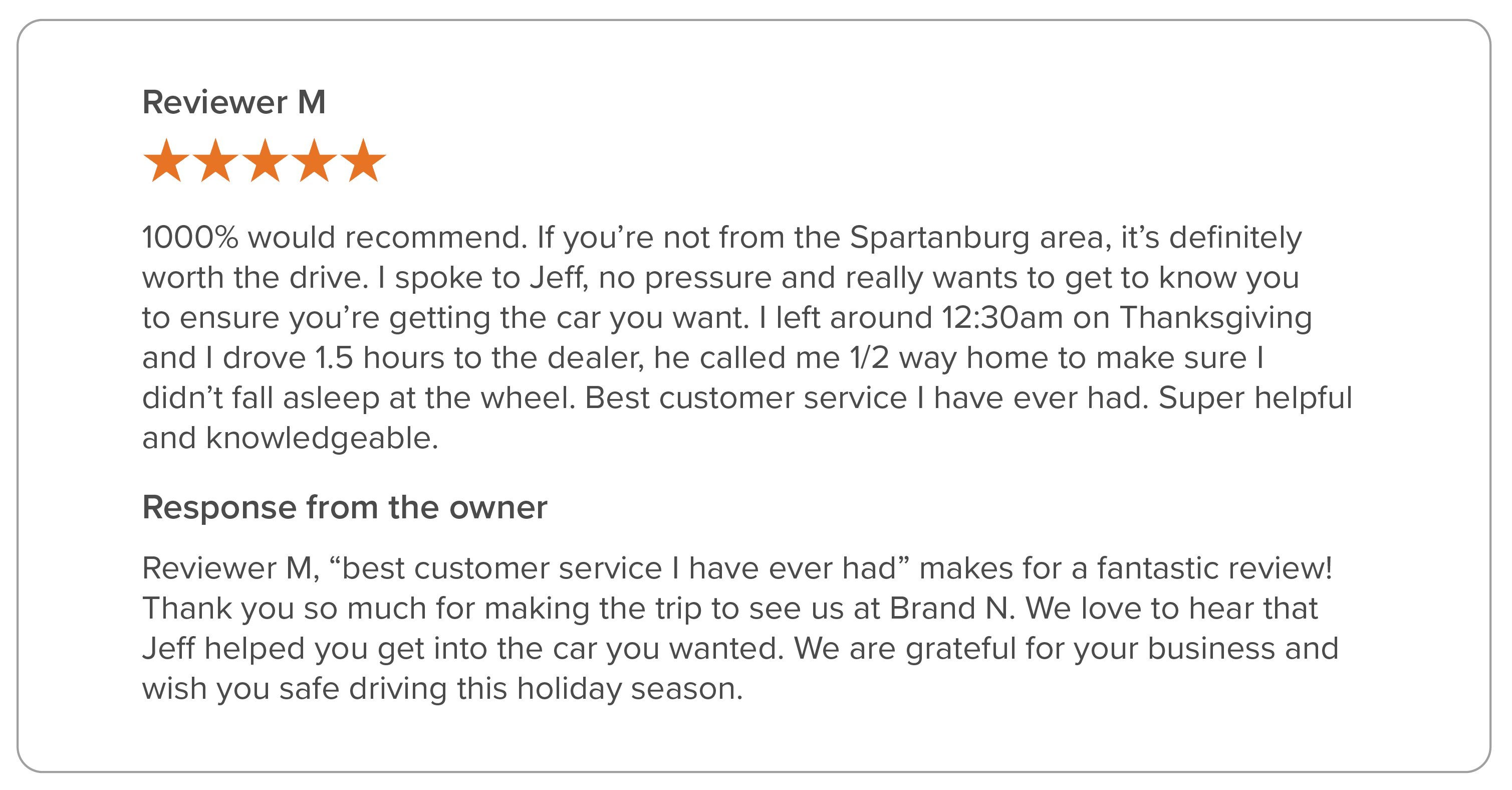 Why it works
Starting your response with a quote from the original review is a great way to highlight the most flattering piece of the review.
Because this business answers reviews on a consistent basis, they can conclude with the note "this holiday season."
What you should steal: time-specific sign-offs are a good way to personalize responses.
Praise Extra Effort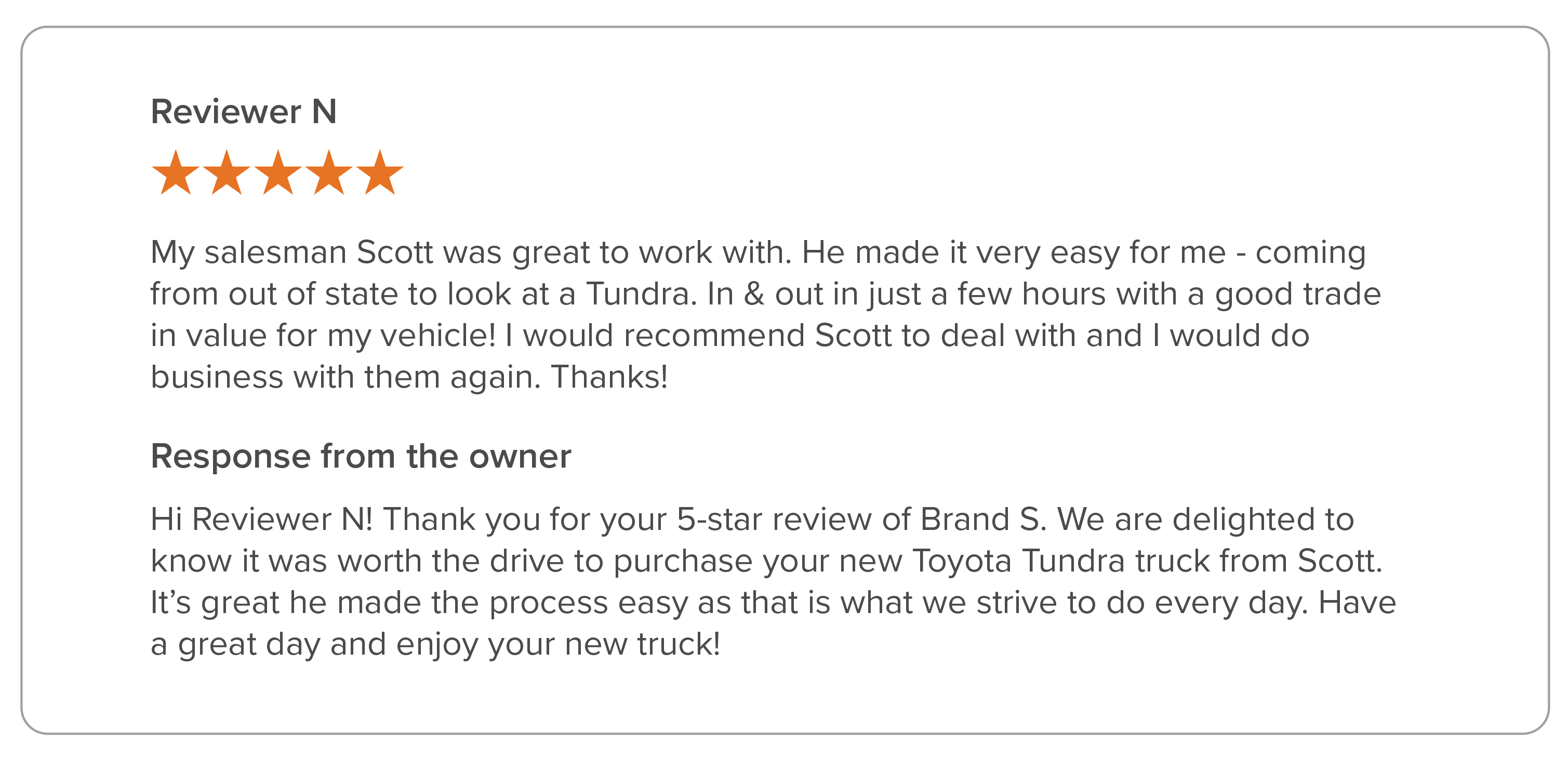 Why it works
This customer mentions they traveled a long distance to visit the dealership and the response acknowledges their additional effort.
Humility is a Good Bet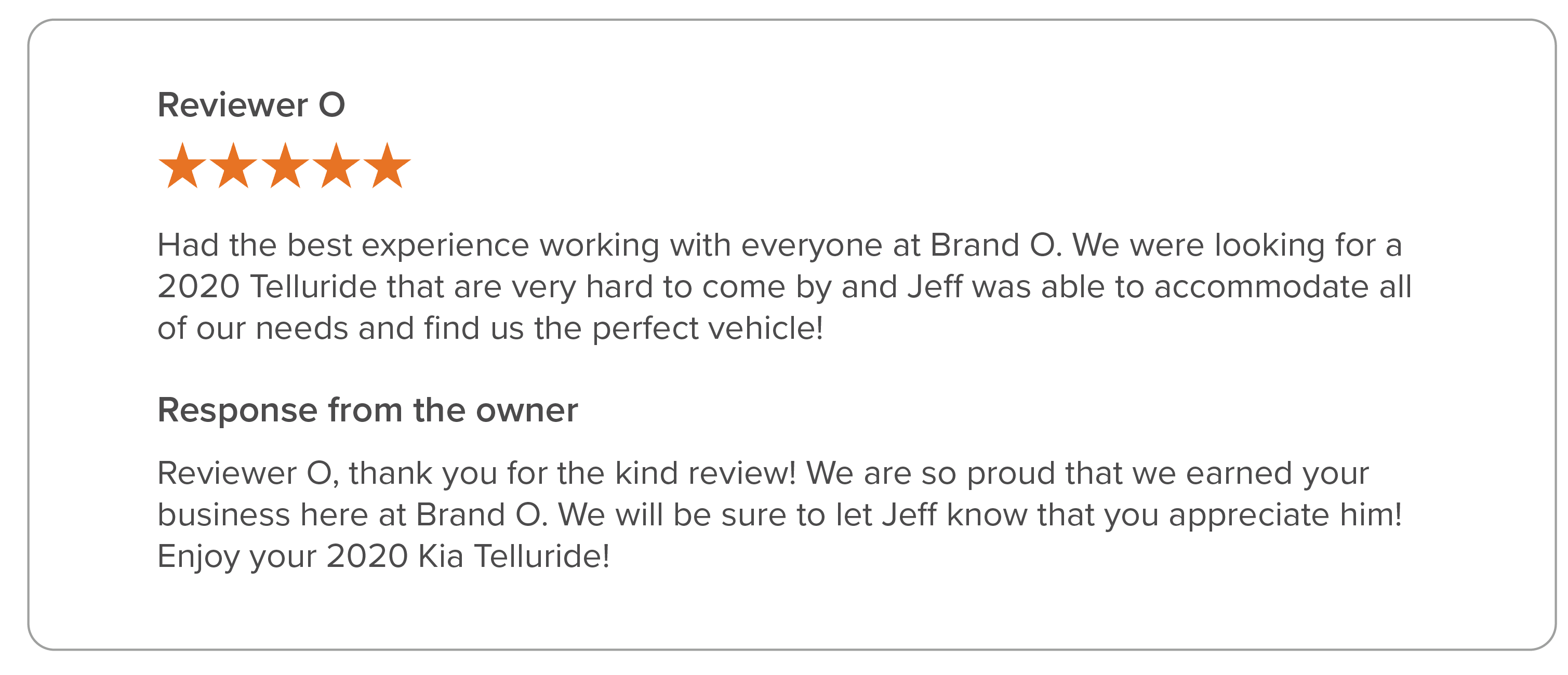 Why it works
The phrase "earning your business" helps to portray the business as humble. Nobody wants to deal with arrogance.
Sell Without Being Salesy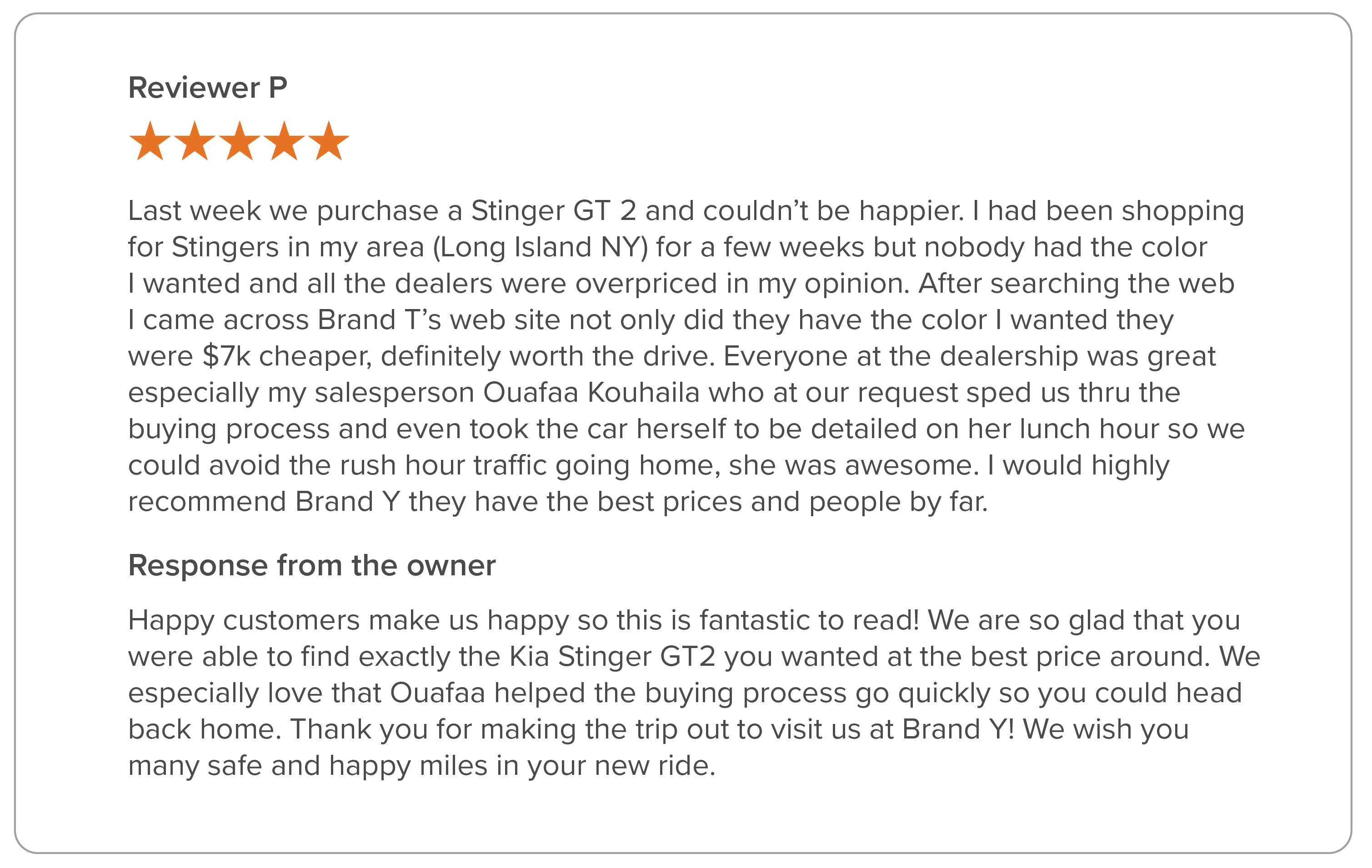 Why it works
This response does a good job of communicating the business's "great prices," but doesn't come off overly salesy. Ending with a personal statement of well-wishes adds a nice touch.
Reference Templates Can Add Efficiency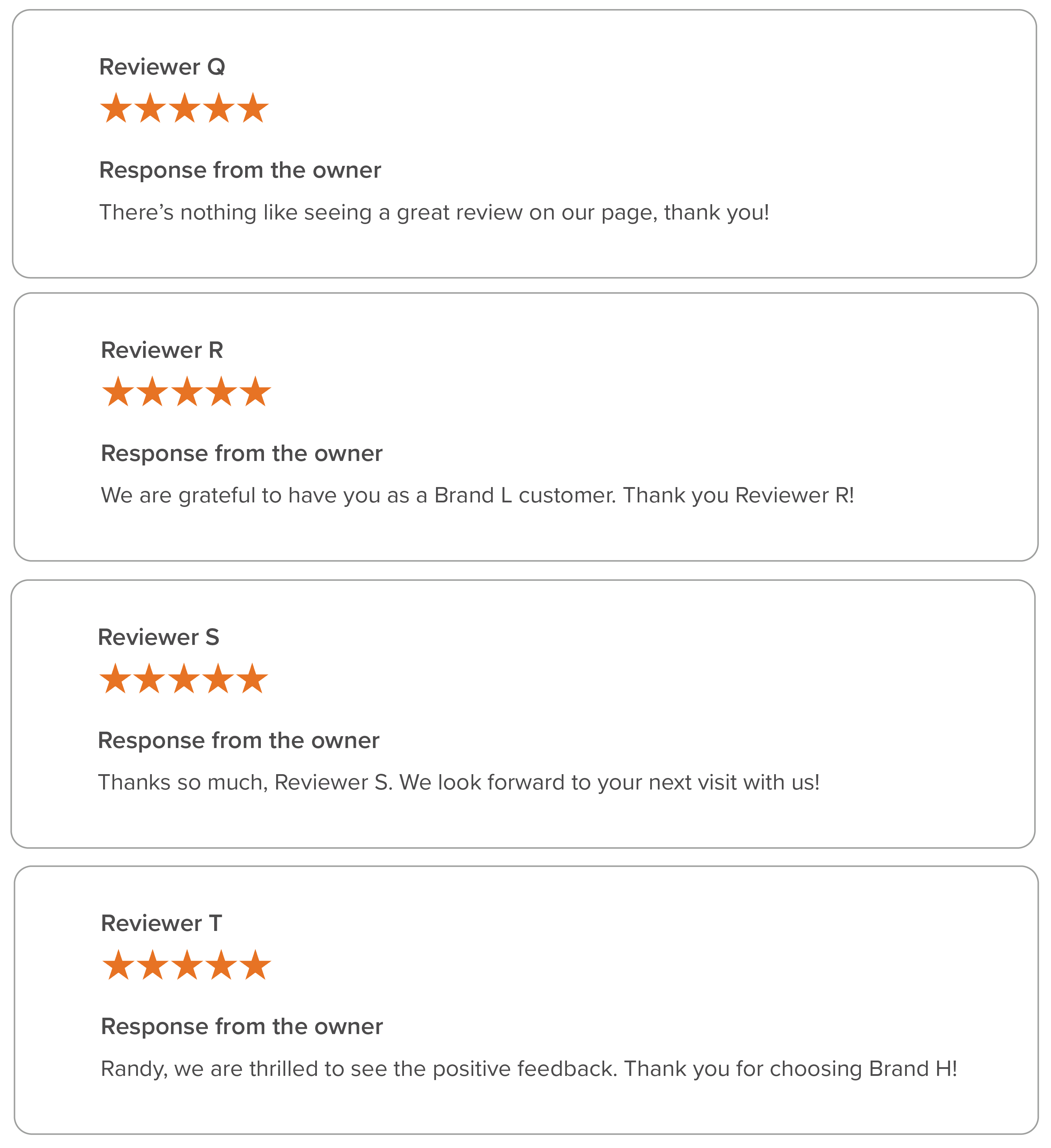 Why it works
The most common Google reviews are five-star, no-comment.
To make responding easy and ensure a diversity of answers, this business has created a list of response templates.
They update the template with the reviewer's name and the business's name before publishing.
Be Specific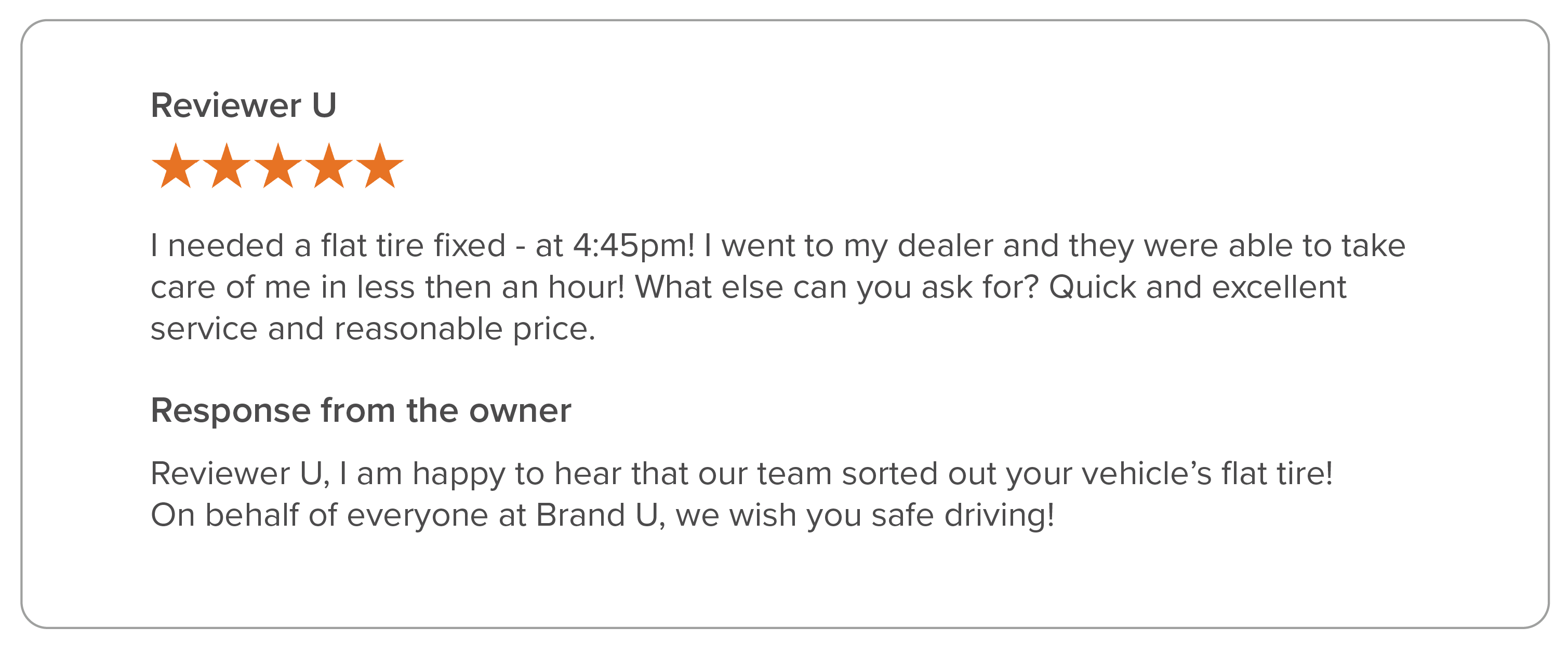 Why it works
The customer mentions a specific problem the business solved: addressing a flat tire.
This information forms the basis of the response.
Variety is the Spice of Life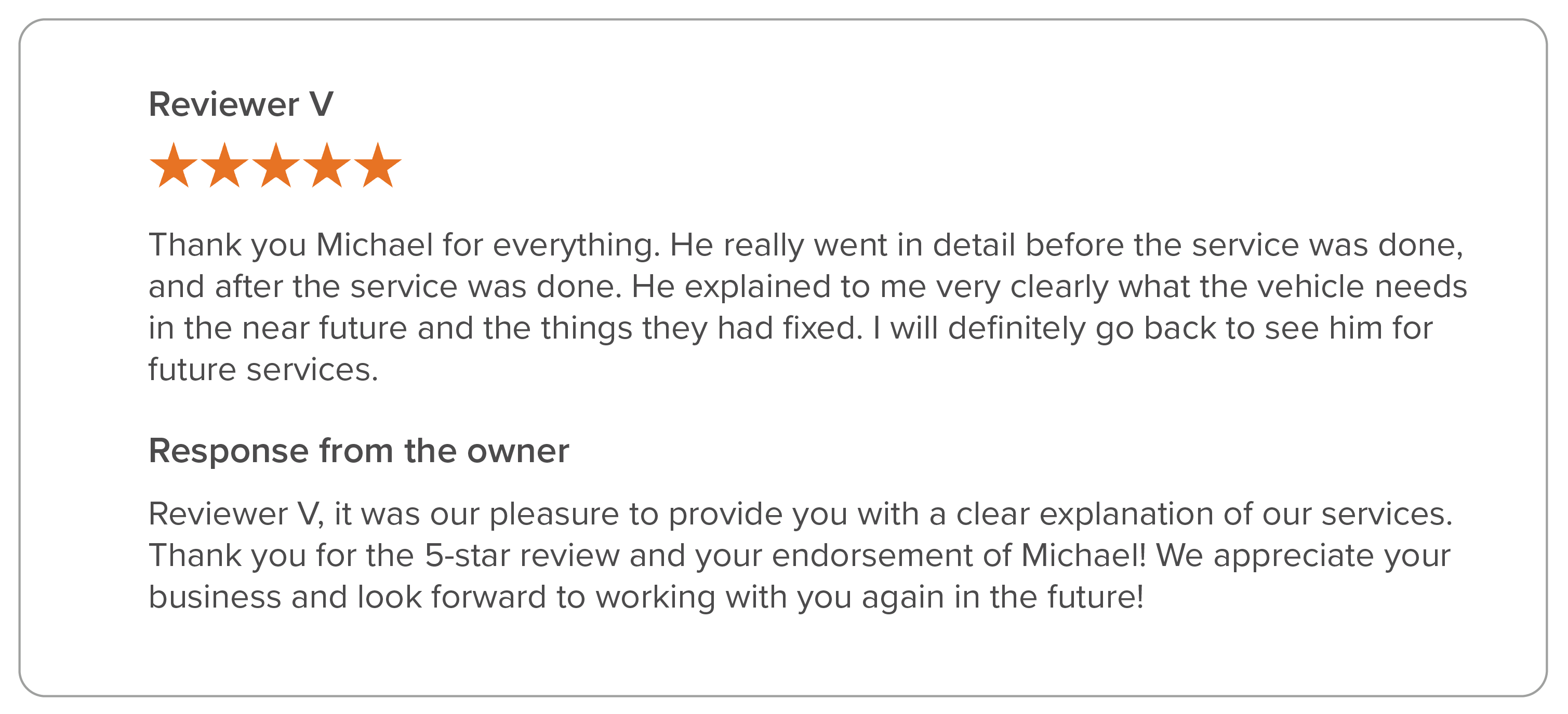 Why it works
Rather than repeating "thank you for the recommendation," this response employs a great alternative: "we appreciate your endorsement."
A number of phrases are interchangeable:
"we appreciate"
"thank you"
"recommendation"
"endorsement"
"rating"
"review"
"honored that"
"grateful for"
"thrilled that"
"ecstatic about"
"it means a great deal"
"this is the kind of feedback we love to see!"
Even simple word changes like these make responses seem more unique and human.
Widewail Tip: Switching up perspectives, like swapping "we" with "I", will add variety to responses. Responding via first-person POV shows the customer that you are willing to put your name out there for your business.
Make a Fan Out of Them

A solid reputation helps prospective customers feel confident in supporting your business.
For first-time customers like this one, a review response can help solidify their already-positive feelings about your business. Monitoring and responding to feedback is a tool businesses can use to continue building relationships with their customers to ensure they keep coming back for more.
When the Reviewer is a Sales Lead
Some reviews are sales leads. Encourage your prospects to turn into customers, residents, members, etc.
In this case, you do not yet have this reviewer's business. They hope to live in your community but do not. This could be considered a sales lead, and assuming you want their business, try listing your phone number, or reaching out to them in other ways.
Match the Reviewer's Tone and Length

Match the length of your response to their review. But only to a point – cap your response length at about a paragraph.
Best Practices For Responding to Negative Reviews
How to respond to negative reviews:
Stay professional

Don't speculate

Minimize emotion

Present the facts

Apologize for the customer's frustration only

Do not publicly admit guilt for the material issue

Avoid public accusations of review fraud

Provide a productive next step
When responding to bad reviews, the #1 goal is to move the conversation offline.
Offer to resolve the situation via phone or email and then follow up with the customer quickly. Google reviews are not the place to get into a debate.
Professionalism is key
Do your best to avoid being defensive, overly emotional, or sarcastic. Leave out personal opinions about politics, ethics, religion, or social issues. Review responses should remain professional and neutral.
Avoid public accusations of review fraud
Fake reviews do happen, but you should respond to them in the same manner as any other negative review. If you believe a review is fraudulent, report it through the proper channels.
Is it possible to remove negative reviews? Yes, but only if the content violates Google's Review Policy guidelines.
Apologize for the customer's frustration only
While there are certain situations that require an apology, don't say sorry if it isn't necessary. Focus on apologizing for the fact that the customer is upset and save addressing the material issue for a direct phone call or email.
Ideally, you'll demonstrate compassion for your customers without making a public admission of guilt. The next reader knows there are two sides to every story.
Provide a productive next step
When it makes sense, let the customer know you plan to take action immediately. This will prepare the customer for your call and show future customers your willingness to take action.
Don't speculate
When the customer says that they're frustrated but doesn't say why, what do you do? Don't speculate. Simply acknowledge that the customer is upset and kindly ask them to share more information about their experience with you over the phone.

15 Negative Review Response Examples
Learn Why Business Was Lost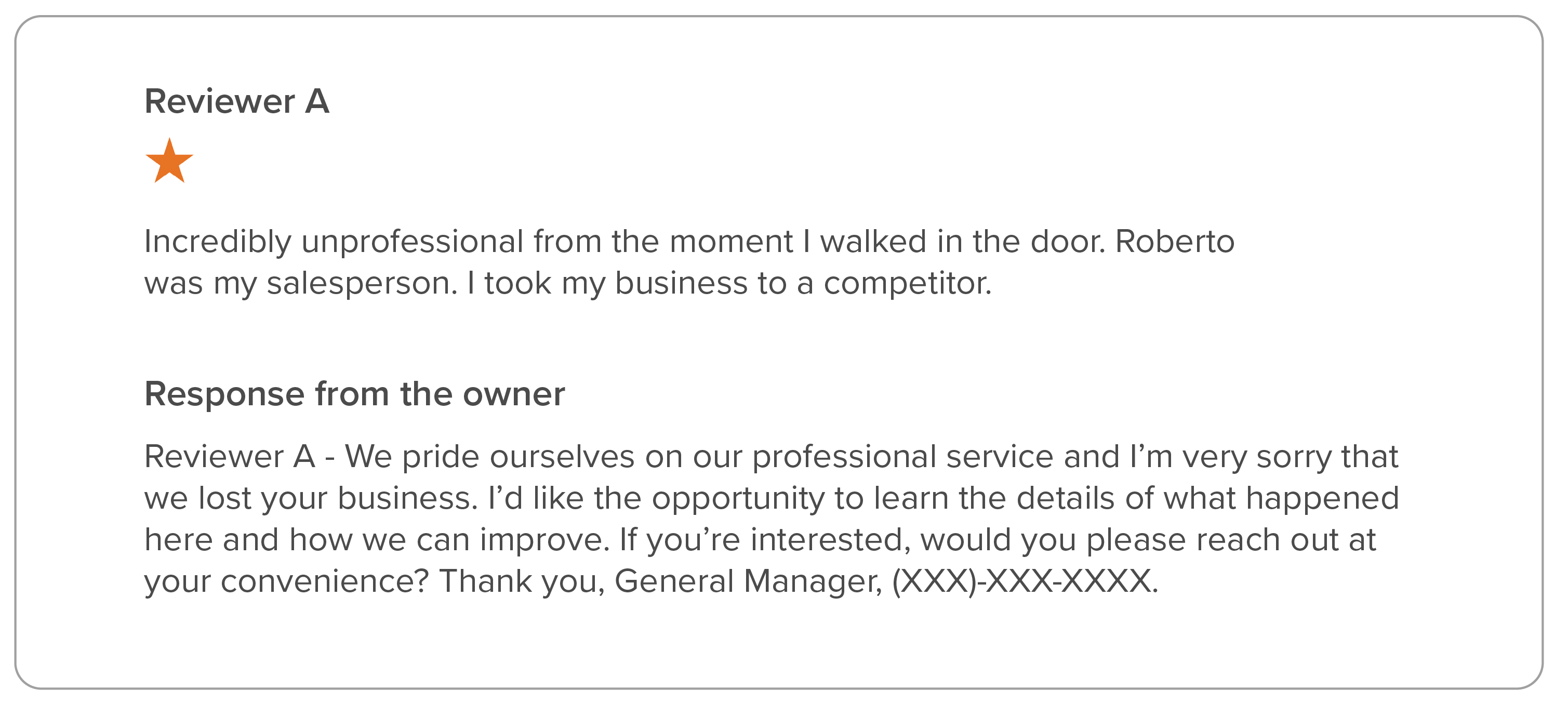 Why it works
Reviewer A feels as if they were treated in an unprofessional manner throughout the duration of their experience. They've also admitted to taking their business elsewhere, so there is likely no opportunity to win back the deal.
In cases like this one, the business should use this shopper's experience as a learning opportunity.
The response starts off by firmly establishing that professionalism is important to their business and they regret having lost Reviewer A's business. Note the response does not explicitly apologize for the cited unprofessional behavior, but simply acknowledges the reviewer's frustration. The response is completed by offering the reviewer an opportunity to discuss their experience further.
If the shopper follows up, great!
The business will have the chance to address its concerns. If not, future shoppers will see that they are open to customer feedback.
Widewail Tip: If you are unable to locate the customer's contact information, politely request they give you a call, leaving a direct phone number at the end of the response.
Empathize With Frustration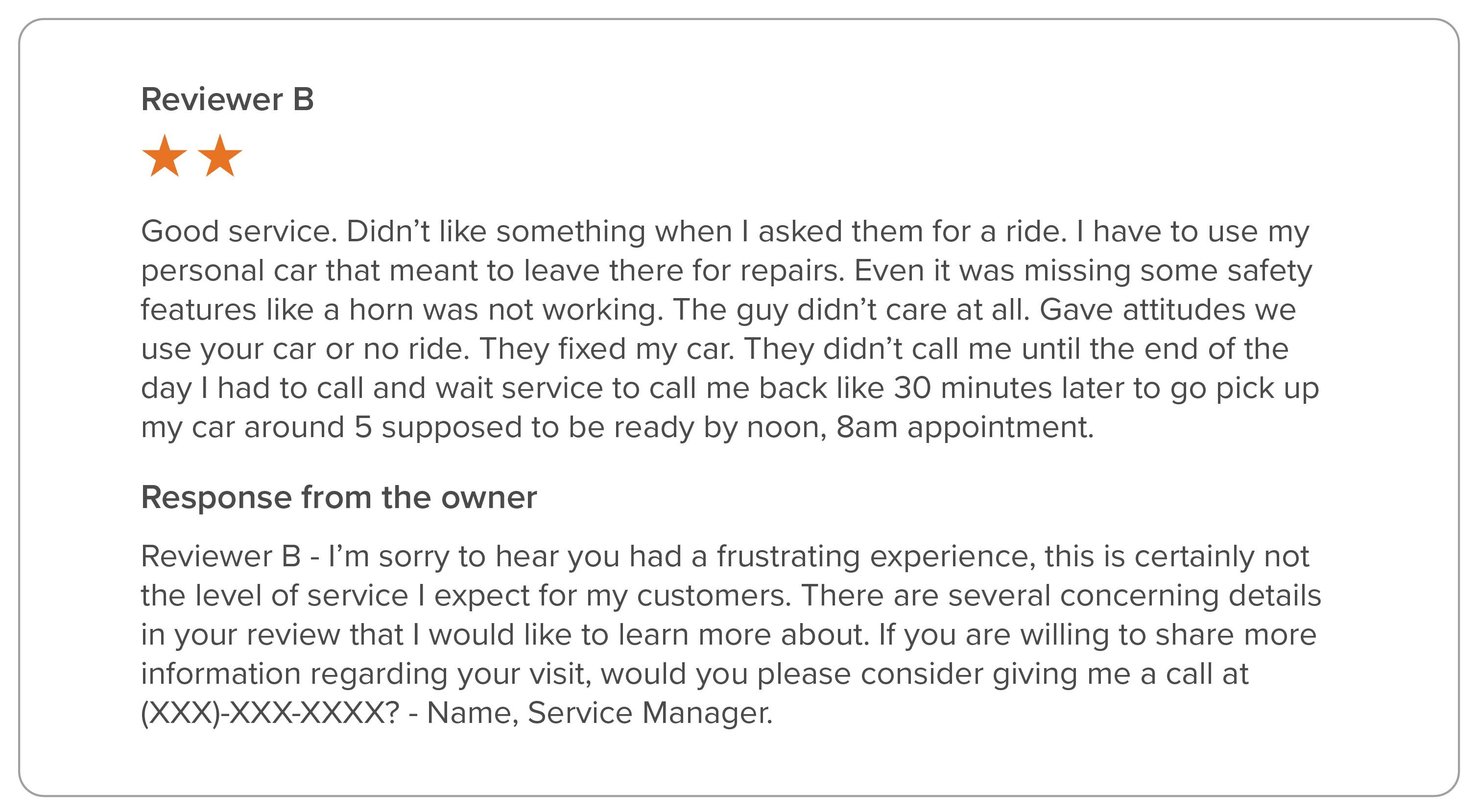 Why it works
Although what Reviewer B has written is a bit confusing, it's easy to understand that they are unsatisfied with the service they received and the delay in their repairs. This perspective may or may not be accurate, but as responders, it's not our job to get to the truth. Our goal is to empathize with the customer's frustration, which is undeniably true, and then request the conversation move offline.
The response begins by acknowledging the customer's frustration and acknowledging that this treatment is not acceptable by the standards of the business. It's important to identify the negative scenario as an isolated event so that future readers will understand the situation described in the review is not the business's normal operating procedure.
The use of the phrase "concerning details" demonstrates that the business is taking the review seriously, but at the same time, is purposefully vague. It's best to avoid repeating details from the review, as this provides Google with content that is detrimental to your reputation. The review ends by offering the customer an opportunity to share more about their situation along with providing contact information.
Widewail Tip: If the business has Reviewer B's phone number, a more proactive approach would be to say "I'm going to give you a call" in place of "please consider giving me a call."
1-Star, No Comment

Why it works
The dreaded 1-star no comment. On one hand, future customers won't have much information to assess the business and they may even question the validity of the review. On the other hand, they may speculate why this customer is upset.
First, we recommend whoever handles review responses look up the customer's name in their database and check in with their team. They may glean enough information to reach out to the customer directly or provide a specific response. If after researching they are still left in the dark, the best option is to investigate.
The response starts by recognizing that a 1-star experience is unacceptable. What follows is an offer to address the reviewer's concerns. The business provides contact information for their General Sales Manager in hopes that Reviewer C will give them another chance.
Responding to reviews boosts your online rating and makes it less likely that your business will receive as many negative reviews like these. Source: HBR
Widewail Tip: "Make this right" is a proactive phrase that will come in handy when responding to negative reviews.
4-Stars, But Negative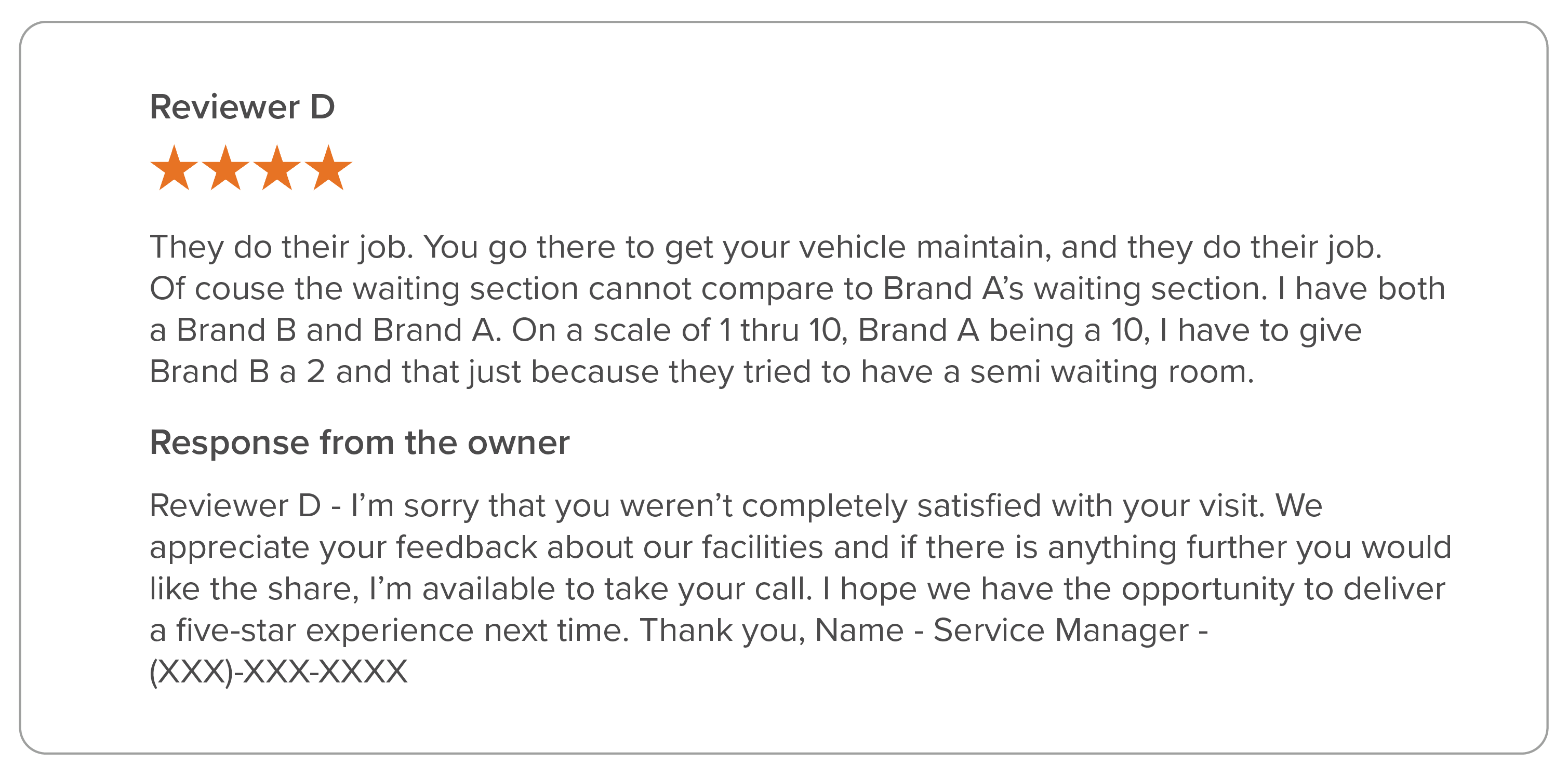 Why it works
Although this is a 4-star review, it contains a healthy amount of negative information. This is a great opportunity for the business to engage with Reviewer D in a positive manner. If they can do that, they might encourage Reviewer D to give them another shot.
Right away, the response acknowledges Reviewer D's feelings and apologizes for their less-than-perfect visit. The business doesn't make a promise to improve its facilities, but they do recognize the feedback. As always, a good move is to open a communication channel in the event that the reviewer would like to share more details. Shifting the perspective, the last sentence expresses that the business hopes to work with this customer again and provide a better experience in the future.
Widewail Tip: While one complaint about facilities shouldn't cause concern, a pattern of similar feedback could prompt upgrades.
How Automated Review Responders Work
Most automated review response software providers on the market today (Widewail offers a service, not automated software) do not actually write the responses for you. Instead, your team drafts a collection of templated responses that are deployed via software typically grouped based upon the rating of the review.
For example, you'll write 10 reviews appropriate for positive reviews and another 10 reviews for negative reviews and the software will post one of the templates given the star rating of the review, cycling through the 10 reviews before reposting the same response twice.
The obvious benefit of the system is that the review was originally written by a person, so the content can be very high quality if the effort is put in originally. Unfortunately, the system breaks down in a situation like this in which the rating is generally good, but the content of the review is mixed, positive and negative. Without the right consideration for the details of the review, the response could come off as tone-deaf.
Handling Refund Requests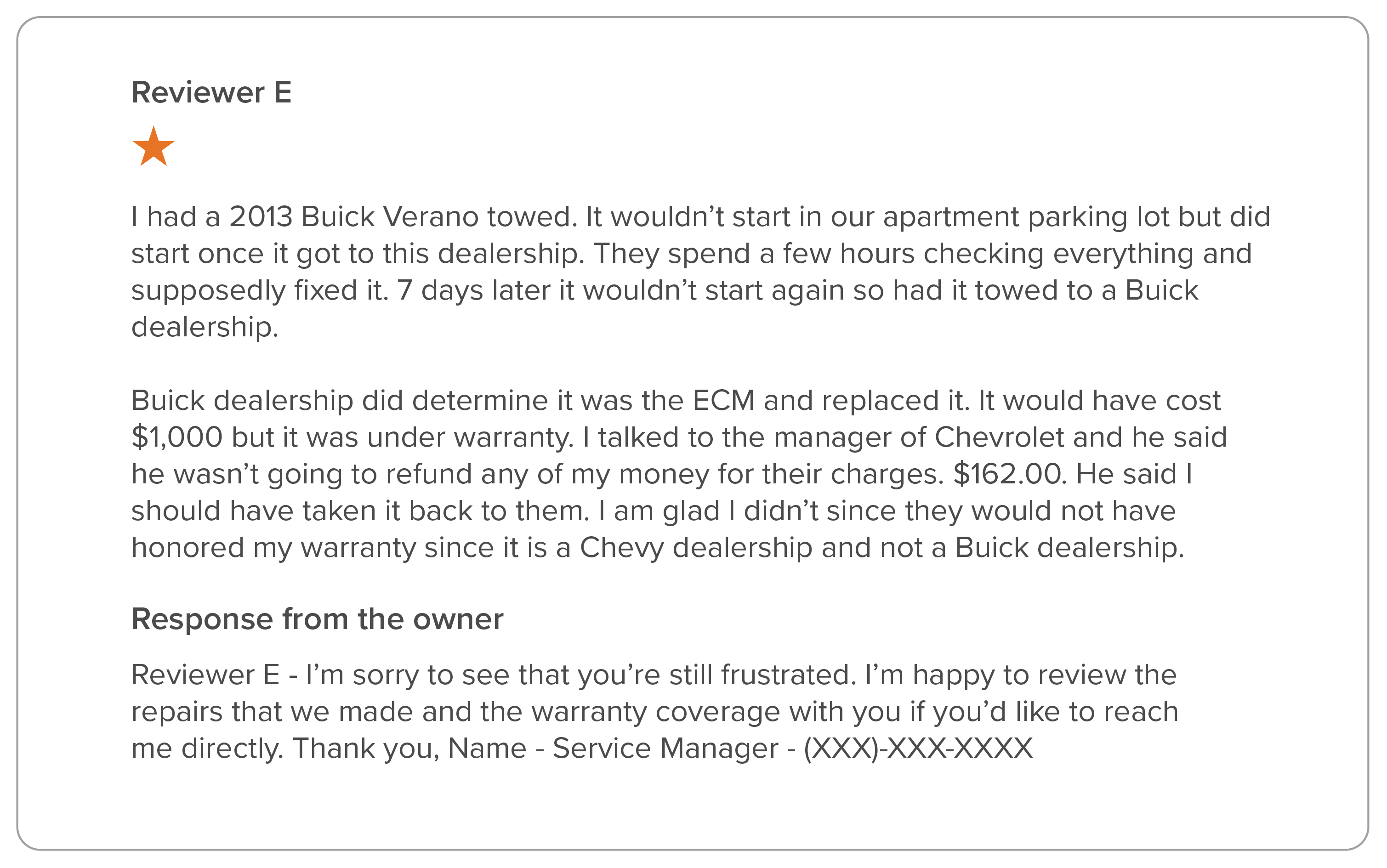 Why it works
Online requests for refunds can be tricky. While businesses may be eager to demonstrate that they do right by their customers, each situation needs to be considered on a case-by-case basis.
The response to Reviewer E acknowledges the customer's frustration and then offers to review the situation in more detail. Although it may not be possible for the Service Manager to find a solution that satisfies Reviewer E, at the very least she may provide information that could help them approach a similar situation differently in the future.
From the lens of reputation management, the response demonstrates that the business monitors its feedback and communicates with its customers.
"Training Opportunity"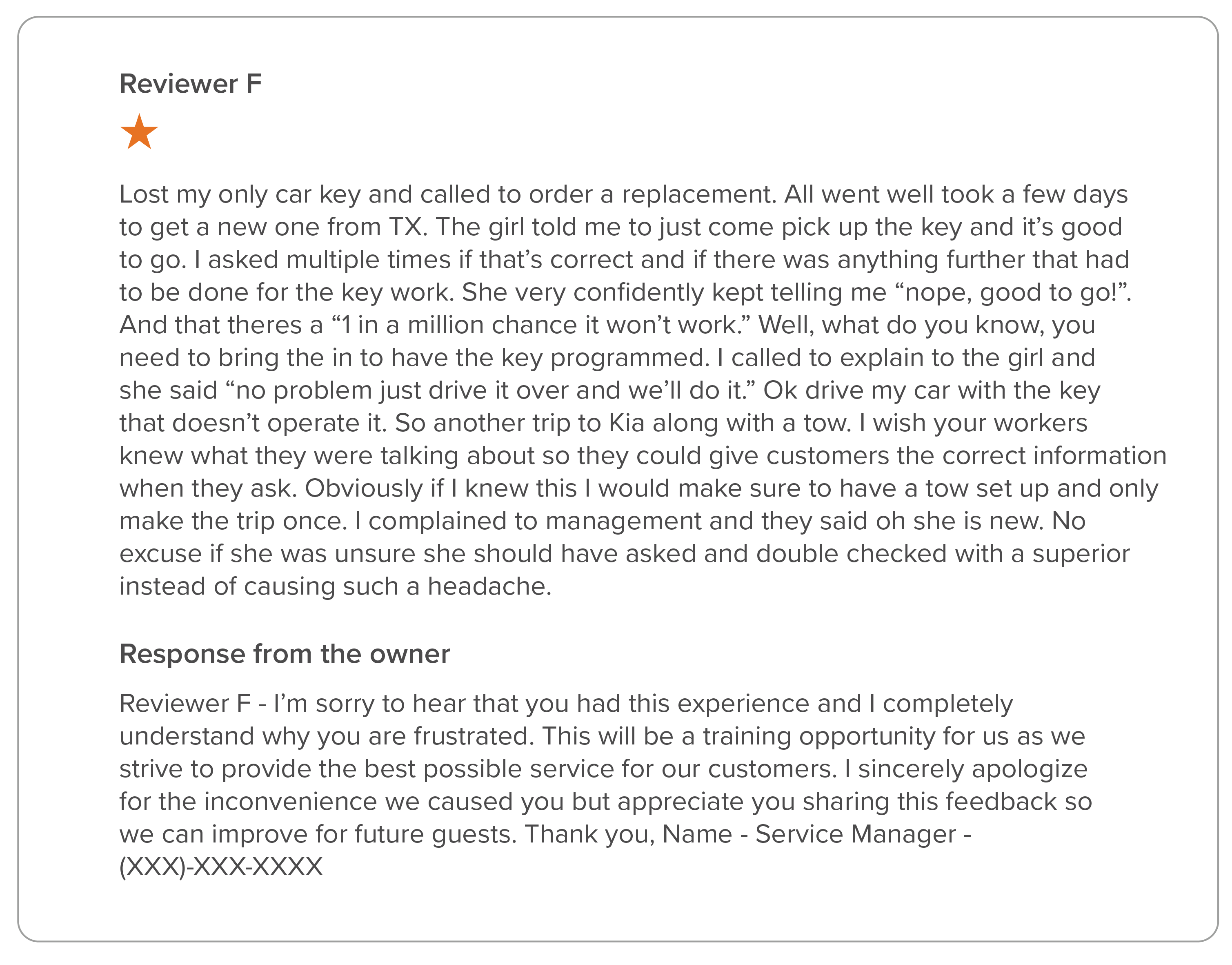 Why it works
Reviewer F's situation certainly sounds frustrating. At the same time, it's understandable that staff turnover could lead to mistakes and miscommunications. This response benefits from a gracious perspective - "appreciate you sharing" - and an apology.
The phrase "training opportunity" demonstrates that your business takes feedback seriously and proactively addresses customer concerns.
Widewail Tip: Install the free Grammarly chrome extension to check your spelling and grammar on the fly while working in the browser. The Widewail team uses the tool to correct errors, but more often than not catching small mistakes that may have slipped by in the course of a normal work day. Do yourself a favor and use Grammarly as a safety net.
Hold Your Ground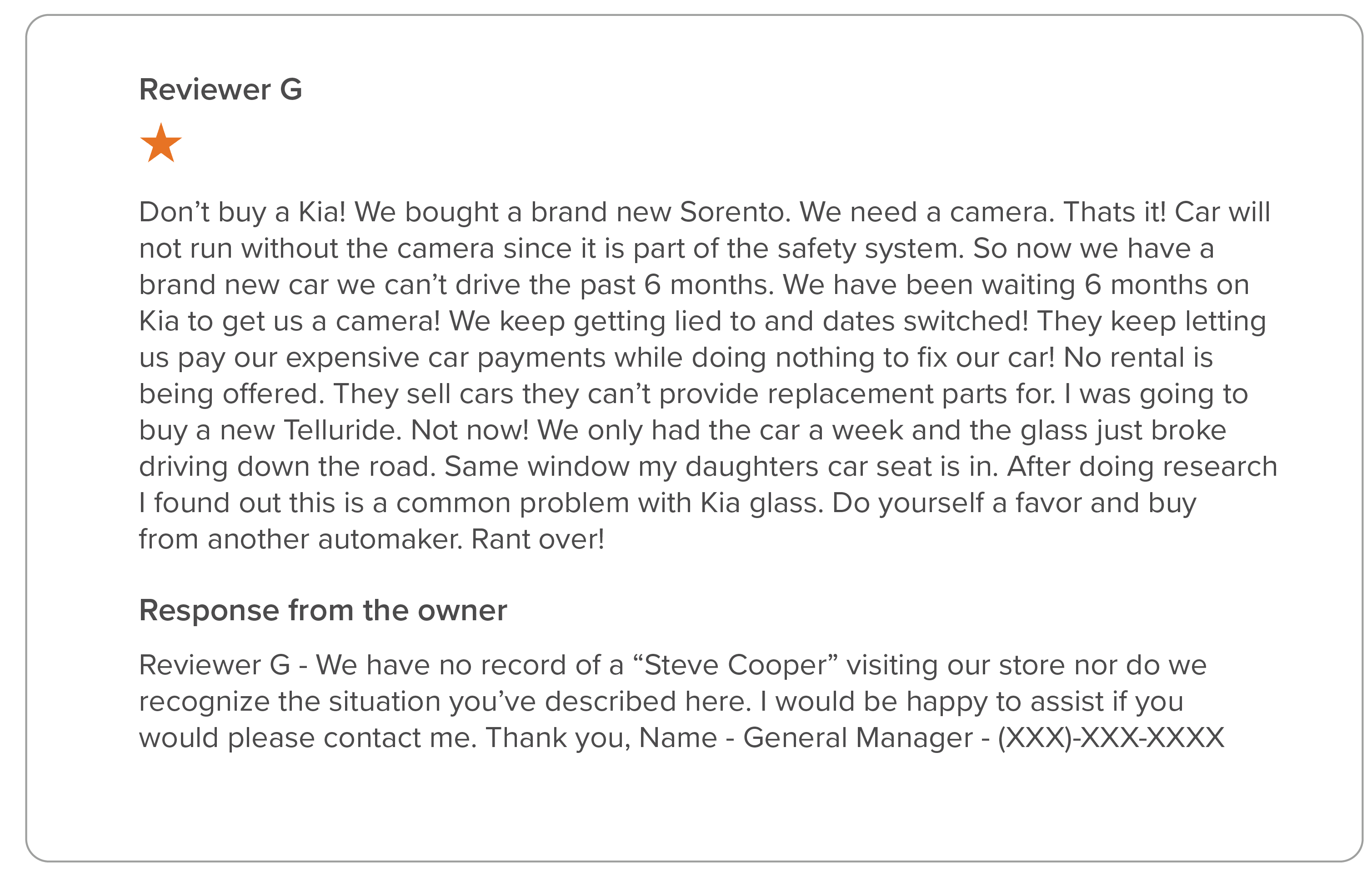 Why it works
Always be polite when speaking for your business online, but don't be afraid to hold your ground if the information presented does not align with your experience. In this example, a firm and straightforward response clearly communicates parts of this situation that are not explained in the review.
3-Star, No Comment

Why it works
When a customer leaves a negative no-comment review, Widewail recommends that businesses request additional information. The first line in the response above is one approach, while something like "I'm sorry you were not completely satisfied with your visit" is also appropriate.
This response is a great template to have readily available as a reference for negative no-comment reviews.
Widewail Tip: Starting your reviews with something along the lines of "A 3-star review is certainly not what we expect for our valued customers" demonstrates a business's concern for the low rating. It also indicates to future reviewers that your team is paying close attention to the scores.
Build Your Reference Library
Your team should have a reference cheat sheet with a collection of response phrases and variations readily available for use when responding to reviews. It can be challenging to consistently be creative in your phrasing on a regular basis so having notes on hand can ensure your team is able to mix it up efficiently.
No Clear Record of a Customer

When a 1-star no comment review appears, you know there's a story behind the rating. Try searching for the customer in your database first to see if you know what transpired and led to their negative review. If you can't find a record of the reviewer as a resident or as having taken a tour, try this response.
They're Frustrated With The Price and You Can't Really Do Anything About It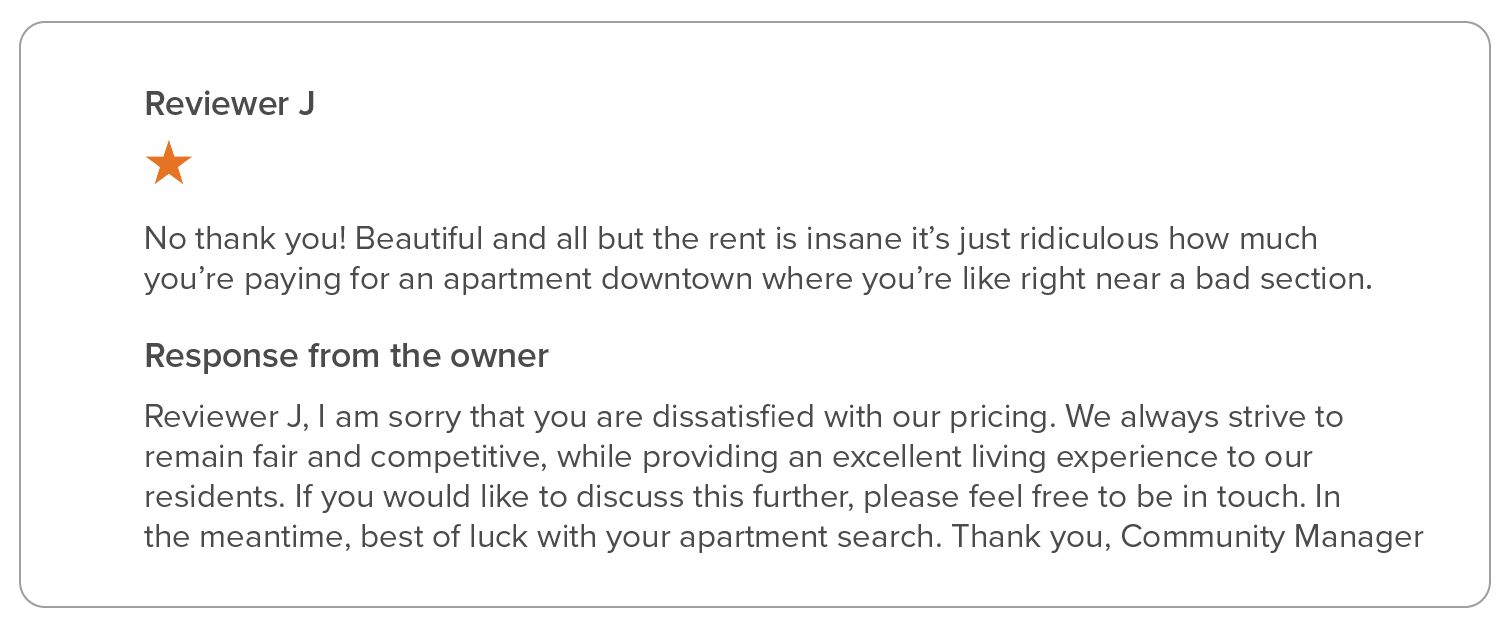 In this property management review, the reviewer is bothered by the price of rent.
When reviewers comment about situations you realistically cannot change in the short term, like pricing, it's frustrating, because you feel like there's nothing you can do to help. We recommend responding calmly and with an invitation to discuss further if wanted.
If you receive a negative review for an aspect of your business you cannot change, you can part ways amicably. Our closing line would work for any industry: wish the reviewer luck in their search for an apartment, product, service, etc. that works for them.
Likely, the staff or vendor responsible for responding to reviews isn't involved in pricing decisions, so in this scenario, the response team has limited options. Keeping an ongoing count of negative feedback mentioning pricing and passing along to a manager is the most productive next step.
Take the Conversation Offline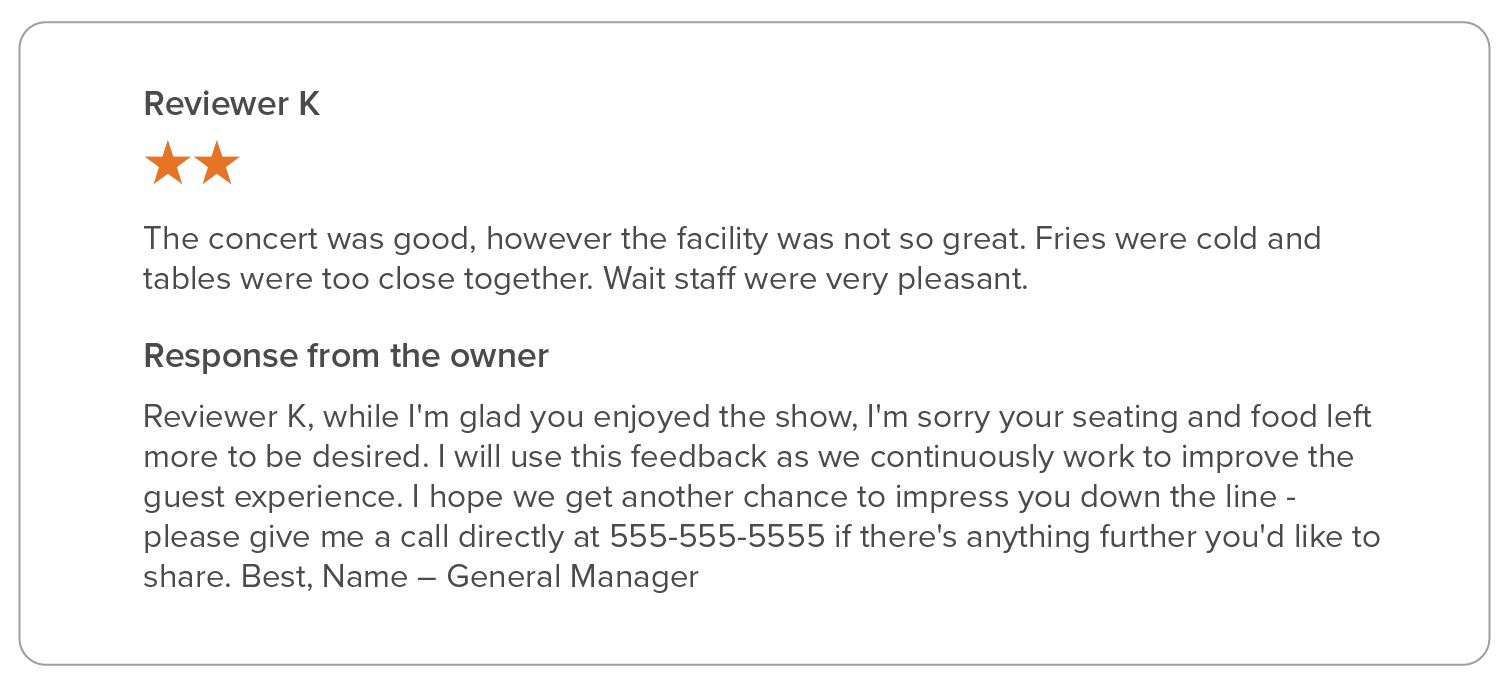 When responding to negative reviews like this one for a food/concert hall, it's best practice to encourage the reviewer to reach out via phone or email. We recommend this for a few reasons. First, resolving a conflict is more easily done over the phone rather than in an online review forum. Second, reviews are public and permanent, therefore customer complaints should not be litigated on display for prospective customers to see.
We recommend listing a phone or email and signing off with your name and title. Avoid re-writing your business name, as it's best to avoid keywords like this in negative review responses.
Widewail Tip: Do not use target keywords (your business name, products, location, etc.) in negative review responses. It's best practice to limit the amount of keyword information search engines are able to reference in negative review responses. No need to give those reviews additional attention.
Unwanted Communication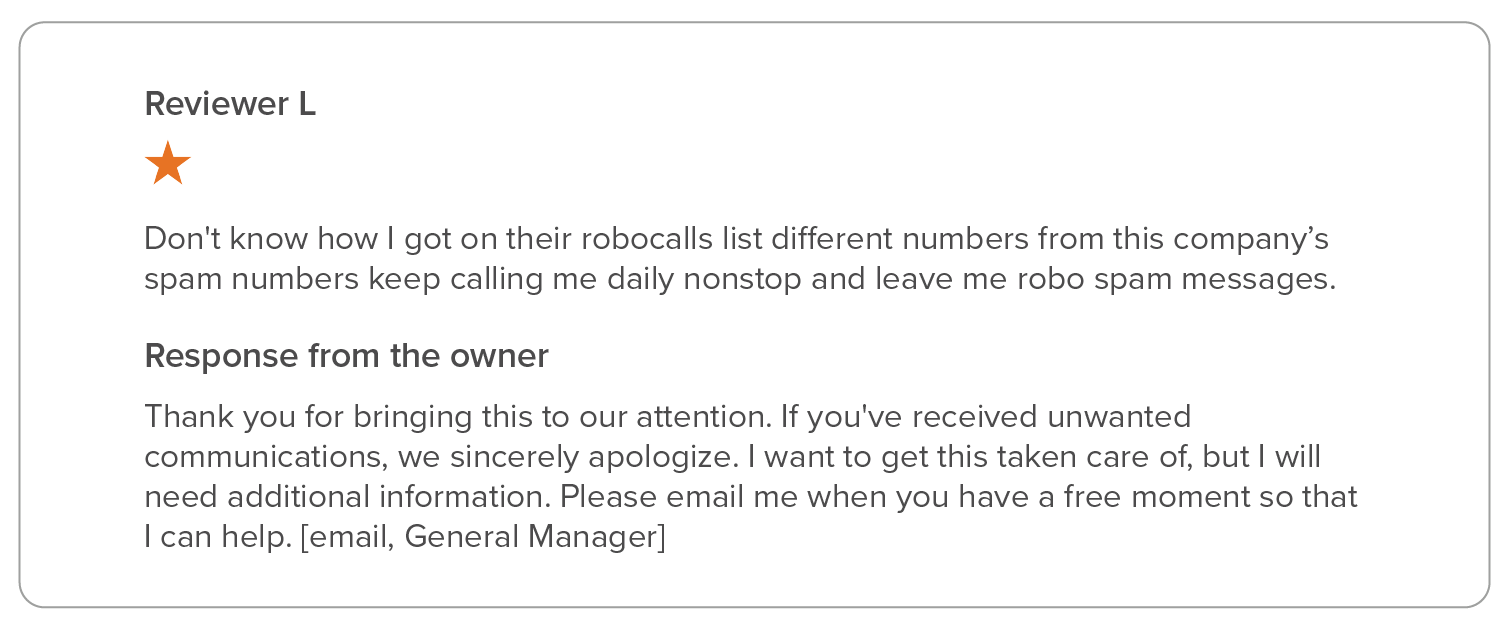 "I want to get this taken care of" shows initiative and lets the reviewer know a solution is on the way.
Whether it's a glitch in the system or a customer who wants to be left alone, some people may be put off by texts or alerts, even if your company may be advertising free services. In that case, it's best to make sure disgruntled customers have peace of mind so you don't run them off with malfunctioning outreach strategies.
Reporting a Review: Conflict of Interest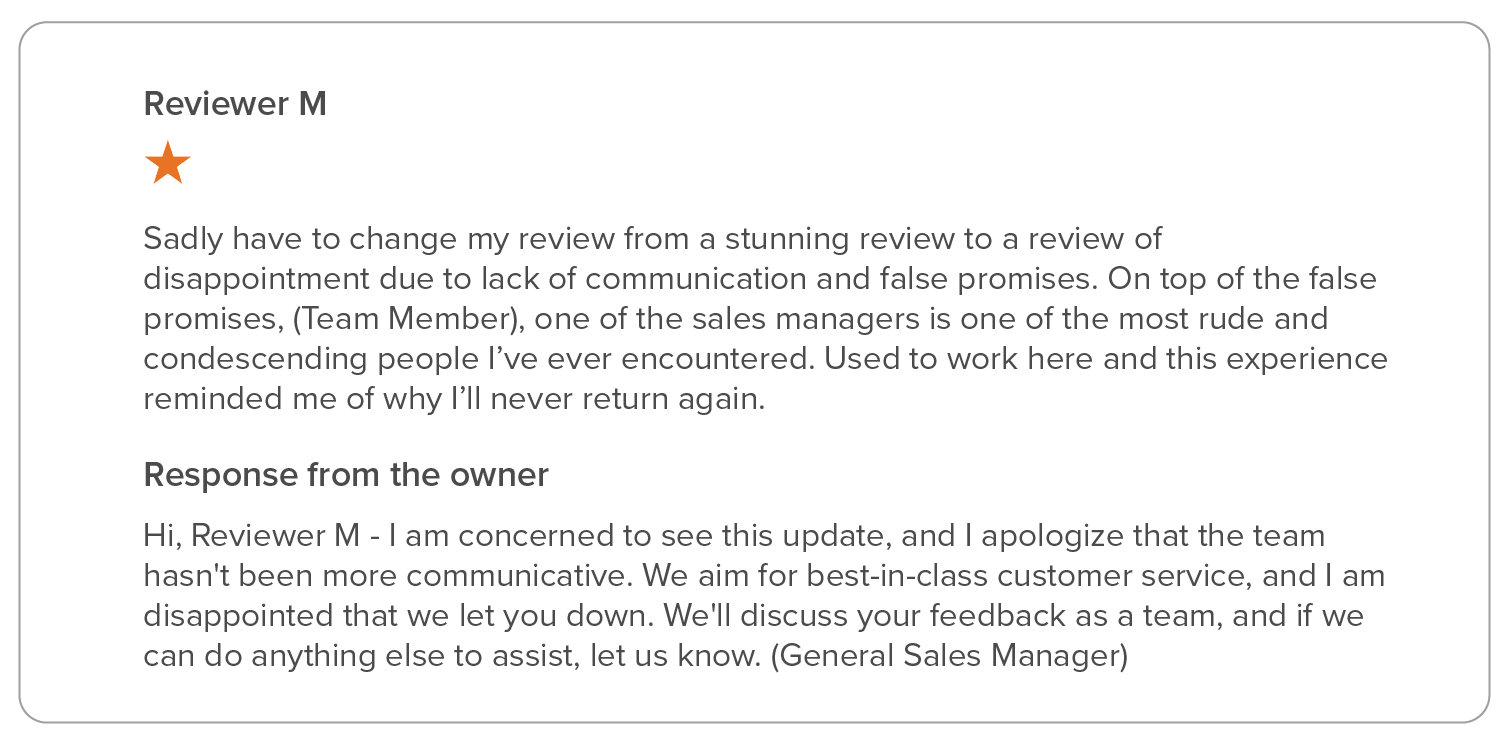 A conflict of interest in the review world is defined as someone who is affiliated with the business or with a competitor's business.
If you feel confident the review is a conflict of interest, especially if the content of the review specifically calls out the conflict, like in the above example, report the review first in an attempt to get it removed. In some cases, a response can be interpreted as the business validating the review's legitimacy by the review platforms and thus may disqualify the review from removal. To avoid this, first flag the review and wait around 3 business days. If the review has not been removed at that point, then you should respond.
Widewail Tip:
Google reviews can be reported using the three dots next to the review. Reviews can be reported for:
Off-topic
Spam
Conflict of interest
Profanity
Bullying or harassment
Discrimination or hate speech
Personal information
To help give your issue more attention, have multiple members of your team report the review. It's common at Widewail for a review to be passed around, with multiple team members reporting it.
Reporting a Review: Off-Topic

We reported this review as "Off-Topic" to Google since it's not from a full-time resident and doesn't help people make a sound decision about the property.
If you feel confident a review violates the review platform's terms of service, especially if the content of the review specifically calls out the issue, like in the above example, report the review first in an attempt to get it removed. In some cases, a response can be interpreted as the business validating the review's legitimacy by the review platforms and thus may disqualify the review from removal. To avoid this, first flag the review and wait around 3 business days. If the review has not been removed at that point, then you should respond.
How To Response To Positive and Negative Comments on Social Media
Social media for your business can sometimes feel like the wild west. It's hard to keep up with the ever-changing trends and it's never clear how much Instagram and Facebook posts increase your customer base at the end of the day.
Without a doubt though, your business's social media accounts do contribute to your online reputation, so it's important to manage them and work to improve your overall public image.
Let's break it down by platform. On Facebook, customers can either "recommend" or "not recommend" your business, and this leads to an aggregate rating out of 5.
In addition to the "Review" section of a business' Facebook page, individuals can write a post or comment for your business and share their positive (or negative) feedback.
While Instagram doesn't function as a review platform as Facebook does, public comments on your business' posts can similarly influence how prospective customers see your business.
Feedback in any form shouldn't go unaddressed for many of the reasons we've discussed in this guide so far. Thus, it's important to monitor your social media accounts for potential feedback, positive and negative. At a minimum, respond to all Facebook reviews. Then, consider treating all comments with feedback like mini-reviews and reply to each one.
Here are three examples of how Widewail handles our customers' social media accounts.
Facebook: Negative Post Comment

Comment: Overpriced. Went in today to look at a boat, I could not believe the prices believe prices. Extremely overpriced.
Response: I'm sorry to see you felt our pricing was unreasonable. We strive to keep our prices fair and competitive within the current market and if there are any questions that I may be able to help with, please consider giving me a call. Thank you. General Sales Manager
Treat negative comments on social media posts as negative reviews. While comments on your business' posts can sometimes be unpublished, it's considered best practice to write a reply. In this response, we mention that our rates are fair given the "current market," as a way to suggest that the prices are appropriate given market dynamics.
Negative, Brief Comment
Original social post: We have the best views and the lowest rate on parking 😎 Don't forget to register your car today in your Resident Portal or contact the office for help! 🚘
Comment: They'll still tow you tho
Response: As long as you have a current parking permit you are good to go and we will not tow you! If you have a visitor, we have the most visitor parking too! Just park on the very top floor where you can see the sky 🙌
This response does a great job addressing the towing concerns mentioned while still advertising additional information that may be useful to residents.
Instagram: Positive Comment
Comment: Stopped in for information. Girls greeting me were pleasant and helpful. Received immediate help from (Team Member) was given information I needed and a tour of possible apartment I am interested in. Good experience.
Response: (Prospective resident name), we are so happy to hear that (Employee Name) and the team were attentive and friendly during your visit! Thank you for stopping by to share your positive feedback about (Community) and please let us know if there is anything else we can do for you.
Sometimes a reviewer will reach out unprompted via your social media platforms–this could be a Facebook recommendation or post or Instagram comment. Each platform has tools to monitor comment activity. Also, Widewail can ingest comment activity from all social platforms in a single place. This is particularly useful if your marketing team oversees a collection of social media accounts for each physical location the company operates.
Here, this person went out of their way to let the community know how much they appreciated everyone's help while touring the facilities. The Widewail team responded, acknowledging the kind words of the commenter.
How Do You Know if Your Review Management Strategy is Working?
At Widewail we offer a detailed performance report as a component of our services. Using our reporting your team is able to analyze performance by location, review site, profit center, and time period.
Is your sales department underperforming your service department? When responding to reviews our team tags each review with the relevant profit center. As a result, we can compile a report that shares insights into specific profit center performance.
For example, we see below that Location 1 has a combined rating of 4.5, but profit center 1 is scoring a 4.8 and profit center 3 is scoring a 3.9. This segmentation helps you to identify specific customer service issues.
While Google's star rating is a lifetime aggregate, Widewail's reporting enables customizable, date-specific, trending performance analysis.
Service ratings trending sharply down? Our reporting gives you the specific information needed to solve issues early.
Widewail client reduces negative reviews by 64% in 9 months.