How To Grow Your Business with Google Review Management
This is a complete guide to growing your business with Google review management best practices.
For most consumers, online reviews serve primarily as a research tool to help them determine which businesses they choose to patronize. They may also see reviews as a communication channel through which they can share their positive feedback and criticism. Overall, online reviews are a beneficial resource for consumers.
So what does this mean for your business? It might be easy to assume that online reviews are a liability. Business owners don't have control over what is posted online, and it can sometimes feel like unhappy customers are the most vocal.
In fact, Google review management benefits businesses as well as consumers. With the right strategy or Google review service, business owners can use online reviews to gain customers and grow their business. In this guide we will discuss how that's possible, as well as how you can increase your review volume and best-practices for responding to reviews.
How does review activity lead to business growth?
Google reviews serve as free marketing

Reviews demonstrate the service and products that potential customers can expect from your business. Look at the positive review above. If your experience is anything like Rachel's, visiting Hyannis Toyota means you will receive professional service, get into a beautiful vehicle, and drive home a happy customer. Reviews also can provide promotional material beyond your GMB (now rebranded as "Google Business Profile"). User-generated content (UGC) is a cost-effective way to create persuasive advertising. Repost customer testimonials onto your website and social media pages to make the most out of this authentic content.
UGC is something to take advantage of even beyond reviews. While traditional marketing has its place, keep in mind that "79 percent of people say user-generated content highly impacts their purchasing decisions (up from 60 percent in 2017), while only 13 percent say content from a brand is impactful." Further, traditional advertising methods are losing the trust of consumers, with 74% of people taking steps to avoid advertising. For your next ad campaign, consider turning to your customers for content. Google reviews are a great place to start.
Reviews play a large role in local search ranking
We have an entire guide dedicated to Google reviews and SEO, but let's cover the basics here.
It's accepted that in the United States, most consumers use the internet to research businesses. A whopping 33% look up local businesses every single day.
Unless consumers are searching for a business but its name, they will use keywords to browse potential options. Keywords can be anything from "grocery store" to "rock climbing facility." The first Google result gets 31.7% of all clicks, giving this listing the best chance at earning new customers.
So how do businesses earn that top spot?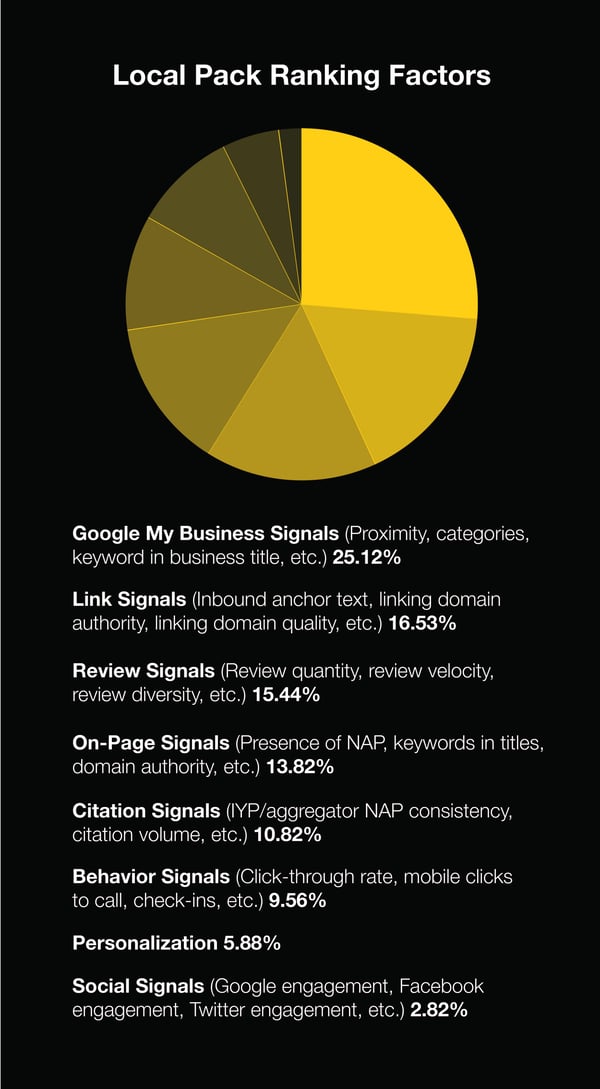 Source: Moz
As pictured above, Google takes a variety of information into account when ranking local business listings. Out of the eight main factors, review signals come behind only GMB/GBP signals and link signals in terms of their influence. Let's break those down.
"GMB signals" are essentially the details you list on your Google Business Profile page - hours, address, business category, etc. While we recommend that you provide as much of this information as possible, once it's complete, that information will largely remain untouched. This means that the GMB does not provide a lot of opportunity for ongoing optimization. "Link signals" are acquired when other websites link back to your site. These are impactful but challenging to put into practice.
Reviews, on the other hand, are relatively easy to solicit and will be updated on an ongoing basis. A large supply and high frequency of new reviews gives Google the data it needs to understand what products or services your business provides, and frequent reviews will tell Google that your business is active. Overall, Google review management helps demonstrate expertise, authority, and authenticity - three attributes which Google highly values.
We should mention that higher ratings can also qualify you for certain search terms. For example, I ran a search for "best restaurants near me."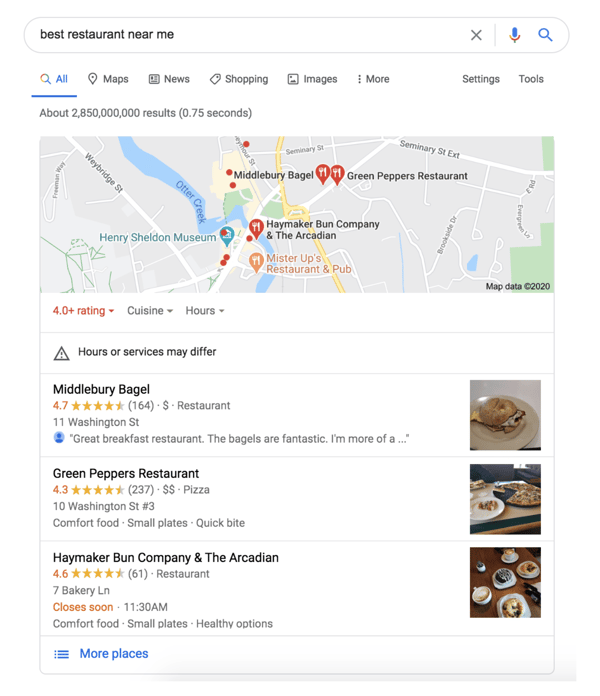 As you can see from the results, listings with fewer than four stars were automatically filtered out. Although Google has never commented specifically on how review ratings affect local SEO, higher ratings clearly are favored.
Reviews provide an opportunity for customer engagement.
When we talk about online reviews and Google review services, the discussion tends to revolve around new customers. Let's take a moment to focus on something else.
According to a report by Adobe, returning customers make up only 8% of all customers, but account for 40% of a company's revenue. Further, acquiring a new customer is as much as 25 times more expensive than keeping an existing one. Finally, highly engaged customers make purchases 90% more frequently and spend 60% more per purchase than average customers. What do these stats tell us? While earning new business is vital, maintaining positive relationships with previous customers and encouraging them to return to your store is statistically more profitable.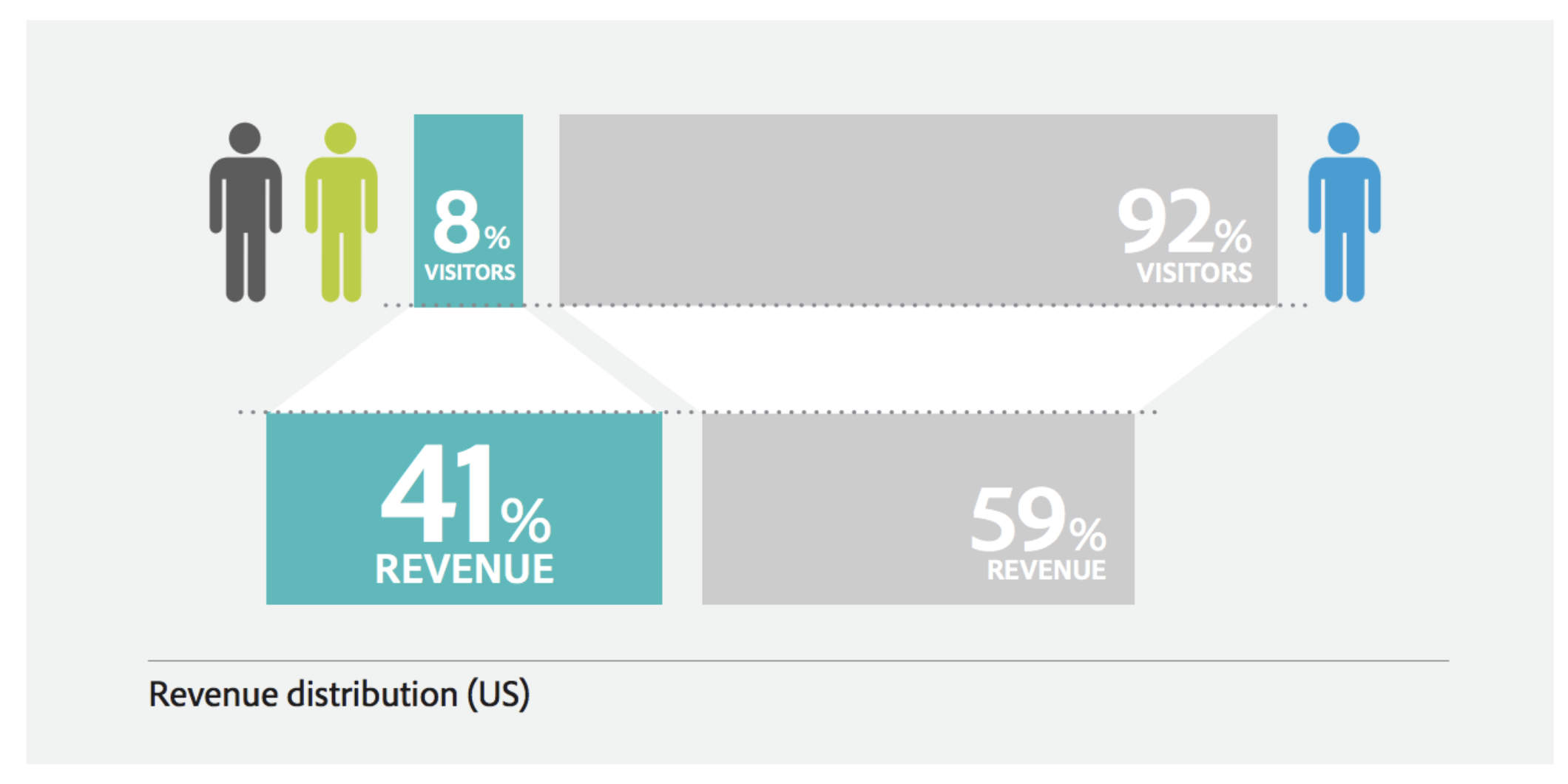 Source: Adobe
So what does this have to do with reviews? Engaging with existing customers in the review space can lead to increased customer retention. Responding to reviews strengthens the consumer-business relationship and demonstrates your commitment to customer service. More specifically, when you respond to a review on Google, the customer receives an email notifying them of your response.
The next time the reviewer goes to make a purchase, their most recent memory of your business will be the interaction they had through Google. As an added bonus, reviewers are notified weeks or months later when their reviews receive a certain number of views. This additional reminder of their positive experience requires no additional work for the business.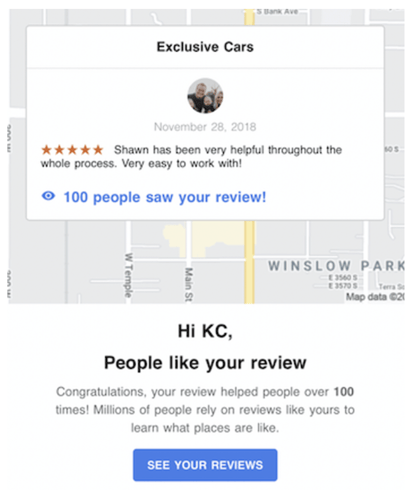 Potential customers depend on reviews to determine where to shop.
On to the most important way Google reviews can help you grow your business. Let's discuss it through an example.
The average consumer is trying to find a nail salon near Burlington, Vermont. A search for "nail salons near me" brings up the following options.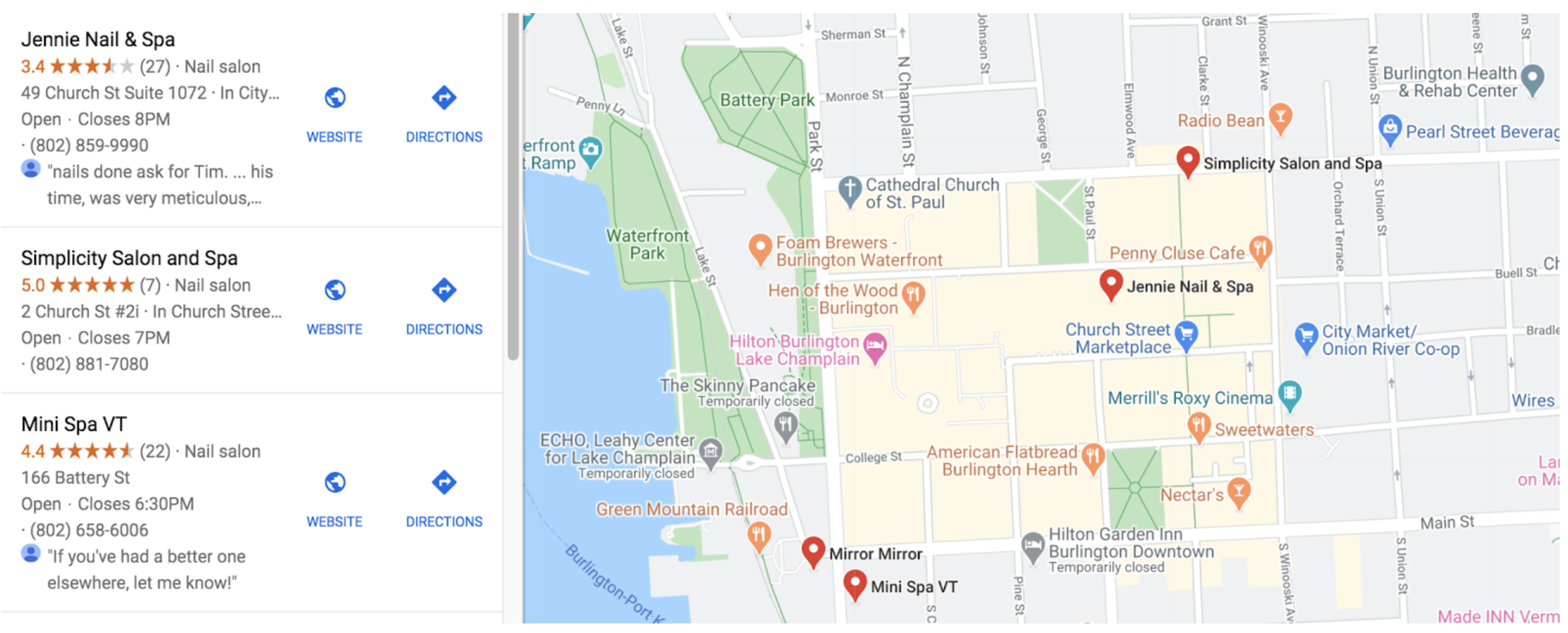 You might think that Simplicity Salon and Spa would be the obvious choice. The consumer has found a highly-rated salon within their geographic requirements. Surprisingly, most people wouldn't choose this salon without further research. Let's talk about why.
1. The average consumer needs 10 reviews to trust a business
Simplicity Salon falls short with only seven reviews. For many people, this isn't enough information to convince them to book an appointment.
2. 84% of consumers don't think reviews older than three months are relevant
Simplicity Salon's most recent review was posted three months ago. Unfortunately, this means that its previous six reviews may not even be considered by the average consumer searching for a salon. It's understandable why potential customers would prefer updated information; who knows what might have changed at Simplicity Salon in the past three months?
3. That perfect score looks a bit fishy
What could be better than five stars? According to the Spiegel Research Center, ratings of 4.2 - 4.5. Having only positive reviews seems unrealistic, and even makes some people question the validity of the reviews.
We are not suggesting that Simplicity Salon should encourage unhappy guests to post negative reviews. What they need is a larger number of reviews in general. This will lead to more balanced and believable feedback.
With all that in mind, most consumers would broaden their search.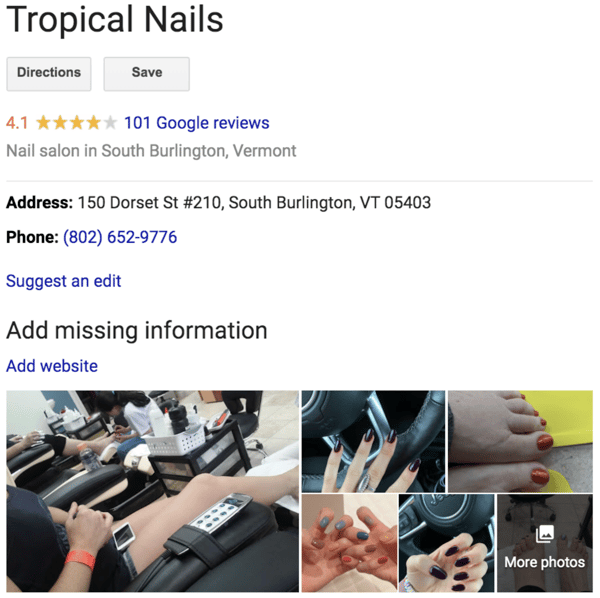 And they would likely settle on a nail salon like this one. While Tropical Nails does not have as high ratings as Simplicity Salon, they have 101 reviews, 11 which were posted within the last month. For potential customers, this is enough relevant information for them to make an educated decision on where to spend their money. With so many reviews to peruse, they might even be able to find feedback about the specific service they are interested in.
How can I increase the number of reviews my business receives?
The only way that your business can benefit from reviews is if your business receives reviews. Here's the good news: there are plenty of ways to increase your review volume. Try out some of our tips below.
Provide directions
While many of your customers would be happy to post their feedback, some may not know how. Create a "How To Leave a Review" infographic and post it on your website, in a post-transaction follow-up, or even in a newsletter.
Create a direct link
Visit your Google Business Profile (formerly GMB) page. In the left hand menu there is an option called "Home." In the "Get more reviews" card, click "Share review form." From there you can copy your short URL to share it with customers.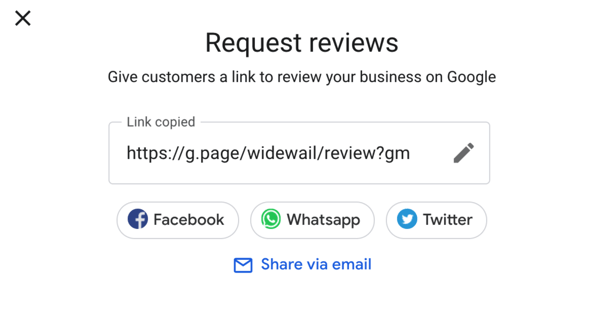 When customers click the link they will be brought to a screen where they can rate and review your business. Add this link to a post-transaction email, a newsletter, your website, wherever!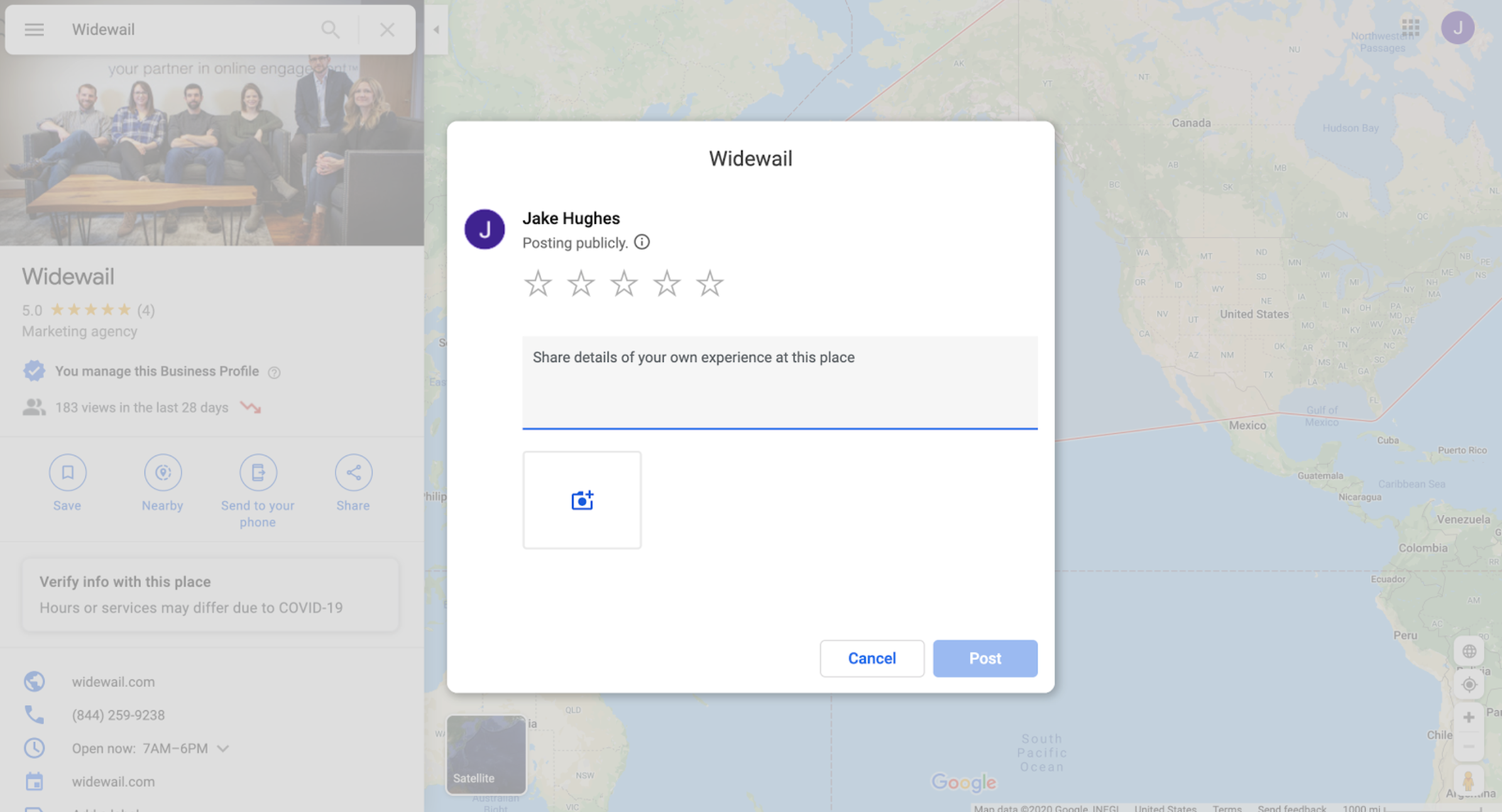 Put a review request in a leave-behind
If you're already handing a receipt or other items to your customers before they leave, add a physical review request. You can write out the request yourself, or you can create business cards specifically for this purpose. However you deliver the message, it should be straightforward and mention why you're asking for feedback. For example, "Your feedback helps us provide excellent service. Please consider leaving us a review." Always include a direct link and instructions for posting the review.
Add a review request into your email signature
If you communicate with customers over email, adding a review request into your signature is a great way to increase review volume with minimal effort.

Ask your customers directly
If you aren't able to ask directly, ask via text.
Text messages have an open rate of 98% and click through rates at around 19%, making them the most impactful method of digital communication. To reach the largest number of customers in the smallest amount of time, partner with an automated service.
Widewail's Invite Google review software works with your point of sales system to collect customer contact information. Review requests are sent with a single click, and customers are directed to the review site of your choice.
This is the simplest way possible to get more Google reviews.
Regardless of how you reach out to customers, avoid spamming them or coming off like a robot. Invite allows you to personalize the messages you send and disables requests for people who have been contacted within the previous 60 days. These steps will help ensure you don't lose business over an online review.
Respond to reviews
This might sound odd, but a simple way to get more reviews is to respond to the ones you already receive. Read our next section for more information on how review response can help you grow your business.
Why do you need to respond to reviews?
By employing some of the tactics above, you will increase your Google review volume and reap the benefits. Responding to your reviews will further these benefits.
Responding to reviews leads to more reviews
As we already mentioned, one way to get Google reviews is by responding to the reviews your business currently receives. A Harvard Business School study found that hotels that began responding to their reviews on TripAdvisor saw a volume increase of 12%.
Why is this? The ultimate point of leaving a review is for your feedback to be heard. Your customers are more likely to take the time to express their opinion if they know someone is listening.
Responding to reviews leads to a higher overall rating
The same study found that the hotels that began responding to reviews saw their star-rating increase. Remember, customers engage more frequently with higher-rated businesses, so take any rating boost you can get.
Responding to reviews is good customer service
You would never ignore a customer in your store, right? Don't ignore your customers online either. It's only polite to engage with the people who have taken time out of their day to rate and review your business. Consumers already recognize that service should extend beyond the brick and mortar, as half expect a response within 7 days of posting an online review and 71% are more likely to patronize a business that answers its online reviews.
Responding to reviews adds SEO value
Reviews are an important factor in local search rankings, but responses play a role as well. They're your opportunity to post content filled with keywords, highlighting your products, services, and values. Responding on a regular basis sends signals to Google that your business is up-and-running. As written on Google's "Improve your local ranking on Google" support page, "Responding to reviews shows that you value your customers and the feedback that they leave about your business."
What are review response best practices?
In our guide on how to respond to Google reviews, we cover all the techniques and best practices our team utilizes every day went responding to customer reviews. We'll cover the key takeaways below.
Respond in a timely manner
Ideally, you should answer all of your reviews within a few days. Google review management will have the greatest impact when your customer's purchase or service experience is fresh in their mind. A quick turn-around is especially important when dealing with negative reviews. Your apology won't be readily accepted if it comes three weeks after a customer posted their complaints.
Don't avoid negatives
In some ways, these reviews are the most important ones you'll receive. While most unhappy customers never reach out about their experience, people who post negative reviews provide businesses with the rare opportunity to make things right. As well, critical feedback can help you determine where your business needs to improve.
Make it personal and use keywords
If your business receives ten or more reviews each month, it can become challenging to keep your responses from becoming repetitive or sounding robotic. One simple way to fight these tendencies is to mention specific details, like your business's name, the reviewer's name, the products and services they mention, and the employees they worked with. Many of these terms will also be keywords that will boost your SEO. Be sure to only include brand keywords on positive responses - no need to boost negative commentary.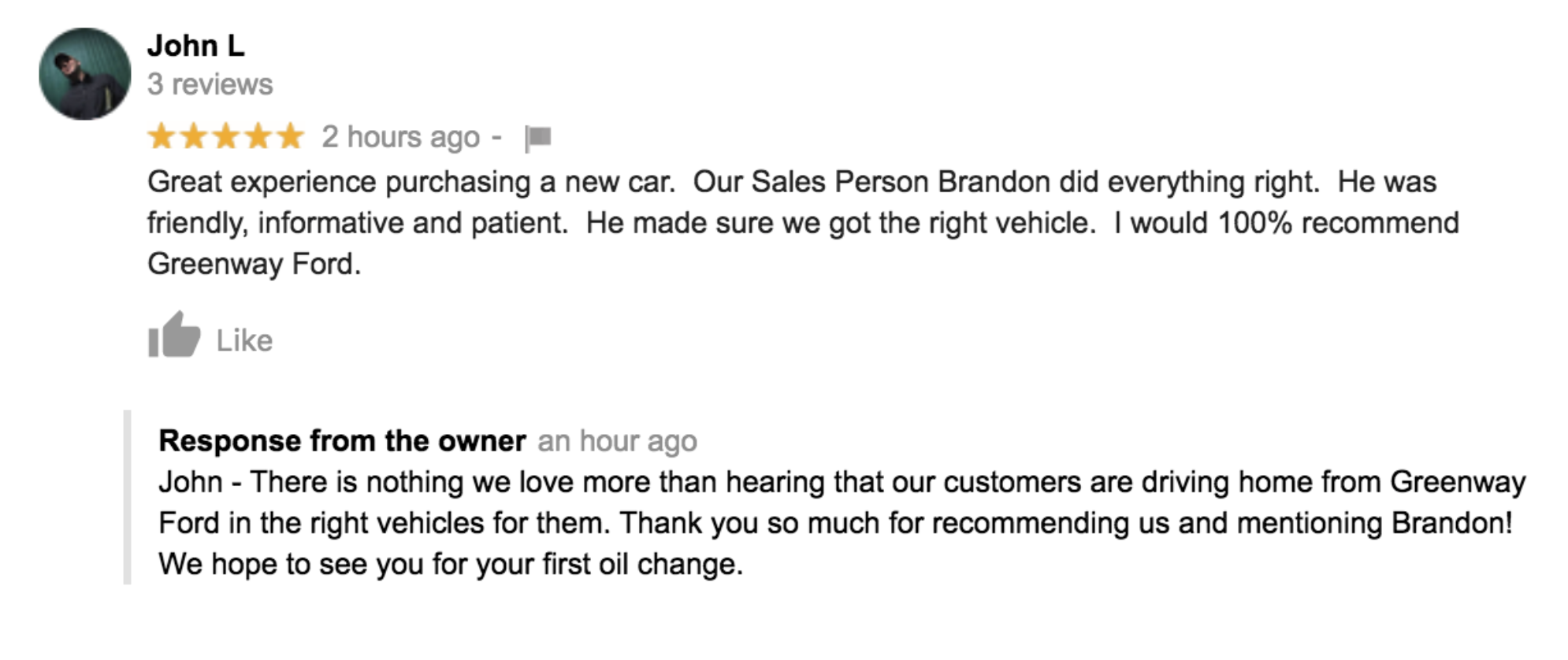 Monitoring and responding to all of your Google reviews is an essential part of your online reputation strategy. While this can be a time-consuming process, Widewail is here to make it easier to manage and get more Google reviews. We offer a fully-managed platform and write unique responses for every review your business receives.