STEP 1
Get more reviews with SMS
- Ask every customer
- Deliver via SMS
- Personalized messaging
- Automate with CRM integration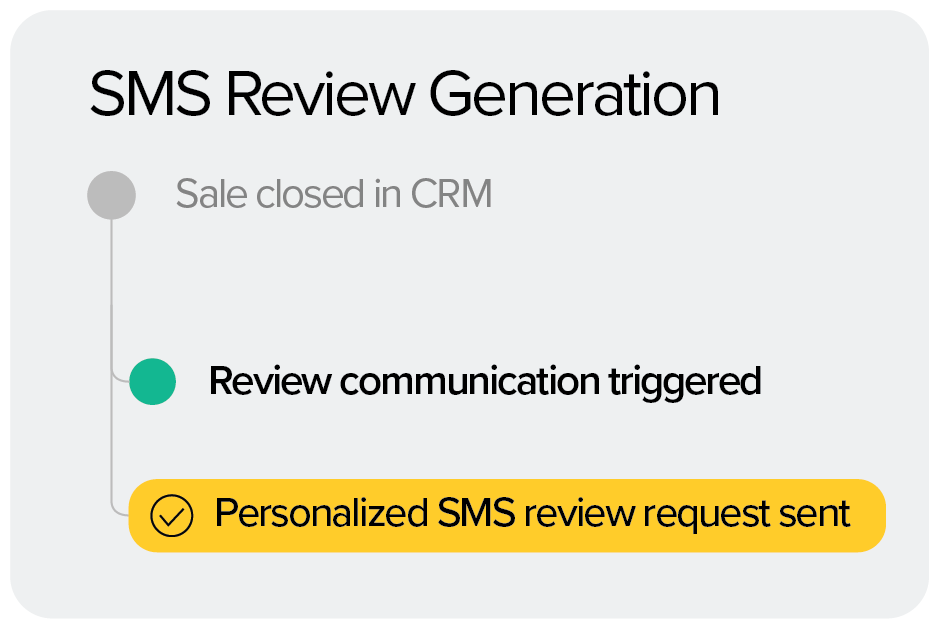 STEP 2
Make it easy for your happy customers to leave a review
Leverage efficient review software to direct customers from SMS to leaving a review in just a few clicks.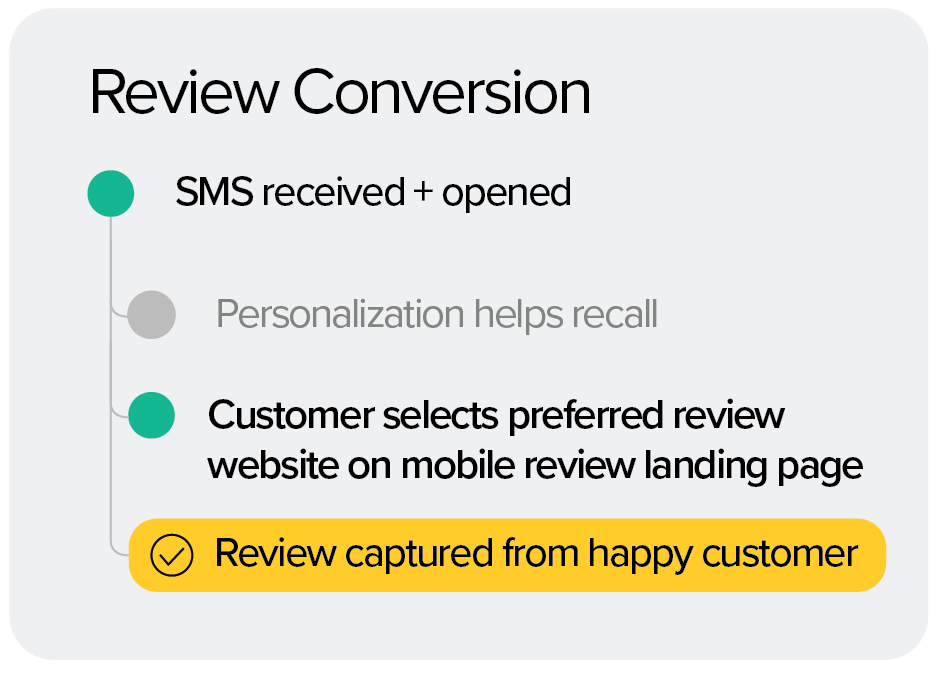 STEP 3

Reliable and timely managed review response

- Add efficiency to your internal team
- Leverage the experience of an external partner
- Rely upon a team always at the ready
- Avoid unprofessional responses by creating emotional distance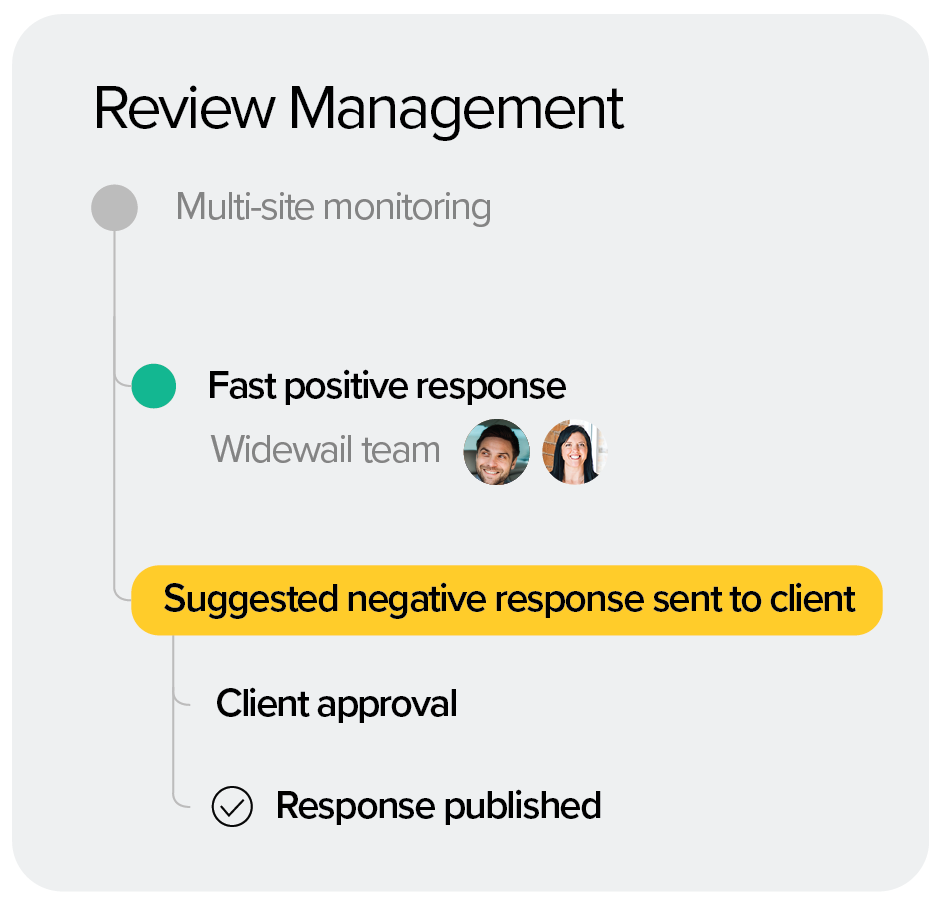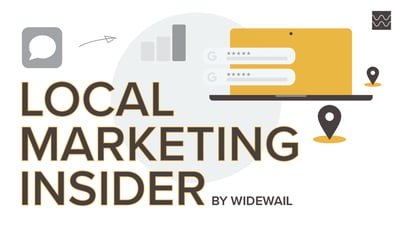 Bite-sized, to-the-point, trend-driven local marketing stories. By email.
The 2x/month newsletter packed with marketing ideas to try in your stores. We'll share stories, insights, and data points about reviews, search, social proof, local SEO, and social media.


To score a 100 on the grader, here's what you need to do.

70+ reviews a month per rooftop

Generate reviews via SMS or SMS+Email


Review response is outsourced
Of course, this set of results is broad, and the ideal performance for your business may be different depending on your industry.
But, from these questions, we can use them to outline a strategy that will work best for your business, big or small.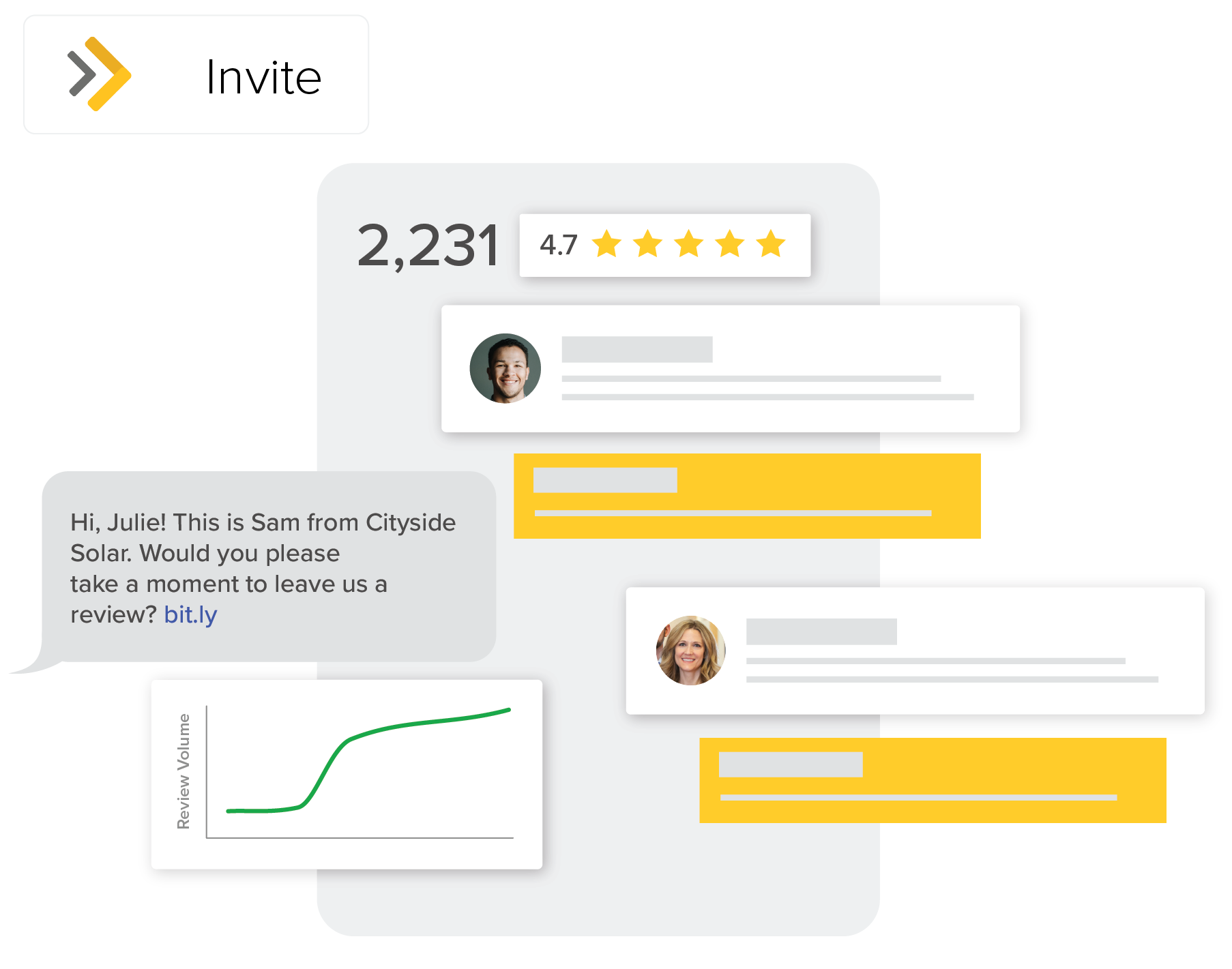 How many reviews should my business get each month?
15-30% total transaction volume
From not enough to just right
We recommend you ask every customer for a review (minus repeat business from the last 60 days) and you should expect 15-30% of those customers to leave your business a review.
Here's how you calculate your monthly review volume target:
Target = (Monthly customer volume) x (15-30%)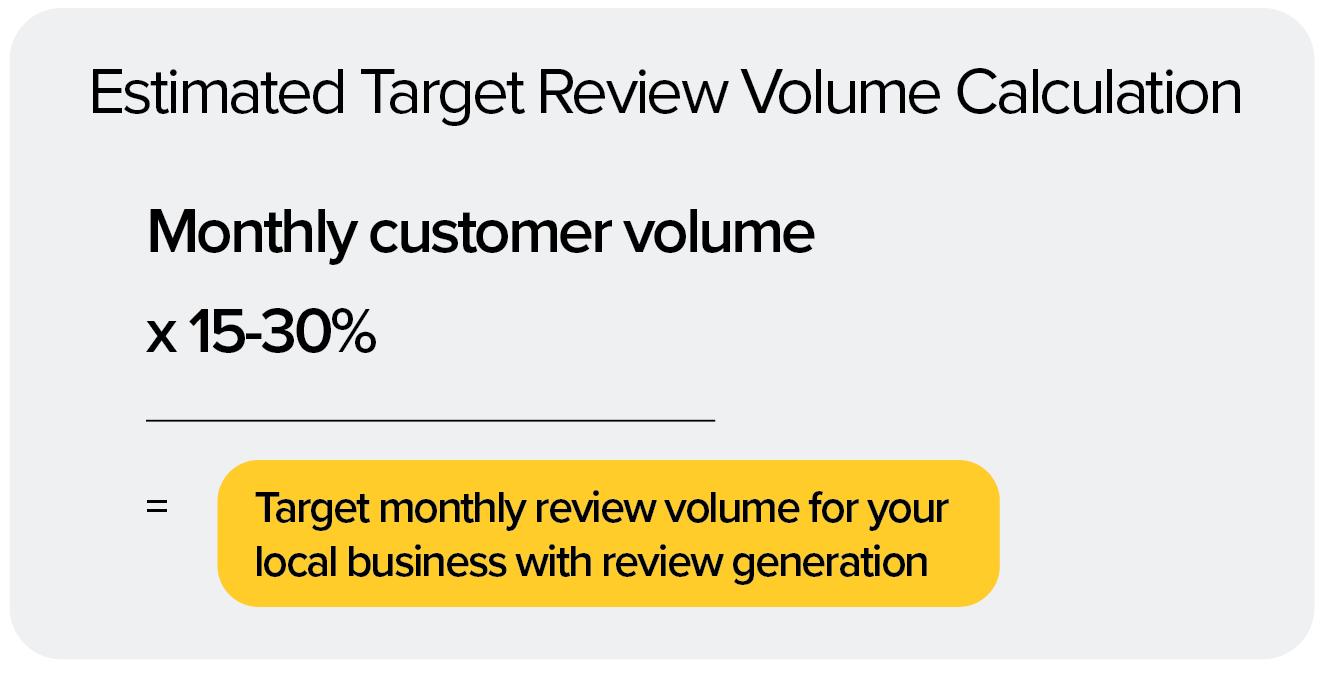 But first, look at your industry
The dynamics of your industry will play a significant role. Solar panel installation, for example, is a much lower transaction volume business than the service department at a car dealership.
A large hotel near Disney will service thousands of customers a month. Due to this variability we recommend you use the percentage conversion calculation above to get an accurate estimate of what is possible.
How Google and your prospects know you are a "good" business
Prospective customers and Google use the volume, frequency, and quality of your reviews to determine if your business is "good" or not. The more fresh content you are able to produce, the better.
Google uses your customer review activity to assess your business's health. If your page is vibrant and popular, they will rank your business higher in local search results.
Your prospective customers use reviews as social proof, and this study by Google digs into how social proof is extremely influential during the consideration stage of the buying process.
How do I go about getting 30, 50, 100+ reviews a month? Getting customers to leave a review is hard.
Step 1
Ask every customer for a review via SMS
Step 2
Drive them to leave a review in just 10 seconds with efficient software
Step 3
Make it so easy your happy customers won't think twice about doing it
You may have tried some of these methods in the past
You've likely made an effort to ask customers to leave reviews in person. Or maybe you've put a QR code on the front desk, added a request to your email signature, or even run a contest giving away prizes to those who leave a review.
All of these ideas can work, but they are susceptible to human error and hard to sustain. The goal is to consistently generate review content, week-in week-out, and to do that you need a strategy that is effective and easy to sustain.
To solve this problem we developed Invite.
Here is the Widewail strategy to get more reviews each month with a limited budget and limited internal management:
Use Widewail Invite with CRM integration to send SMS review requests to every customer.

Make it easy for your happy customers to leave a review, driving them from the text message to your review page in just a few clicks on their phone.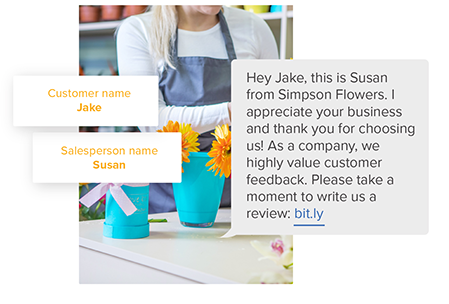 The key is ask your customers where they're paying attention and make the process easy
For Widewail customer Leigh Encarnacion of Koons Lexus of Wilmington, this is the secret that makes SMS so effective:
"After 30 years of working here, I've realized that things just need to be easy for the customer and that's what Widewail has done.
A 900% increase in review volume in the first month - because it's just so simple for our "Amazing Customers" to leave their review on Google.
Everyone at the dealership is aware of Widewail Invite and is absolutely thrilled. I can't thank you enough".
- Leigh Encarnacion, Koons Lexus of Wilmington
Operationally, automating the process will free up your staff while ensuring every potential opportunity for a review is pursued, putting your business in a position to bring in a lot of new content.
As mentioned above, generating more review content will have a significant impact on your Google rankings. A steady stream of new customer content will give you a great opportunity to show up above your competition in local search.
Just as important, asking every customer for a review with the right strategy in place will also increase your star rating as a byproduct. We like to think of this as "activating the voice of your happy customers". Your happy customers are likely less motivated to leave feedback than your unhappy customers, so you need to make the process easy and frictionless.
By putting an effective review generation strategy in place you not only will increase review volume but also at the same time will increase your rating.

Join 1,794 top local marketers →
Join the Local Marketing Insider Newsletter


How should I be thinking about our Google star rating? What if we don't have a 5.0?
Strategies we recommend to raise your star rating
1. Ask every customer for a review via SMS
2. Give your customers an easy way to leave feedback quickly
3. Respond to every review, good and bad
The core strategy is to entice more of your customers to leave a review, and if done correctly, naturally more of your happy customers will get involved.
Ratings have a tendency to become depressed because unhappy customers are generally more motivated than happy customers to leave a review when unprompted.
The core Widewail strategy, ask every customer and ask them in a way that is convenient, on average increases ratings by 0.3 stars.
Ratings that get prospects from "maybe" to "yes"
We recommend you target a rating somewhere in the range of 4.6-5.0.
Yes, higher is better, but with a 5.0 rating, your prospects may view this as "too good to be true", lacking authenticity. Because of this, we recommend you use all the tools at your disposal to get your rating as high as possible while remaining honest in your approach.
The point being, don't stress if you are not a 5.0, anywhere above a 4.6 will perform well.
Less than 4.0 is a problem
If you are below a 4.0 you do have cause for concern, your business will be automatically filtered out by Google for "best of searches".
Prospects won't find you if you're not listed.
For businesses less than 4.0, we recommend working towards a rating above 4.0 as the first priority.
Why is it important to respond to reviews?
Stand out with world-class customer responses
Responding to reviews serves four purposes:
Helps local SEO rank
Shows prospective customers your business is engaged
Indirectly generates more reviews (see HBR)
Retention and repeat business
Contrary to what you may assume, the most important audiences for your reviews are Google and prospective customers.
Google is using your responses to inform search rank.
Prospective customers use your reviews to see how you engage with customers. How should I expect this experience to go if something goes wrong? Will I be treated with respect?
Interestingly, the Harvard Business Review found businesses that respond to reviews receive 12% more reviews, and have a higher rating of 0.12-stars.
A budget that works for your business
Budgeting for an in-house team vs. outsourcing to a partner
According to Brightlocal, the average local marketer spends 17% of their time managing reviews. To put that differently, if the average local marketer makes $60k a year, they are getting paid $850 a month to manage review content.
There are additional costs associated with spinning up an in-house reputation management team. These include:
Technology, such as multi-site review monitoring and response software

Hiring

Training

Technology implementation

Turnover potential

A vendor solution is more affordable and provides
the additional benefits of expertise (Widewail has managed 300,000+ reviews), reliable, timely responses, and support from an unbiased third party. Together, these features offer a compelling alternative to training an in-house team.
Vendor Partner Benefits:
Affordable monthly rate, technology included

No hiring, training, or turnover

Years of specialized experience

30-minute training and onboarding

Minutes a week of required upkeep by your team

An offsite response team avoids emotional reactions

No distractions, so reviews get a timely response
Lean on our resources for success
Explore useful ebooks and guides. Learn how to grow your local business with reputation management
Schedule a meeting with a Widewail reputation management expert
Hear from Widewail clients:
"At Lexus we have always held guest experience as our top priority. Now, more than ever, our customers are interacting with our dealerships online. With thousands of customer interactions happening each day, we need a solution for our dealerships that is of the highest quality, personal, and cost-effective.
Widewail, with its thoughtful approach to engagement management and unique focus on conversational SEO, is the best choice to provide Lexus guests with personalized, impactful online experiences."
David Telfer, National Manager of Digital Marketing, Lexus
"Founder / CEO Matt Murray is one of few people in the space I consider a true expert, and he's become a trusted advisor.
The Widewail team is dedicated to providing timely top-notch service that is responsive to the customer, professional, and courteous. They enjoy a great reputation among our sales and service leadership.
Highly recommend Widewail for your reputation needs!"
Brian Rosenberg, Ira Jack Chevrolet Cadillac and White River Subaru
"The power of Invite was more than evident by the end of the first week. It's intuitive to manage, has great branding/customization features and is easy for our clientele to use and understand. Invite just works."
Jenny Carlson, Owner, Code Style Club
"Widewail is an amazing product, I definitely endorse it. The people are polite and professional, a delight to deal with. They get their job done. They are great at following-up. Everyone from their CEO to the sales and support personnel. One of the best business partners that we have done business with!"
Aurora Castilla
"The Widewail team is all around amazing! We love the innovation, responsiveness and customer service. Their platform is very intuitive and hands down the best in this space. They actually listen to feedback, apply new ideas consistently, and never stop creating the best technology. We highly recommend Widewail for any reputation management needs. Class act and great people.
Widewail provides superior service and results. Their services allow your team to focus internally while they manage your online activity & reputation management.
If you want to increase your performance look no further than Widewail!"
Justin Point, Co-founder, Cannonball Digital
"Our online presence is spread out over many platforms and Widewail keeps us connected to our customers in real time! Responding in a timely manner is no longer a worry for our organization. This software allows us to move our focus to bettering our processes which is increasing our customer satisfaction across the board. 10 out of 10 would recommend to any organization that is on social media."
Matt Vitaliani, Social Media Leader, JT's Automotive Group