Wanting to increase SolarReviews.com, Google and Facebook review volume while standardizing feedback management for their New York and Vermont locations, solar energy solution provider, SunCommon, partnered with Widewail in late 2020. After only three and a half months, both their locations saw remarkable improvements to multiple metrics, including monthly review volume and average star ratings.
Proudly wearing commitments to people, their culture and the planet on their sleeve, SunCommon, a Certified B Corporation, was founded in 2012 and quickly grew to become a leading provider of residential and commercial solar energy in its home state of Vermont. In 2018, SunCommon expanded to serve New York's Hudson Valley and Capital Region. Their mission is to make renewable energy accessible and affordable.
Widewail and SunCommon were introduced in November 2020 - and the timing couldn't have been better. Customer Experience Manager, Marlaina Hunter, was in the midst of developing a consistent and efficient review management strategy.
"We know that reviews are incredibly important in today's market, so after I saw what Widewail had done for other businesses, I was eager to get the conversation started. Even better that we're both Vermont-based."
Introductions quickly turned into a strategic conversation and we set about determining which of our solutions would best serve SunCommon's mission. Ultimately, this partnership has resulted in one of our most encouraging online reputation management case studies of 2021.
The Challenge:
Increasing Review Volume in a Low-Volume World
At a minimum, solar installations are built to last for 25 years. So it is only natural that homeowners are doing their homework—as many as ten solar providers may end up bidding on the same residential install. To stand out among the competition, SunCommon has been focusing on optimizing and personalizing its customer experience. This strategy, blended with Widewail, has built the foundation for a sizable boost in positive reviews.
"We had set out with a goal of five new customer reviews a month, but with Widewail we quickly met and surpassed that goal. By encouraging customers to leave a review, Widewail helped to give them a voice to share their 5-Star experiences."
The Solution:
Invite Review Generation and Engage Review Management
With the confidence that Widewail would increase review frequency, SunCommon opted to participate in both Invite and Engage. Invite to generate reviews via SMS, and Engage to ensure SunCommon's customers were always responded to within 24 hours and with customized, people-powered review responses (and powerful local SEO ranking factors) in mind.
Through tailored messaging, SunCommon has embraced Invite's customization capabilities - such as driving reviews to industry-specific sites (like www.solarreviews.com), crafting intuitive landing page URLs - and even the use of a friendly sun emoji. Together this helps ensure the tool's SMS review request outreach is fully optimized and on-brand, driving higher conversion rates.
"People are busy, so we wanted to make it as easy as possible for our customers to provide feedback. Widewail allowed us to do this in a way that was an extension of our brand." Vice President of Marketing & Sales at SunCommon, Tom Berry
Post-launch review volume increased right out of the gate, and within the first month SunCommon's Google My Business activity had increased significantly for both locations. The story, however, gets better.
Results:
Where Do We Start?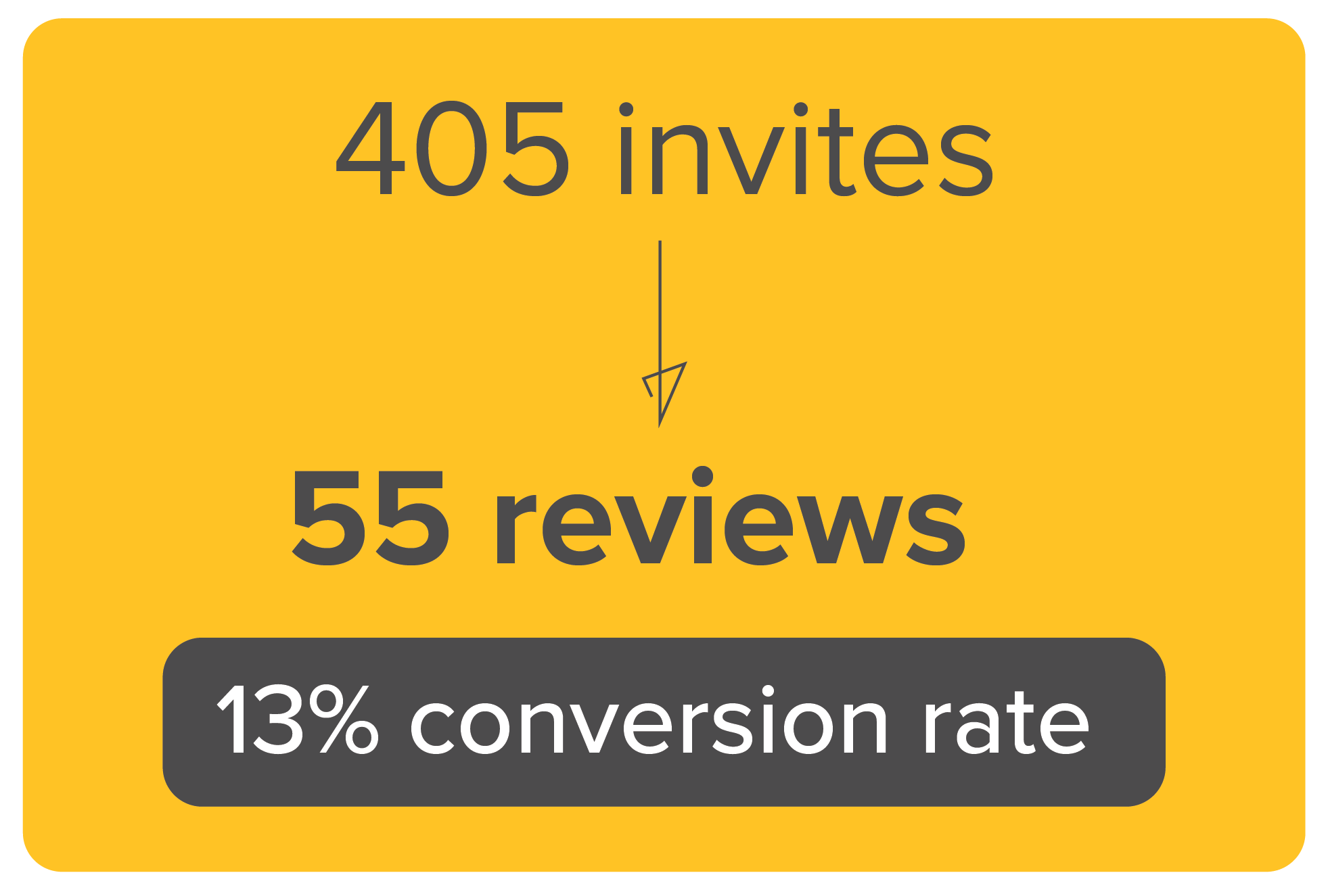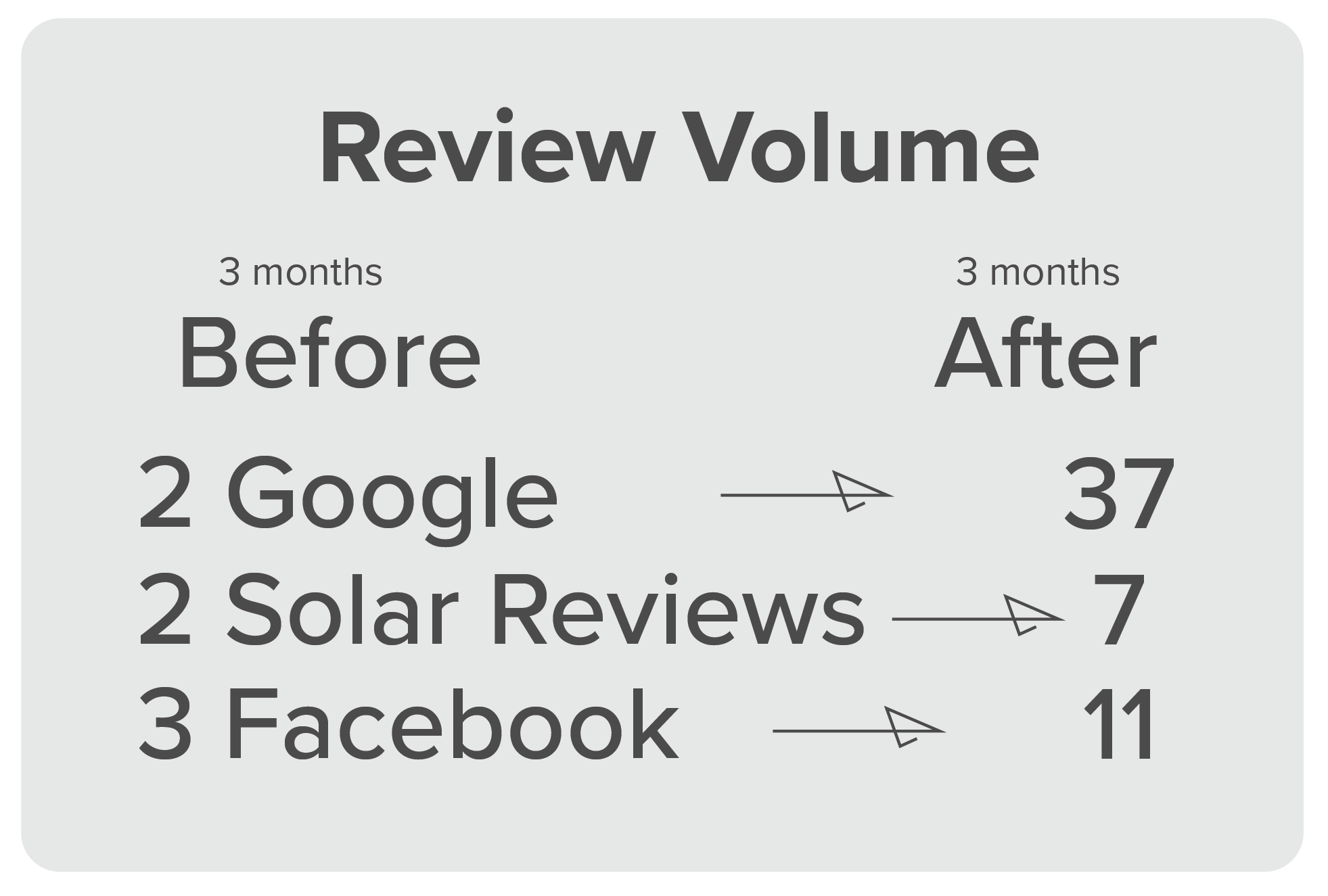 It was decided Invite and Engage would be launched for both the Vermont and New York State locations in mid-December. Three and a half months later results have been impressive, to say the least.
Over their 10 year history, SunCommon amassed 227 reviews across all popular platforms without a defined strategy.
In the first 3.5 months, Invite generated 55 reviews across 3 platforms, a 24% increase.
The Vermont location saw a 78% increase in lifetime Google review volume.
Vermont also achieved a monthly average volume increase of 2500%.
Monthly volume increases, for both locations combined, came to 1000%.
SunCommon's Facebook page saw the most ratings growth with a bump from 3.7 - 4.2 stars (14%).
Now a quarter since program launch, SunCommon's partnership with Widewail has strengthened as a result of remarkable review generation and management related wins.

* A PDF of the case study is available for download.
Widewail is committed to helping solar companies generate and manage customer review feedback. Contact us today and schedule a demo, or review our growing collection of online review generation and reputation management case studies:
Local hair salon,

Code Style Club

, increased Google reviews by 573% (total) in their first 60 days using Invite.

The Kowalis Family Auto Group

increased review volume 403% after 60 days and reduced negative reviews by 82% after 120.
See our full list of customer case studies

here

.
The team at Widewail welcomes the opportunity to discuss your business' unique reputation-related challenges whenever you're ready.
Start Getting Reviews Today
Schedule a platform overview. Enjoy month-to-month terms and no annual commitment.