Lexus Group Increases Review Volume by 403% in First 60 Days with Invite

Using Invite and Engage the Kowalis Group's Lexus stores increased review volume by 403% after 60 days and reduced negative customer reviews by 82% after 120.
Cody, Chris and Ryan Kowalis embraced the importance of customer reviews to SEO and digital marketing in general, along with the invaluable "social proof" they provide, long before being contacted by Widewail and learning about our endorsement into the Lexus program.
While exploring partner options, their challenge boiled down to finding time in multiple busy schedules to give their dealership customer's Google and Facebook reviews considered and timely attention. As for how to increase review volume, they were also looking for guidance.
The Challenge: Getting Happy Customers to Leave Reviews
With no review management or generation process in place, their two Lexus rooftops combined were averaging a handful of Google and Facebook reviews a month despite regularly working with hundreds of sales and service customers. DealerRater, CarGurus and other auto-specific platforms saw even fewer.
"The opportunities we were losing as a result of inconsistent review replies, which basically became a case of 'whenever we find time', were obvious," Cody recalls. "We knew it was time to up our game and get serious - either internally, which wasn't realistic, or by partnering with a Google review service vendor."
Onsite sales and service feedback was consistently positive, yet their online reviews were disproportionately negative. The Kowalis Auto Group knew they had to figure out a way to encourage the voices of their happy customers, while consistently addressing those consumers with issues, through a review generation and response strategy.
The Solution: Intelligent Customer Review Encouragement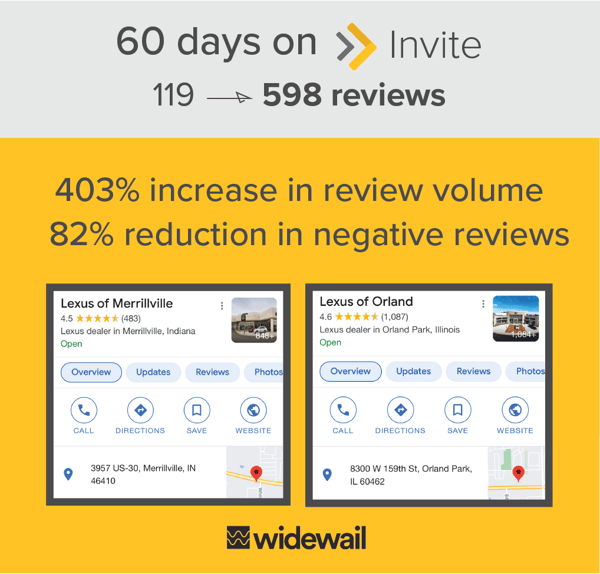 Both Lexus dealerships faced review-related challenges including low volume, long response times and a lack of related internal resources. As a result we suggested the one-two-three punch of combining Invite's review generation, Engage's review management/response and Engage Plus' added social media engagement focus. Cody Kowalis recounts their pre-adoption performance:
"We had multiple frustrating issues which translated into an underwhelming review snapshot prior to working with Widewail. We knew it was hurting our business and online reputation. Enough was enough."
After several collaborative discussions with our team, the Kowalis brothers decided to launch all three of our products, starting with Engage and Engage Plus then adding Invite two months later.
Our Results: Big Increase in Positive Reviews, Fast
The group started by signing both dealerships up for Engage and Engage Plus. When they met with us after the first two months to review performance - they were impressed with the 60-day performance. So much so that Kowalis was ready to add Invite to the mix for both rooftops. The statistics which follow cover four months on Engage products and two months on Invite.

In their first 60 days after implementing Invite for new review generation vs. the 60 days prior:

Lexus of Merrillville
- 128 new Google Reviews - a 38% volume increase vs. launch.
- 39 new Facebook Reviews - a 48% volume increase vs. launch.

Lexus of Orland
- 282 new Google Reviews - a 38% increase vs. launch.
- 67 new Facebook Reviews - a 40% increase vs. launch.

Invite/Engage Total (60 Days Before vs. 60 Days After)
- Before: Total reviews all networks = 119. Negative reviews 11%.
- After: Total reviews all networks = 598. Negative reviews 2%.
- 403% increase in review volume.
- 82% reduction in negative reviews.

The Kowalis Auto Group and Widewail share a strong partnership and we look forward to continued combined success.

"We believed in Widewail's potential after learning about the scope, and were confident we'd see results, but not this quickly or to this extent. A huge internal marketing strain has been lifted, giving us more time for selling and servicing the Lexus brand in our local areas. That's where we want to spend our time day-to-day."

* A PDF version of this case study is available here.

If your interest has been peaked as to how we may help you overcome similar business challenges, reach out to the Widewail Team and schedule a demo, or have a look at our additional Automotive reputation and review management and generation case studies:

- Engage improved a local car dealership's online reputation while reducing negative online reviews by 64%.
- Learn how Invite helped local dealership Roseville Kia increase their review volume 243% in the first month alone.
- See how Nyle Maxwell Automotive group achieved a 180% increase in review volume and a 53% reduction of negative sentiment in the first 30 days using Invite and Engage.


Learn more about how to get more reviews with Invite, or contact our team today for a free demo.