Lesson 3:
How to Respond to Positive Reviews
Welcome to lesson 3 of our Reviews 101 learning series! Previously, we've covered how to effectively monitor reviews across disparate platforms, as well as how you can work to increase your Google star rating.
Now, let's discuss how your business should be responding to positive reviews. Our review response guide explores this topic to a certain extent, so be sure to check that out as well.
When you see a positive review pop up, you might feel like the battle is won, and no further action is needed. But there are a few reasons why responding to all reviews, positive and negative alike, is in your best interest.
First, Google likes to promote reviews that businesses are engaging with, meaning the reviews you respond to will likely be the ones that prospective customers see when browsing your business. So, if you're only responding to negative reviews, you run the risk of pushing that content to the top of your page. Google's default format for displaying reviews is "most relevant".
Second, engaging with your happy customers can help you earn repeat business. Keeping the conversation going after the sale leaves a good impression with your customers and may even lead to them singing your praises to their friends and family.
Lastly, consistently responding to reviews can increase review volume by 12%. If customers notice your business responds to reviews they will be more likely to take the time to leave a comment. Understandably, your customers will be more likely to leave a review if they know the business will see it.
If you're struggling to craft the perfect response for positive reviews, this lesson is for you. Let's dive into some tactics to keep in mind as you engage with your happy customers.
Make it Personal
Adding a personal touch to your review responses is an effective and easy way to create a lasting impression with existing customers. It's also helpful in attracting new ones. Research from Epsilon indicates 80% of consumers are more likely to make a purchase when brands offer personalized experiences.
Take the below review response, for example.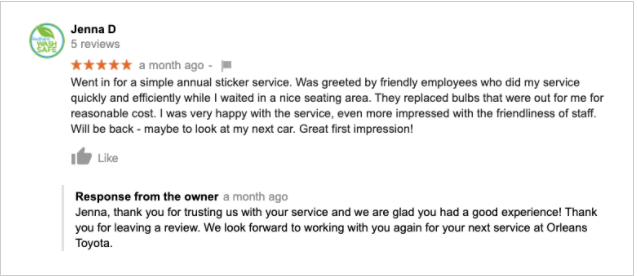 The owner mentioned the customer's name, which is an easy personal touch that holds a lot of weight in the customer's eyes. They also name-dropped their specific car dealership and suggested the customer should come back when they're in need of another service.
Widewail Tip: If the reviewer is clearly using a screen name, don't repeat it in the response. You run the risk of looking silly to prospects. It's worth being picky about when to use personalization.
This type of response does a whole lot more to build trust and credibility versus a generic, "Thanks for your positive feedback." Additionally, if a reviewer mentions a specific employee that assisted them or shares a heartfelt anecdote, expand on what they've mentioned in their review and share what it meant to your business.
Restating praise is a great way to personalize the review experience for the customer, which brings us to our next tip.
Show That You're Listening
In most review responses, it's very apparent whether a business actually took the time to read the message, or simply saw the 5-star review and threw in their cookie-cutter response.
The responses you write should make it obvious that you digested the reviewer's feedback and that you genuinely are invested in their thoughts. If they mention a specific product in their review, reference it in your response. If they write an especially noteworthy line or two, don't shy away from referencing it directly in your response.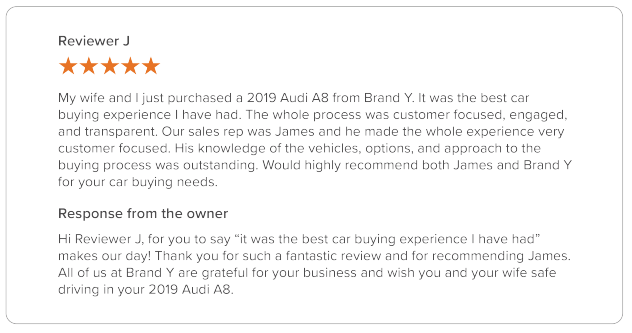 The above example takes a direct quote from the customer's review and uses it to share how it genuinely meant a lot to the business. They go on to further personalize the response by mentioning the specific product referenced in the review and wish them all the best.
Include Keywords When Applicable
Review signals are a major factor in Google's ranking algorithm. Google looks at your review volume, frequency, and, of course, responses to determine where you should be showing up on relevant search results. And when you can include relevant keywords in your responses to customer reviews, you give a nice little boost to your local SEO efforts. A review response is one of the few places on your Google page where you have the freedom to write whatever you want on an ongoing basis. For example, if you are a cleaning service that works in multiple areas you can use responses to hit service area keywords on a regular basis.
In the example of a car dealership, if a customer writes up a review referencing a specific car brand, model, or services you provided, use those keywords in your response. Google uses the content in your responses to help better inform them of the location, products, and services your business provides. Remember, the only information Google has to assess your business is the information you provide to it online.
Just don't go overboard with stuffing your responses with a mixed bag of keywords. You don't need to keyword stuff to be successful these days, Google is sophisticated enough to figure it out. Be tasteful in your approach. A response that sounds like it was written for a human will also work for Google.
Below is an example of a review that set up the business nicely to drop some relevant keywords. However, as you can see, the response missed out on this golden opportunity by giving a generic response.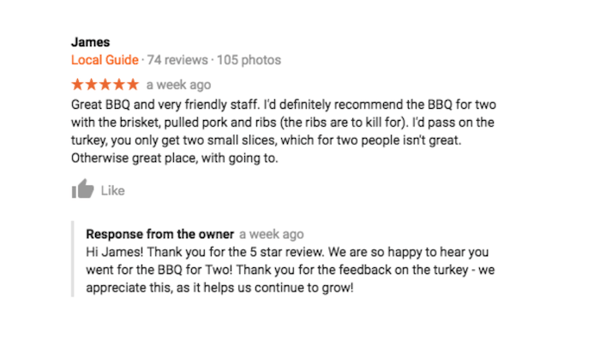 Steer Them in the Right Direction
You've likely seen reviews that tee up your business perfectly to promote a different product or service you sell. If you haven't already, start mentioning other products or services that customers might be interested in down the road.
The following is a great example of how you can naturally plant the seed for future business with a customer without coming across as overly sales-y.

When you buy a car what is the next thing you will need to do? Get the oil changed.
This dealership took a very positive customer experience and used it to let the customer know they'd be ready to assist them with their first oil change (also, oil change? Relevant keyword!).
Be sure that the additional products or services you're recommending are actually going to be useful and relevant to the customer. Otherwise, they might rethink their glowing feedback and avoid becoming a repeat customer down the road.
Next Up: How to Respond to Negative Reviews
It's fun to engage with your happy customers and thank them for their kind words. What's not as fun is lowering the temperature with a disgruntled customer and making things right with them.
Our next lesson will teach you how to respond to negative reviews in a professional, productive way.