Lesson 1:
How to Effectively Monitor Your Online Reviews
Social proof is a significant part of why (or why not) consumers decide to buy in today's market. If you had to pick one form of social proof that everyone is familiar with likely one example comes to mind - reviews. Your online reviews speak volumes about your business. Existing customers write them to contribute to the reviews ecosystem, and prospective customers use them to inform their buying decisions. 89% of consumers worldwide take the time to read reviews before buying something, so clearly, making them a central part of your reputation management priorities is a must.
But effectively monitoring your online reviews can be tricky. If your business is like most of the local businesses we work with, reviews are spread across the web on multiple platforms, some owned, some not. Your review landscape can easily become disorganized.
To start, audit review sites you have online to get a sense of what reviews are already there. Getting a grip on all outstanding review content from across the web is the first crucial step towards knowing how to monitor them.
Depending on your business, there will likely be industry-specific review sites where customers are leaving their feedback. In addition to the major players like Google, Facebook, Yelp and Amazon, that makes for a whole lot of places where you'll need to monitor your online reviews.
Whether you go the DIY route or want to call in help from technology, you have options to keep tabs on all of your review content. Let's first explain the importance of monitoring your review content, and then move on to exploring some of these options more in-depth.
Why Do I Need to Monitor Reviews?
Your online reviews provide you with an unfiltered look at customer experience. You're likely already aware that customers don't hold back when it comes to sharing their honest opinions about businesses they shop with. And while some of the more harsh feedback may initially sting, it serves as valuable intel that your business can use to its advantage.
There are plenty of reasons you should monitor your online reviews, as they help you:
See what people are saying about your business.
Understand overall satisfaction levels.
Gives you a sense of areas your business could improve upon.
Determine what your customers truly want from your business.
Control your brand image by responding to all reviews.
Gain a competitive edge on your competitors by learning from your customers.
With the why behind monitoring online reviews, let's move on to the how.
Alert Monitoring System
Trying to keep tabs on all of your review content across the myriad of platforms out there is a daunting task. And if you don't have the time to make it a major part of your day-to-day responsibilities, you'll likely have a hard time staying on top of things.
That's why having an alert monitoring system that gives you a heads up whenever a review is posted is crucial to ensuring no review is left unseen. Ideally, your monitoring system will centralize all review activity onto a single platform. That way, you're not scouring review sites one by one and instead, have everything nicely consolidated and tidy.
Google makes it fairly easy, you can adjust your Google Business Profile notification settings to your desired preferences. GBP notifications, which can be sent either to your mobile device or email inbox, can let you know every time a new review is left on Google. Considering most of your review volume will come through Google, this is something you'll definitely want to set up.
Google Alerts is another great free tool to monitor online activity related to your company.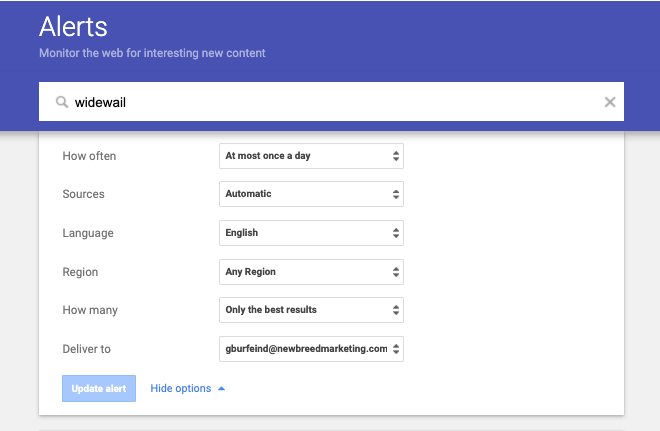 To set up Google Alerts for reviews, you'll want to create a search string, such as "your company name + review". This will notify you when blogs, websites, or other content is popping up with your company plus "review".
But as we previously mentioned, there's a whole world of review sites out there where customers will share their thoughts about your business. To monitor all of the activity going on on these sites, you've got essentially got two options: DIY or technology partner
The DIY Solution
One way to streamline the time it takes to open each site individually is to create a dedicated bookmarks folder that enables one-click open on all included websites.
To make this happen, once you've created your bookmarks folder and added all the relevant sites, you can:
Right-click the bookmark folder in the top bar.
Click on "Open all" to open all the websites simultaneously.
If you'd prefer, you can click on "Open all in new window" if you'd like them to open in a new window.
Being able to pull up all relevant review sites with just one click is certainly a handy tool. But again, if your plate is already full with other assignments, you might find it difficult to make review monitoring part of your daily routine.
That brings us to option #2.
The Technology Partner Solution
With so many businesses beginning to see the value in taking review management seriously, vendors have naturally begun popping up that help lighten the load for businesses.
For review monitoring specifically, established vendors in the space include Yext, Birdeye, Reputation.com, Widewail and Podium. Working with any of these companies will enable you to consolidate and monitor all of your company reviews from a single dashboard. They'll likely also allow you to set up notifications that give you a shout when new reviews trickle in, ensuring you're responding to each in a timely manner.
Considering review response is undoubtedly a heavier lift than review monitoring, you might want to consider vendors that offer the full range of review management services.
Here at Widewail, we offer a full suite of review management solutions. You'll be able to outsource review monitoring, review requests and review responses to a team of trained experts who will help you engage with existing customers and attract new ones.
Which Option is Best for Your Business?
Whether you go the DIY or outsourced route will likely depend on how much of a burden review monitoring is for your business. If your a small business that only gets a handful of Google reviews per month, then you can likely handle monitoring and response internally. For examples on how to respond to reviews in different situations read 19 Real-World Examples: Google Review Response Techniques.
But for higher volume businesses that are seeing significant review volume on many different sites for many locations, we advise you consider outsourcing. The challenge of review monitoring on your own is why all these vendors exist in the first place. Trying to manage the activity without the support of technology is inefficient given the tools available, and more likely than not reviews will slip through the cracks.
Next Up: Increasing Your Google Star Rating
Thanks for reading! In our next lesson, we discuss tactics to boost your Google star rating and explore why 5.0 may not be the ideal rating.