Lesson 5:
Nesting GBP Department Listings
Welcome to lesson 5 of our Google Business Profile (formerly Google My Business - GMB) 201 learning series! With just a couple of lessons left, let's take a quick look back at what's already been covered:
Now, let's turn our attention toward department listings on your GBP. According to Google, "departments within businesses, universities, hospitals, and government institutions may have their own listings on Google." This means that certain organizations can create additional pages to account for departments within the larger organization.
If you're feeling stressed at the thought of maintaining multiple GBP pages, take a deep breath and know that it's really not too much of a hassle. If you're comfortable maintaining your primary GBP page, you'll have no trouble keeping up with your additional department listings.
Let's take a deeper dive into which nesting options your business could potentially qualify for, how to get those additional department listings set up, and the benefits of doing so.
Who is Nesting For?
Google provides some guidelines on what store departments can have on their own listing. The features a department must have to qualify for a dedicated GBP listing include:
A specific location at the business
Its own entrance
Distinct signage
A distinct name and phone number
A different category from the primary business
Common examples of this could include a bank inside of a grocery store, or a 'restaurant' inside of a hotel. Essentially, if there are two or more distinct operations going on at one business location, you can likely list those operations under separate listings.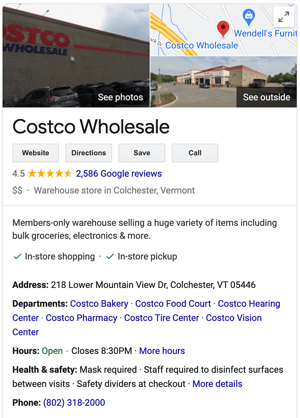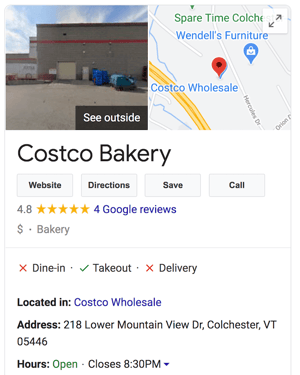 Take Costco for example. The first image shows the main GBP listing for this location, but you can see all the varying departments Costco lists as well. Costco has opted to employ unique GBP pages for the bakery, tire center, food court, hearing center, pharmacy, and vision center.
Customers benefit from being able to view department-specific hours, contact information, and reviews. Costco benefits by having a higher chance of showing up in relevant searches pertaining to their varying departments.
Auto Dealerships Have Different Rules
When it comes to auto dealerships, Google provides a slightly different set of rules. Auto dealerships have two nesting options:
They can create an additional listing for each car brand they sell under one roof
They can create additional listing for each department within their dealership (sales, service, parts, etc.)
Here's an example of the first option outlined above.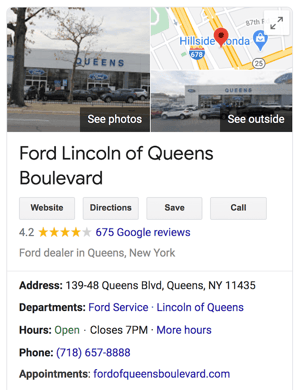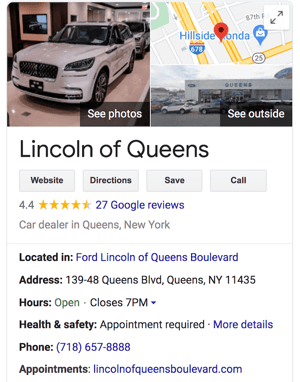 Ford Lincoln of Queens Boulevard has a separate page for Lincoln of Queens to highlight the fact that they sell (and service) Lincoln vehicles. The dealership could do the same for Ford, Chevy, Dodge, and other vehicle brands.
You can see that the Ford Lincoln of Queens Boulevard listing also has 'Ford Service' listed as one of their departments, which demonstrates that you can actually accomplish both of the nesting options listed above.
Keep in mind that you can only create additional department listings under your main dealership page. You won't be able to create a nesting option under your 'Services' department, since that's already listed under your main GBP page.
Why Should I Nest Department Listings?
If your main GBP page is performing well, you might not see a need to create additional department listings. But just because you're seeing solid traffic and getting decent reviews doesn't mean you won't see additional benefits from adding another, more targeted GBP page.
Additional listings can help you build off your solid GBP foundation and further contribute to the steady growth and improvement of your brand's reputation.
From our POV, if you can (your business has departments that meet Google specifications) then you should have multiple GBP pages.
Here are some of the potential value-adds of creating additional listings:
More accurate information: If a customer wants to connect directly with your Service or Sales department, having a dedicated listing for each department minimizes the number of steps needed on the customer's end to track down the right information, providing a great customer service experience.
Specific review content: Customers will benefit from being able to look at reviews of your specific departments as opposed to your main brand at large, helping them quickly find the information they need. You'll also be able to get a clearer sense of which departments are being highly rated, and which ones could use some work.
Visibility: If you have a restaurant tucked away inside your hotel or a coffee shop inside your department store, this feature is especially useful. Having additional GBP listings can make up for a lack of physical visibility by having a strong digital presence.
How Do I Make It Happen?
Here are the steps for creating a listing for a department, assuming your main GBP page is up and running.
Create an entirely new Google Business Profile listing. Make sure that you're providing a different phone number and category from the main business.
Once it's created, search for the page on Google and click "Suggest an edit." Note that you cannot nest a department from the main GBP page. You can only go to the department page and list it as a child of the main GBP.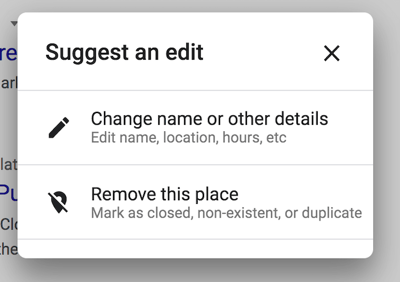 From there, choose "Change name or other details."
This will bring you to a new page. Go to the section, "Located within" and type the name of the primary business.
You should now see the "Located In" feature on the nested page.

Keep in mind that your nested page won't be live immediately after submitting. Google takes a few days up to a few weeks to review your submission and set it live.
Next Up: Getting Started with GBP Q&A
Lesson 6 will cover the basics of your GBP Q&A section, and how it can be a powerful tool in helping your business connect with customers and ensure the right information is being put out into the world.