Lesson 4:
Getting Started with GBP Insights
Welcome to lesson 4 of our Google Business Profile (formerly Google My Business - GMB) 201 learning series! Here's a quick recap of what we've covered thus far:
Next up, GBP Insights. We'll dive deeper into this powerful tool in a bit, but let's start with the short and sweet version. GBP Insights, Google's reporting and analytics tool, focuses on how customers find your listing on Google Search and Maps, and what they do after they find it.
Google Search and Maps are two of the most popular ways people are searching for businesses. According to Intergrowth, roughly 86% of people look up the location of a business on Google Maps. And while this stat isn't specific to business-related searches, Google sees about 2 trillion searches per year. Even if business Google searches are getting a tiny piece of that pie, that's still a whole lot of pie.
So since Google Search and Maps are being so frequently used by consumers, Insights works to analyze how people are engaging with your listing so that you're able to optimize for peak performance on these two platforms.
Let's explore just some of the information you can glean from GBP insights and how you can use it to better understand your audience and, in turn, better interact with them.
How Customers Find Your Listing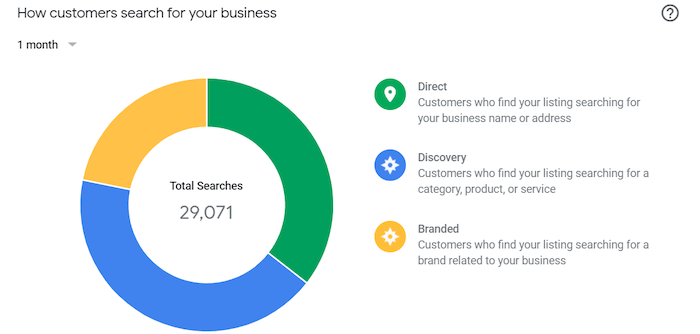 This section of GBP insights sheds light on:
1) how many people stumbled upon your business and
2) how they found you.
The chart you're seeing above is interactive, so click around and see the percentage of all customers that found you via one of these three methods:
Direct: Refers to a customer explicitly searching for your business name and/or physical address.
Discovery: Refers to a customer searching for a general category, product, or service, and clicking on your listing once it shows up.
Branded: Refers to a customer searching for a brand related to your business (could also be searching for your brand). This category will only show up if your GBP listing has appeared at least once for a branded search.
Where Customers Find You on Google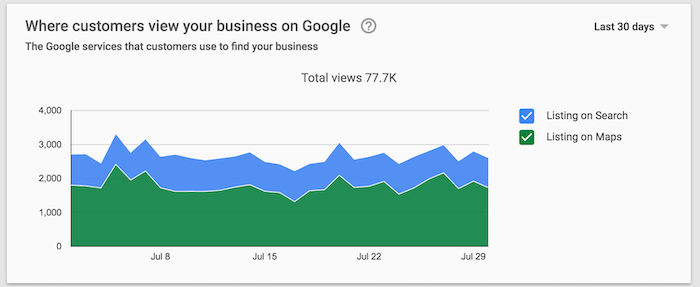 Another handy feature of GBP insights is knowing whether most of your customers are discovering you via Google Search or Maps. Google is able to determine where your customers are finding you, and illustrate that information via graphs and tables. Date ranges can be adjusted as well to see how your total views have changed over time.
Customer Actions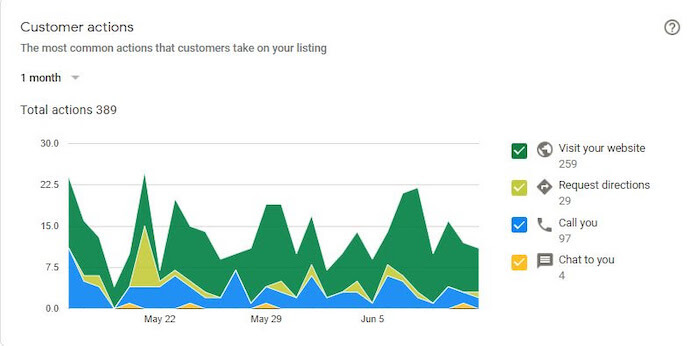 Customer actions show you how customers are behaving once they've found your listing. Google breaks up customer behaviors into a few different actions:
Visit your website
Request directions
Call your business
Chat your business
As with the other Insight tools, you can adjust date ranges for your customer actions to get a sense of how people are engaging with your business over time.
If you make significant changes, like adding additional chat functionality, note the launch date and use the actions tool to track the impact over time.
Phone Calls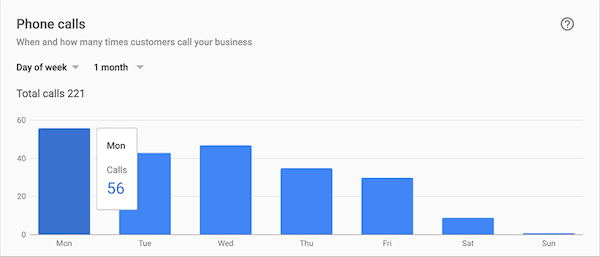 When are your company's peak hours? Knowing when customers are trying to get in touch with you can help you better manage and prepare your business. The Phone Calls section within GBP insights shows you when and how often customers are calling your business via your GBP listing.
The time frame for this tool can be adjusted to see data from the last week, month, or quarter. From here, you'll be able to see which days of the week or time of day customers are calling you most frequently.
This section displays when and how often customers called your business through your business listing.
In the total calls graph, you can view trends of customer phone calls by Day of week or Time of day. You can use this information to see when customers call the most.
The dropdown menu in the top-right corner lets you adjust the time frame to see data from the last week, month, or quarter.
WIDEWAIL TIP: If the total number of phone calls you're seeing here looks low, don't panic! If people are copying the number from your business listing and dialing it manually, it won't show up on this page. The data here strictly represents the number of clicks on the call button on your business profile.
To check your GBP insights, all you have to do is sign into your Google account associated with your GBP. From there, select 'View Profile', then 'Promote', and then 'Performance.'
You can set a custom date range at the top of your page to get insights into a specific time period. Once you're ready to generate your report, click 'Apply.'
Next Up: Nesting Department Listings on GBP
Lesson 5 will cover which nesting department listings your business qualifies for, how to create additional pages, and the benefits of doing so. If you're ready to move on, click here.