Lesson 2:
How to Rank in Local Search with GBP
In our last lesson, we kicked things off by discussing how you can optimize your Google Business Profile (formerly known as Google My Business - GMB) to increase conversions for your business. Now, we'll be talking about another important factor that plays into whether a business is booming or struggling; how to rank in local search results.
Especially for smaller businesses that are typically serving customers in their geographical area, local search is an increasingly important element of your company's online presence. In short, ranking in local search positions your business on the map and in front of prospective customers at the exact moment they are searching for businesses like yours.
Showing up on the first page of relevant Google searches can make a huge difference in bringing new business through your doors. So how do you go about pleasing the Google gods and climbing the local search ladder?
It turns out that your GBP is the most important local search ranking factor. Year over year, Google has increasingly looked to a company's GBP to determine its standing in search results, and there's no sign of Google valuing them less in the future.
That's great knowledge to have in your back pocket, but knowing how to rank in local search results is only half the battle. Let's dive into ways you can start to optimize your GBP to ensure it's helping you rank higher in local search rankings.
Keyword Research
Keyword research will help establish a core set of target words related to your business that line up with what prospective customers are already searching for. These keywords will help guide your business on how to rank in local search results. Local SEO is different than non-location-specific SEO, as you'll want to try ranking for keywords that include the geographic area you're working in.
For example, if you own a furniture store in Chicago, you'd want to target a local keyword like "furniture store Chicago" as opposed to an educational keyword like "how to buy quality furniture".
Want to get a sense of what the competition is ranking for? UberSuggest and SEMrush are great tools to see what keywords other local businesses are targeting. For a free tool start with Google Keyword Planner. Ideally, your business should go after keywords that are seeing a decent amount of search volume but have a somewhat low ranking difficulty.
Ranking difficulty: how much competition exists for that keyword.
Finding that perfect balance takes time, but doing so can help you be found on Google versus being buried by bigger businesses in the area.
Where to Add Keywords
You've compiled your spreadsheet of relevant keywords that you want to target. Now what? The next step is to get those keywords added to various elements of your Google Business Profile. Places you'll want to add them include your:
GBP description
FAQs section
GBP Posts
Review responses
GBP title
SEO Ranking Factors
Check out this graphic published by BrightLocal in 2020 on the most important local search ranking factors over the years.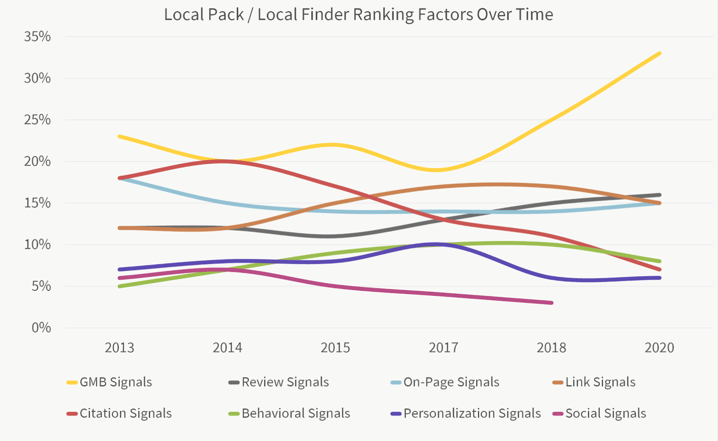 Look at that meteoric rise for GBP signals! If you're working to figure out how to rank for local search results, there's clearly one factor that will help you more than the rest.
What are GBP signals?
Primary GBP category
Additional relevant categories
Keyword in business title
The Deli Example
In 2020, Moz reported that reviews, for the first time, surpass proximity as the 2nd most important ranking factor. That means the expected quality of a customer's experience (reviews) is generally more important than how far the customer is from the business (within reason).
This is a huge development for local businesses.
No longer are you 100% subject to the random nature of proximity. Now you can control how visible your business is by generating 20, 50, 100+ positive reviews a month.
Consider what we call the "Deli example":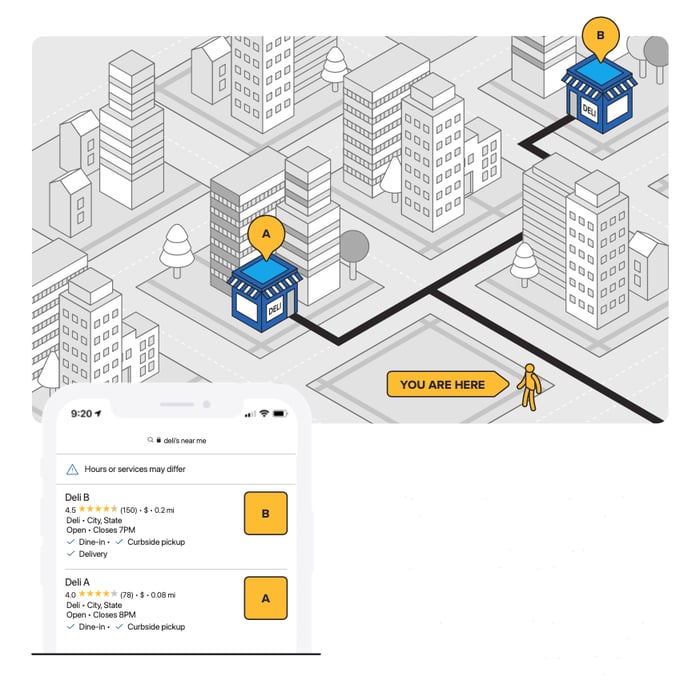 You're in a new city, in search of a great sandwich, so you search "deli near me" on your phone. In the past, Google would show you the closest deli to your current location. In that scenario, this would be Deli A from the graphic above. Today, if a different nearby deli (Deli B) has more reviews and more positive feedback, Google will now show Deli B above Deli A in search results even though it's physically further away.
It's pretty clear as to why Google would handle search results this way. Google wants to satisfy searchers and ensure they're pleased with the businesses Google recommends. Proximity and quality don't really go hand in hand, so how does it pick the best businesses to recommend? Reviews.
Make sure you're actively seeking ways to gather customer reviews through your Google Business Profile and take time out of every week to respond to reviews as well. Doing so will help move your business up the local search ladder.
Outsource Reputation Management
With Widewail, we offer automated SMS review generation software and review response managed services. Clients include Lexus, BH Property Management, Embassy Suites, Jack's Abby Brewing, Koons Automotive Companies.
Next: Intermediate Review Management Techniques
Next up, we'll be looking at how to generate and respond to reviews. Ready to dive in? Let's do it.