Lesson 2: Optimize Your Google Business Profile
In Lesson 1, we walked you through the basics of setting up your Google Business Profile (formerly Google My Business - GMB) and getting it up and running. Now that your profile is all set up, it's time to optimize.
Simply setting up your Google Business Profile isn't enough to start gaining traction and visibility online. Just like your website and ads, your Google Business Profile also needs to be optimized to compete with other local businesses.
Consider this: According to a recent BrightLocal survey, the typical business receives 59 actions from their GBP listing each month. That may sound like a decent amount, but when you take into consideration that the average business also sees 1,260 views per month, you're looking at a measly 5% clickthrough rate.
Needless to say, GBP optimization is 100% necessary if you actually want to get the most out of this valuable tool. Lesson 2 will explain how you can add your business hours, business attributes, and more, all of which will help Google and potential customers know what your business is all about.
Add Your Business Hours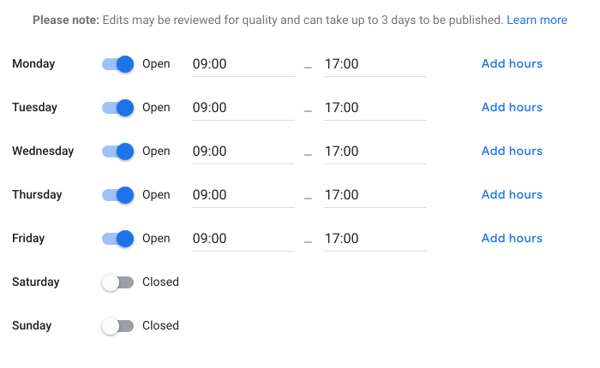 Be meticulous with this step. In addition to indicating your standard working hours, Google allows you to input your holiday hours as well. To do so look for the "Special Hours" feature.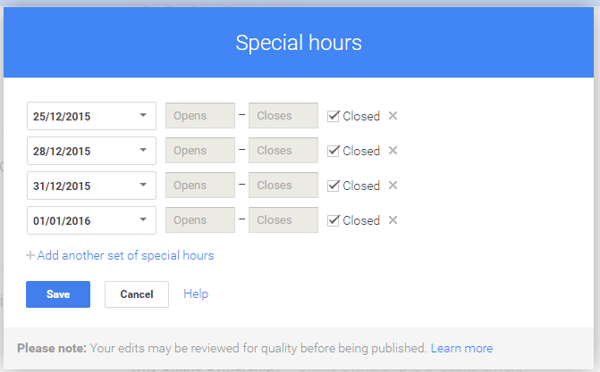 Not only will this give customers an accurate sense of when they're able to do business with you, but it also decreases the likelihood of a negative review from a customer who was misled by your stated business hours.
Business hours can always be adjusted, so if you ever change when your business opens and/or closes, be sure that change is reflected on your GBP as well.
Choose Your Business Attributes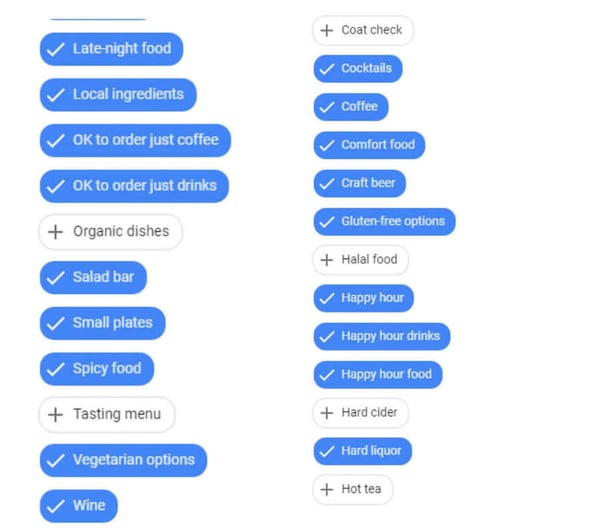 Does your business offer delivery services? Can customers use Apple Pay? What about curbside pickup? These are just a few examples of what Google refers to as "attributes." Once you've defined the category your business belongs to, Google will provide you with a list of attributes you can choose from to paint a more complete picture of your business.
Attributes are used to further communicate to customers what they can expect from your business and can also help you rank better in search results for those attributes.
Google gets real granular, so it's important to give them a good read-over and choose the ones that align with your business.
You can check out the full breakdown of business attributes here.
List Products & Services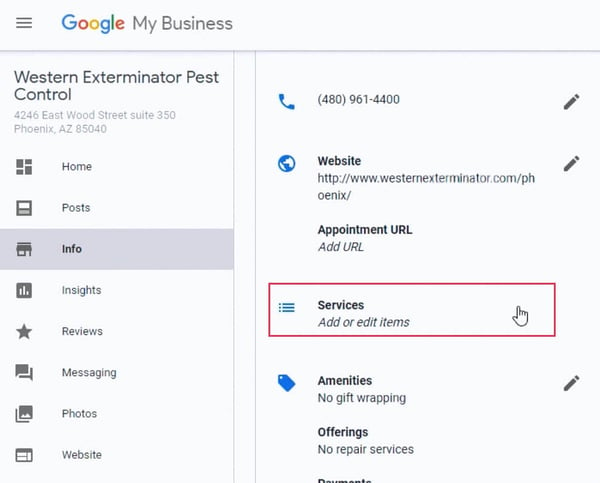 Your business name may be catchy, but if it doesn't communicate what it is you actually provide, listing your business products and services on your Google Business Profile is especially handy.
Adding your products and services will require you to provide names, descriptions, and prices. Whatever you add here will show up in your GBP, so spend time when writing and uploading your business's products and services. Not only will adding this information let customers know what you offer, but Google will also rank your business higher for searches relevant to your offerings.
Provide Company Information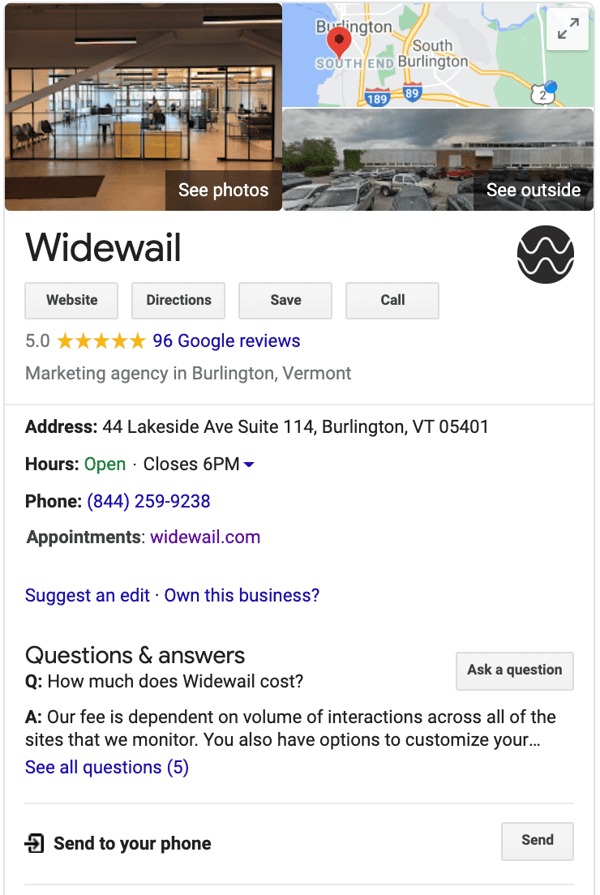 Adding your company's general information is a critical component of GBP optimization. Customers like to know who they're doing business with. Having pictures of your establishment, a brief write-up on your business and a helpful Q&A section will all work to make customers feel like they know what you're all about.
Important information to add includes:
High-quality photos of your business venue (both interior and exterior). Bring the prospect into your world for a moment. Give them a good taste of the environment.
Pictures of your products (if, ya know, you sell products)
Team photos of your employees working, as a group, doing community service, etc.
A 'From the business' description that includes keywords related to your business such as products, services, city, core perks or differentiators. This is also a place to bring some energy or personality.
In the Q&A section post as many common FAQ questions as you can think of, and then follow up with responses. You may have to post the questions through a personal account or another account not associated with the business. The questions are anonymous so any approach to getting the questions up there will do the job. Make sure to respond to the questions with the business account so the response is presented as official and from the business.
Don't Set It & Forget It
Once you've checked all the above boxes, the work doesn't stop there. Naturally, your business will evolve over time, whether that means changing your business hours or moving to a new location. When your business changes, your GBP needs to change with it.
In the coming lessons we cover reviews and other tactics you can use to improve your local search rank, but above all else having your core profile information comprehensive and up-to-date is the #1 way to provide your business with the most exposure.
Don't skimp on this step. Set a calendar reminder. Write it on a sticky note. You'll know it's worth it when consistent business is coming in from search.
Keep in mind that customers can suggest edits to your GBP information, and Google will sometimes take it on themselves to accept them. This is just another reason to continually check your profile and make sure everything that's showing up is accurate.
Next, we tackle the how, why, how often, and what of GBP posts.